BIDDEFORD---Bishop Deeley focused as his "partner" in eighth-grade science class held a yardstick high above. A moment later, the yardstick was dropped and the bishop quickly snared it, measuring his reaction time in the process.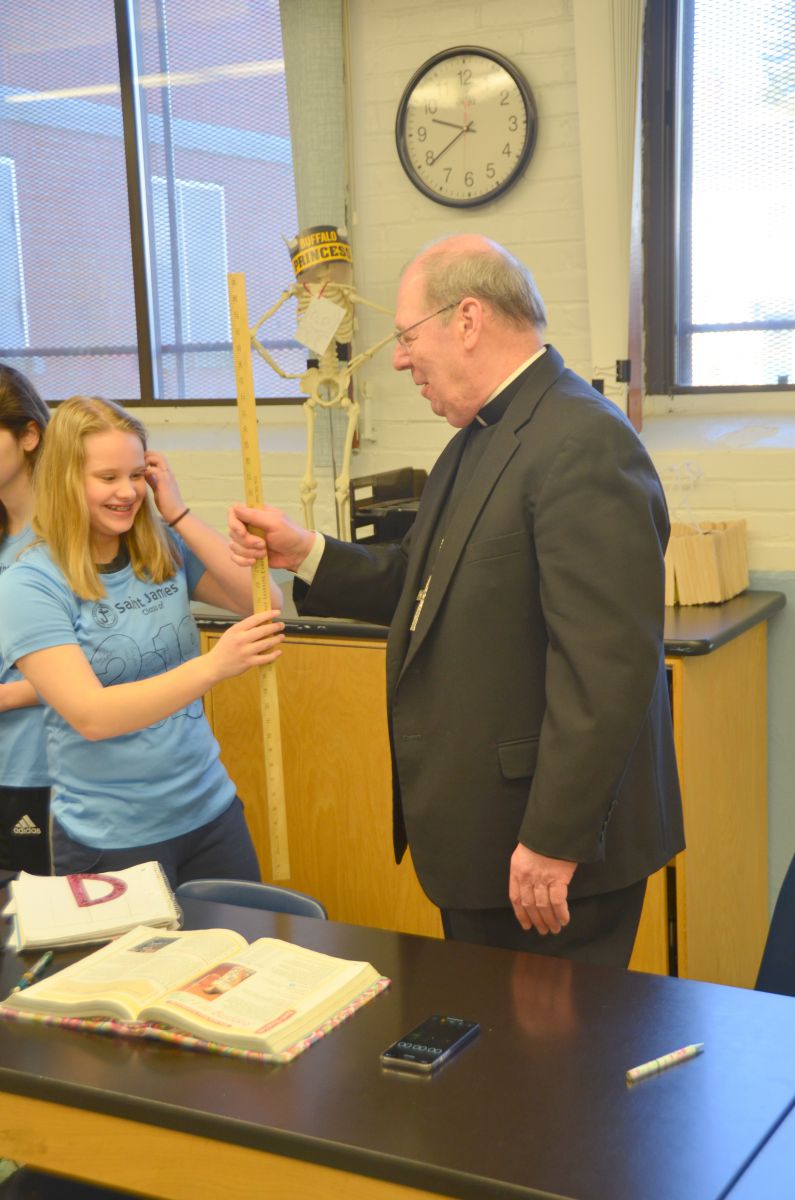 The exercise was part of a larger project that will help the students determine the proper distance necessary between the out-of-bounds line on a fictional basketball court and a nearby wall to ensure safety, and it was one of many activities that Bishop Deeley participated in and observed during a special visit to St. James School in Biddeford on Monday, April 23 (additional pictures below).
The bishop's visit began with a special prayer service featuring students, in costume, acting out "the Walk to Emmaus" from the Gospel of Luke.
"So they set out at once and returned to Jerusalem where they found gathered together the eleven and those with them who were saying, 'The Lord has truly been raised and has appeared to Simon!'" said the narrator as two of the students, dressed as disciples, made their way across the cafeteria.
Bishop Deeley then made his way around the school to see what the students have been up to.
"Maybe we can try cups instead of egg cartons next time," said one student, as the bishop viewed a class' efforts to grow avocados, green beans, and other vegetables in their science class.
"After exponents, then multiplication and division, and then addition and subtraction," explained a sixth grader during math class as the students used the order of operations to solve problems for the bishop on the chalkboard.
With the younger students, the bishop read books, including The Earth and I in honor of Earth Day (April 22), and participated in a "Jeopardy" competition with third graders, Superintendent Jim King, and Monsignor Rene Mathieu, pastor of Good Shepherd Parish of which the school is a part.
Despite the visit falling on the first day after April vacation, the students were lively and already back to work in what has been an exciting time for the school community.
St. James School recently received institutional accreditation from the distinguished New England Association of Schools and Colleges (NEASC). NEASC accreditation is structured in a self-study report featuring input from the entire school community as well as a peer review which is completed by a visiting committee of education professionals and experts.
During the accreditation process at St. James, the visiting committee commended the school for its community service, commitment to students, implementation of differentiated learning practices, STREAM initiatives, and enrichment programs.
For registration information or to take a tour of the school, call (207) 282-4084.
Bishop Deeley will visit St. Brigid School in Portland on Wednesday, April 25.