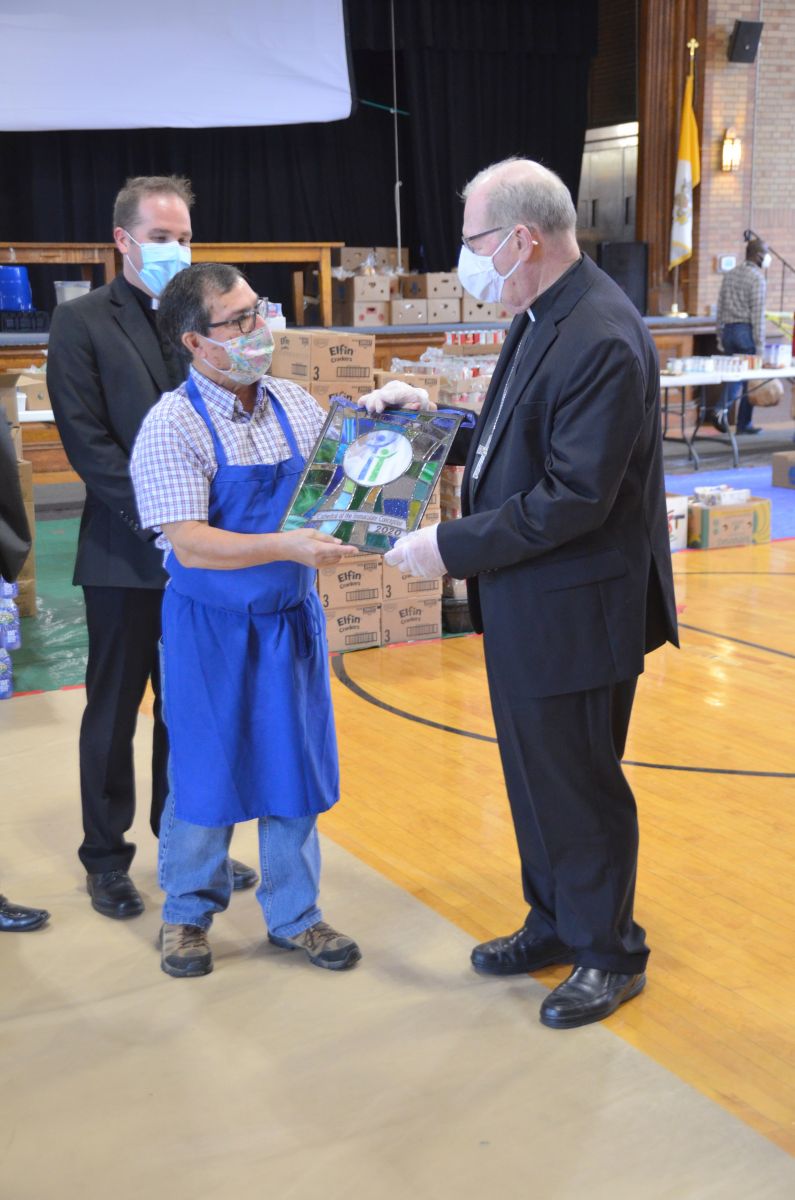 PORTLAND---Bishop Robert Deeley visited one of Portland's most important ministries to present the Matthew 25 Award and a $5,000 grant on Monday, October 26.
Given by Catholic Charities Maine's Parish Social Ministry program, Matthew 25 Awards are presented to parishes to assist them in expanding their capacity to serve more people or to develop a new social ministry. The Cathedral of the Immaculate Conception now receives a $5,000 grant to purchase a new commercial refrigerator, tables, and chairs to increase their capacity to serve people at the soup kitchen.
The St. Vincent de Paul Soup Kitchen, located in the Guild Hall of the Cathedral of the Immaculate Conception on 307 Congress Street in Portland, offers lunch and clothing to the homeless on Mondays through Fridays from 11 a.m. to 12:30 p.m. Anyone in need is always welcome at the kitchen.
The COVID-19 pandemic has temporarily changed the format of service at the kitchen, as bagged lunches, water, and grocery items are now given out as opposed to a sit-down lunch.
Last year, St. Vincent de Paul Soup Kitchen served over 60,000 people thanks to nearly 13,000 volunteer hours. The kitchen is volunteer-staffed and all services are free of charge.
"I offer my sincere thanks and blessings to those who generously donate their time and support to this mission, showing those who come for assistance and sustenance that they are loved as God's children," said Bishop Deeley.