SPRINGVALE---When you enter any of the churches of St. Thérèse of Lisieux Parish (Holy Family Church, Sanford; Notre Dame Church, Springvale) or St. Matthew Parish in Limerick, you are usually met with a warm smile and an instant feeling of belonging from a faith-filled community that invites all who gather to consider a deeper bond to their parish family.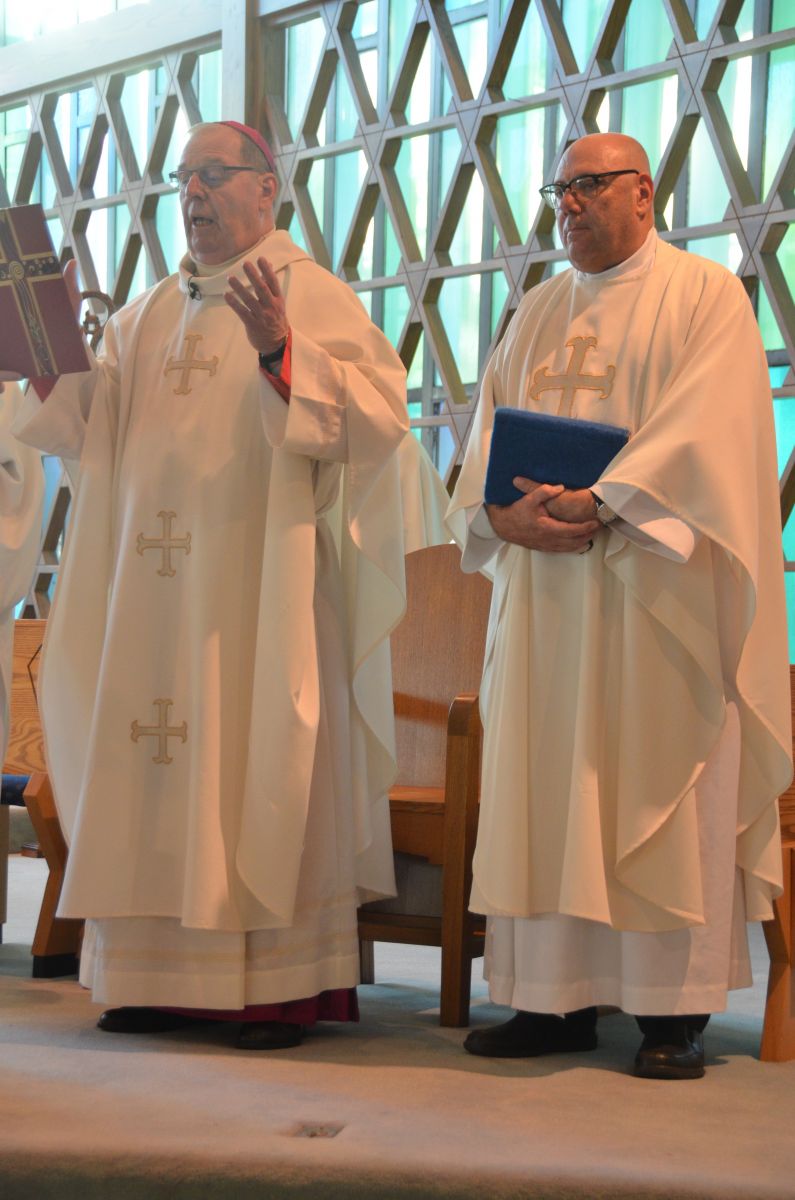 It's a special connection that was felt almost immediately by the parishes' new pastor.
"People have been very welcoming," said Fr. Bill Labbe. "They laugh at my attempts at humor and are patient with my ignorance of how things are done here. Overall, I would say, from my perspective, this is a match that was clearly made in heaven!"
On the evening of Tuesday, September 3, Bishop Robert P. Deeley formally installed Fr. Labbe as the new pastor of St. Thérèse of Lisieux Parish and St. Matthew Parish during a Mass at Notre Dame Church, fittingly on the corner of Pleasant Street in Springvale (additional pictures below).
Concelebrating priests from around the diocese were in attendance for the installation, which featured a special moment in which the parishes' parochial vicar, Fr. Jack Dickinson, along with members of the parish staff, pastoral council, finance council, and Catholic school board were ceremonially "presented" to Fr. Labbe in a show of support and approval.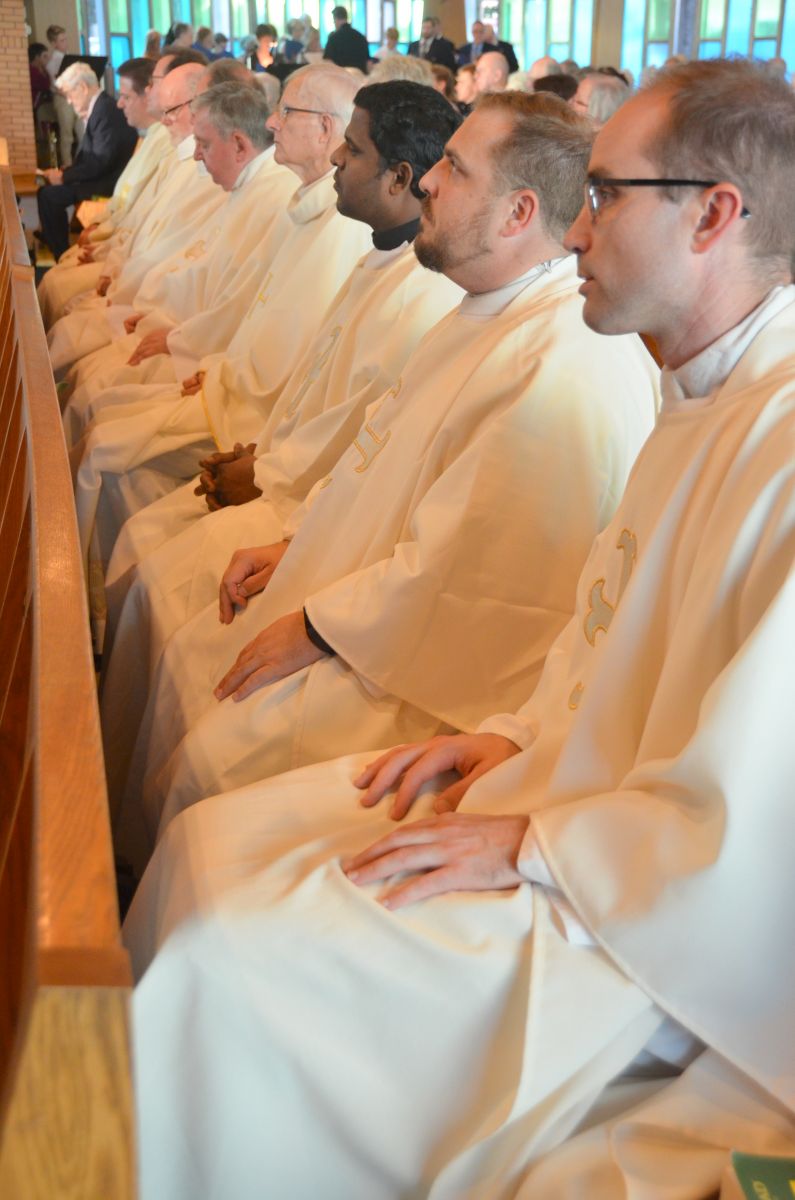 "My friends, I pledge to seek your counsel, guidance, and advice in the spiritual and temporal care of my pastorate," Fr. Labbe said to the parish staff and councils.
The Mass marked an opportunity to celebrate Fr. Labbe's new appointment and the wonderful parish communities he now leads.
"In each of your churches, you have always been very welcoming, and your faith is a beautiful thing to witness," the bishop told the assembly during his homily. "The installation now of a new pastor inaugurates a new era for you. He is a kind pastor who wants to serve you. He will need you to work together in these parishes so that together you will live the Gospel and serve each other."
"There is great faith in Sanford and Limerick," said Fr. Labbe, who most recently was the pastor of the Parish of the Resurrection of the Lord in Old Town. "Parishioners sing at and pray the Mass with a reverence and devotion that is clearly rooted in a very deep faith."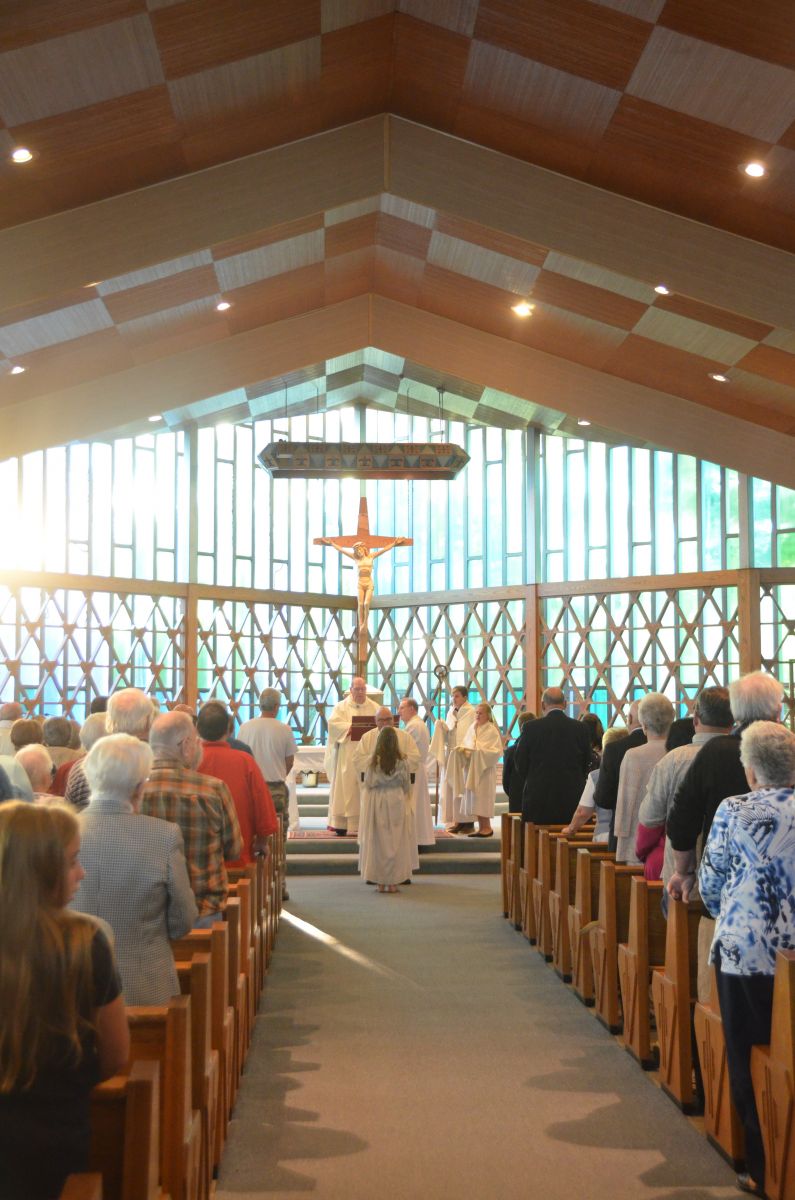 The desire to draw closer to God can be felt at the parishes but is also visible. Walls at the three churches are covered with signs advertising prayer groups and a variety of faith formation opportunities for men, women, teens, and children. That "deep faith" also manifests itself across these parishes whenever there is need outside the churches' walls. The parish school, St. Thomas in Sanford, seemingly has as many service projects as days in the academic year, and parish youth hold a monthly Matthew 25:35 meal at a parish hall in Sanford for anyone in need of a free meal and fellowship. The adults at the parishes help St. Anthony the Hermit Parish in Haiti through financial assistance ranging from rebuilding a church after a hurricane to building a pedestrian bridge over a river that enables people in the poor area to reach town.
Whether providing fun, fundraising, or forming their own faith to encourage others, St. Thérèse of Lisieux Parish and St. Matthew Parish are blessed with holy people wanting to do the work of the Lord.
"The people are so willing to give their time and their talent, they're so open to giving everything," said Donna Jacques, principal of St. Thomas School. "They are always supportive and excited about things. It's such a gift."
"I was amazed at the organization and size of the Funshine Fair at St. Matthew in Limerick after I arrived," said Fr. Labbe. "Many, many hands make this two-day fair a rousing success each and every year. In Sanford, I resumed my tradition of a holy hour at 6 a.m. on Mondays and was thrilled to see around 40 people gathered right away. The parishes are inspiring."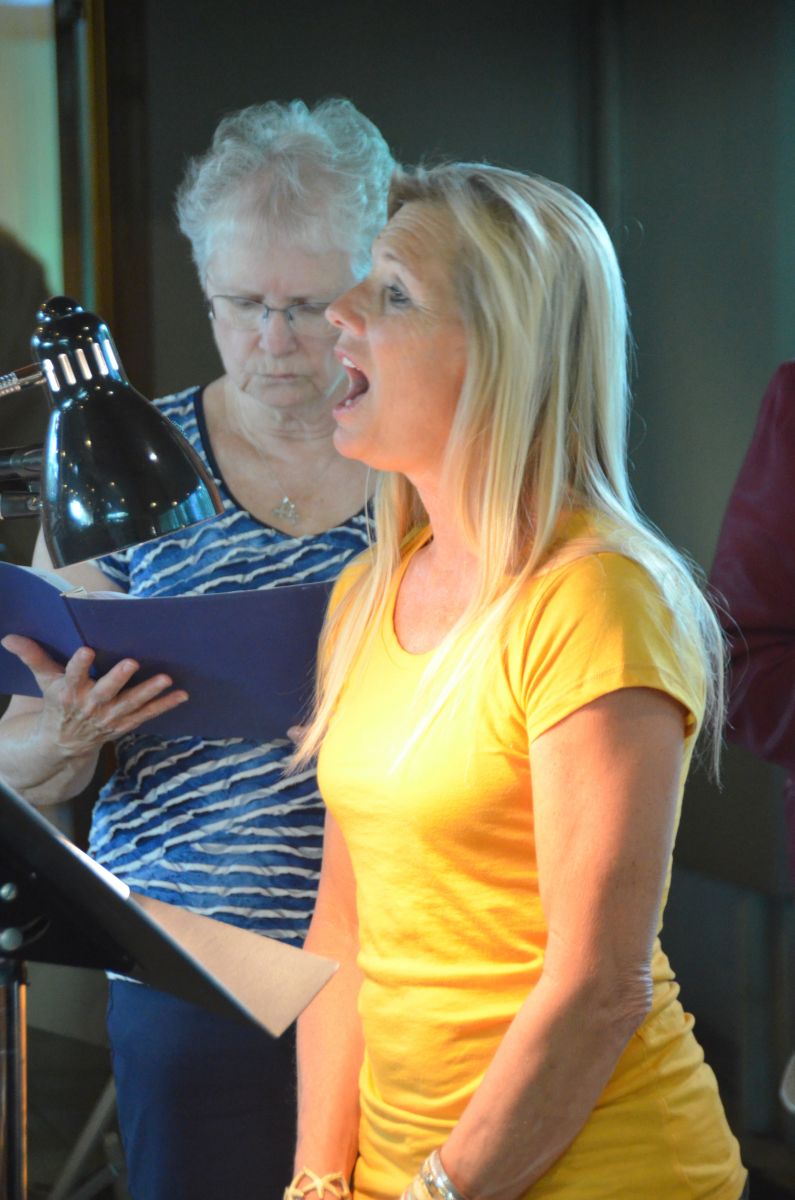 It's no surprise that these parishioners, who devote themselves to living as Jesus has called us to live, inspired one of their own, Joshua Guillemette, to pursue the priesthood as a seminarian at Our Lady of Providence Seminary in Rhode Island.
"Families, communities, and parishes have to help young men to hear the call God gives to serve the Church," said Bishop Deeley. "This parish has had a long tradition of nurturing vocations in our diocese. I invite you to please keep working at it."
And with Fr. Labbe's arrival, the good work is certain to continue. St. Thomas School is growing; in July, the parish was a regional site for "Totus Tuus," a program that inspires young Catholics to holiness; fall prayer groups and faith formation classes are set to begin; and the parish's popular Harvest Fair approaches.
On Tuesday night, exhibiting the same enthusiasm and faith that their ancestors did upon the opening of Notre Dame Church in 1887, the parishioners proudly welcomed Fr. Labbe. A new era, but the same faith, smiles, and belonging.
"I'm very pleased to be here," said Fr. Labbe.