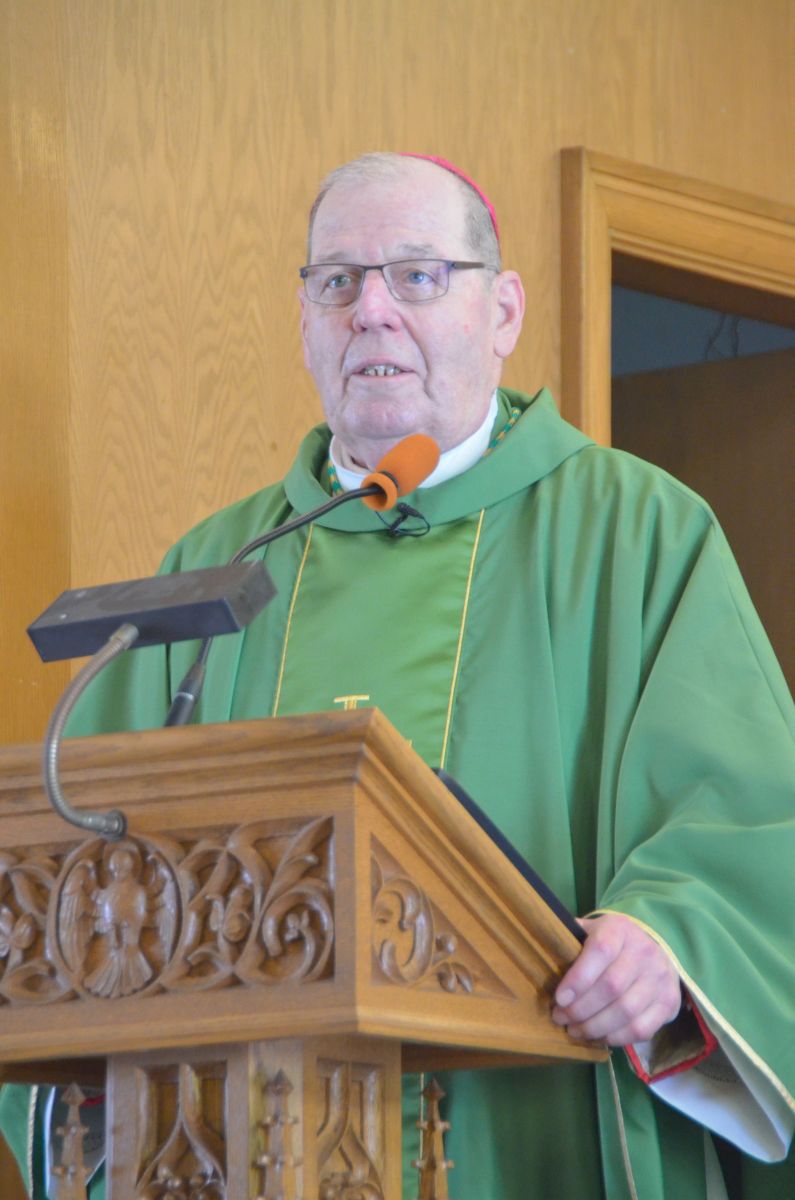 YORK BEACH---"We have a lot of visiting priests who help serve, particularly during the summer, at the churches of our parish. I never thought I would be telling you that Bishop Deeley would be one of them!"
The words of Fr. Scott Mower, pastor of the Parish of the Ascension of the Lord (covering Kittery, York, York Beach, and South Berwick), were met with laughter and applause from a standing room only assembly at Star of the Sea Church in York Beach as Bishop Robert Deeley celebrated a special Mass (additional pictures below) at the church, which bears an appropriate name reflecting its location just a block from Short Sands Beach.
With the ocean breeze wafting through open doors and windows, Bishop Deeley told those gathered on Sunday, August 8, how happy he was to be in their number.
"I like to celebrate Mass on weekends when there are no special events which bring me to the larger churches, in the smaller communities where the faith is being lived out by wonderful people like yourselves," the bishop said. "It is especially beautiful to be here in August. What a nice place to be as we enjoy these days of summer."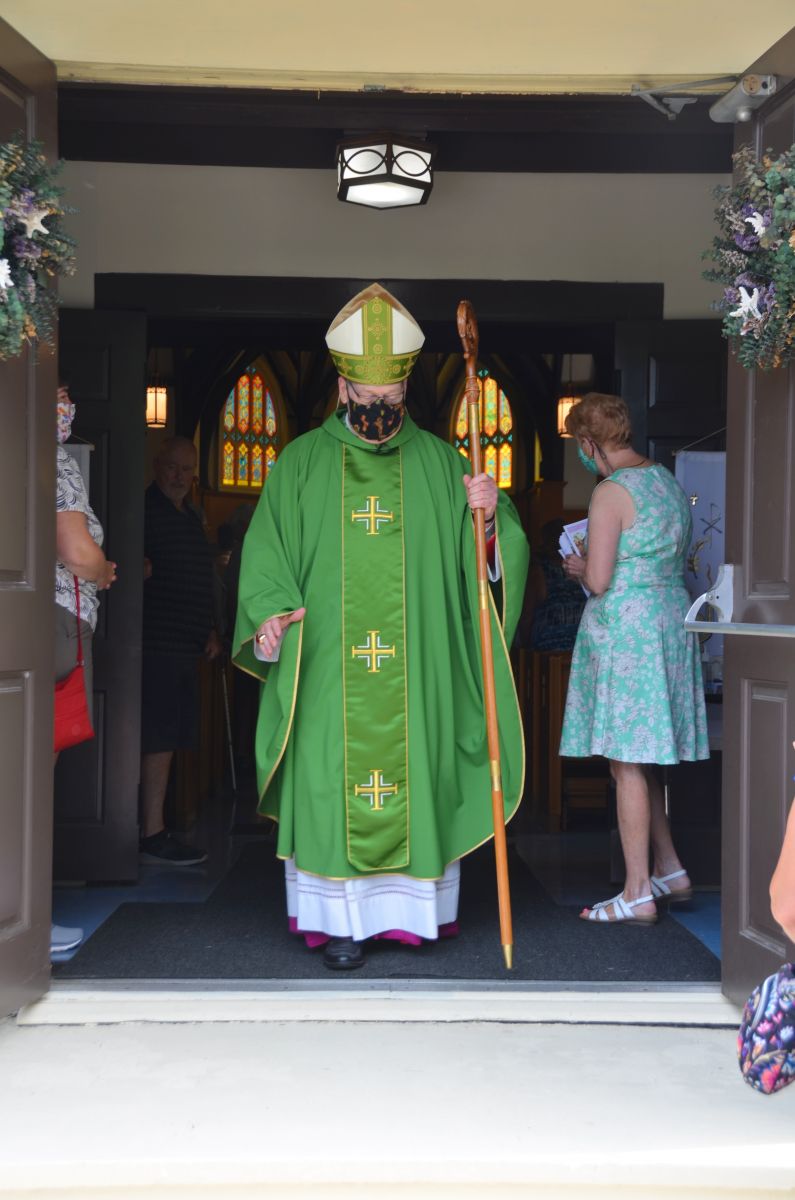 Star of the Sea Church is open from late May through mid-October to accommodate the influx of tourists to the area. Many of the faithful on Sunday were visiting Maine and struck with surprise upon seeing the state's lone bishop entering the church.
"I mean how great is that? I had no idea. We're here from Massachusetts for vacation and this sort of thing doesn't happen often there that a bishop would celebrate Sunday Mass at a small church," said Mark Sweeney.
"We love coming here to visit our children and it's wonderful to see the bishop appreciate this church as much as we do," said Janice Griffin, another visitor from the Bay State.
Star of the Sea is modest in size but fresh in appearance thanks to renovations and improvements in recent years. Local residents and visiting Catholics have happily filled the pews at this quaint worship site for well over a century.
"It was 120 years ago this month in August of 1901 that then Bishop William O'Connell would come to bless this Church," Bishop Deeley said during his homily. "It has been a continual place of welcome and worship since. The most important thing we need to know about it is that those who have gathered here over these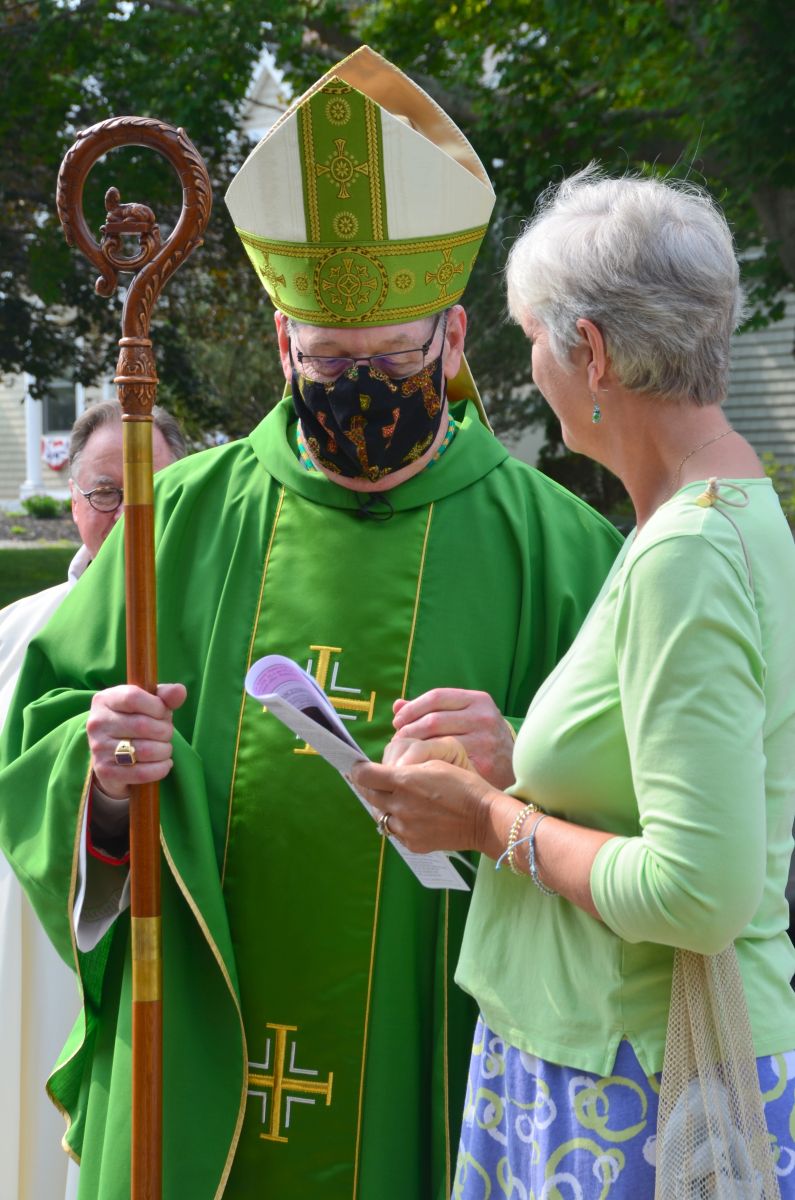 120 years have come for the same purpose that we are here for this (Sunday) morning. We come to worship God through the offering we make of Jesus Christ who comes to us in the Eucharist to assure us in turn of God's presence with us. What a graced place."
Star of the Sea, or any summer chapel or mission church with seasonal operation, is unique with its own charms, location, and distinct mix of locals and travelers. But like every such place where worship, community, and the Eucharist connect, even for a few months of the year, Star of the Sea Church reminds all who enter it of our faith, our call, and the real presence of Jesus.
"Here we meet him in Jesus Christ. Here we receive the living bread. Here we know we are loved. Here we find both meaning and mission," as the bishop looked around the church. "The God who has shown us his love in Jesus Christ sends us out to bring his love into the world. St. Paul reminds us of that in the second reading. He tells us to live with one another as God lives with us: 'be kind to one another, compassionate, forgiving one another as God has forgiven you in Christ.'"
Bishop Deeley will visit two more seasonal churches in the coming weeks. On Saturday, August 14, he will celebrate Mass at 5:30 p.m. at All Saints Church on 45 School Street in Ogunquit. The following weekend, he will celebrate Mass on Sunday, August 22, at 5 p.m. at Our Lady of Sebago Church on 282 Sebago Road in East Sebago. All are welcome to attend either Mass.