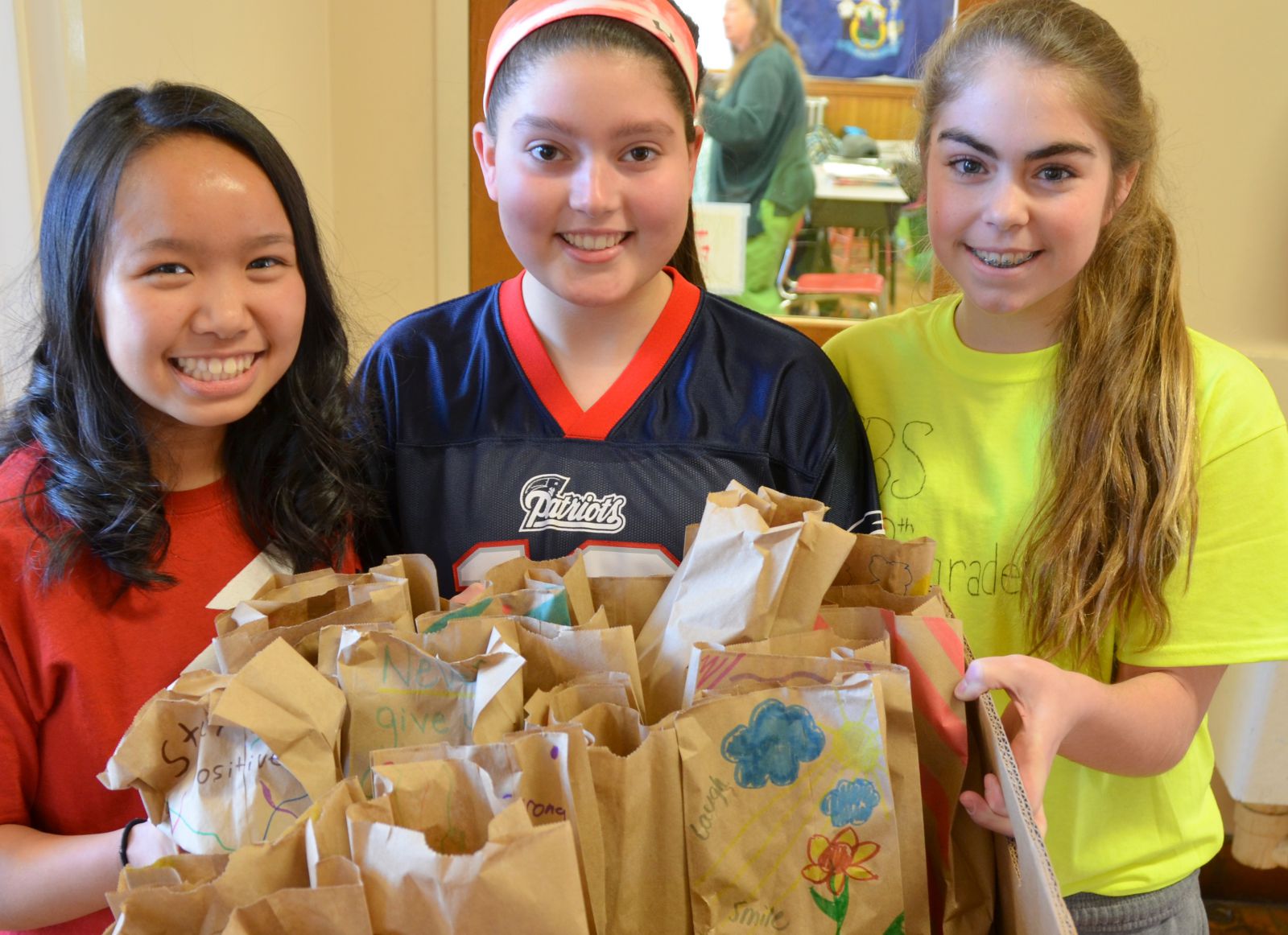 PORTLAND---"Bingo!" yelled fourth-grade student Skylar as she felt the thrill of victory in her class' competitive mathematics game of Division Bingo.
"So close," said her desk mate, Bishop Robert P. Deeley, as he lamented coming one square short of winning. "But I sat next to the winner, so that's good!"
Bishop Deeley made a special visit to St. Brigid School in Portland on Monday, February 3, to observe what the students have been up to and, in some classrooms, hop right into the learning (additional pictures below).
In fifth grade, the bishop joined a team for a STEM project in which the goal was to build a tower, using only paper and tape, that would hold religion books six inches or more off the desk.
"Remember, don't get the heaviest books, let's try some lighter ones," the bishop humorously advised after the tower had been built.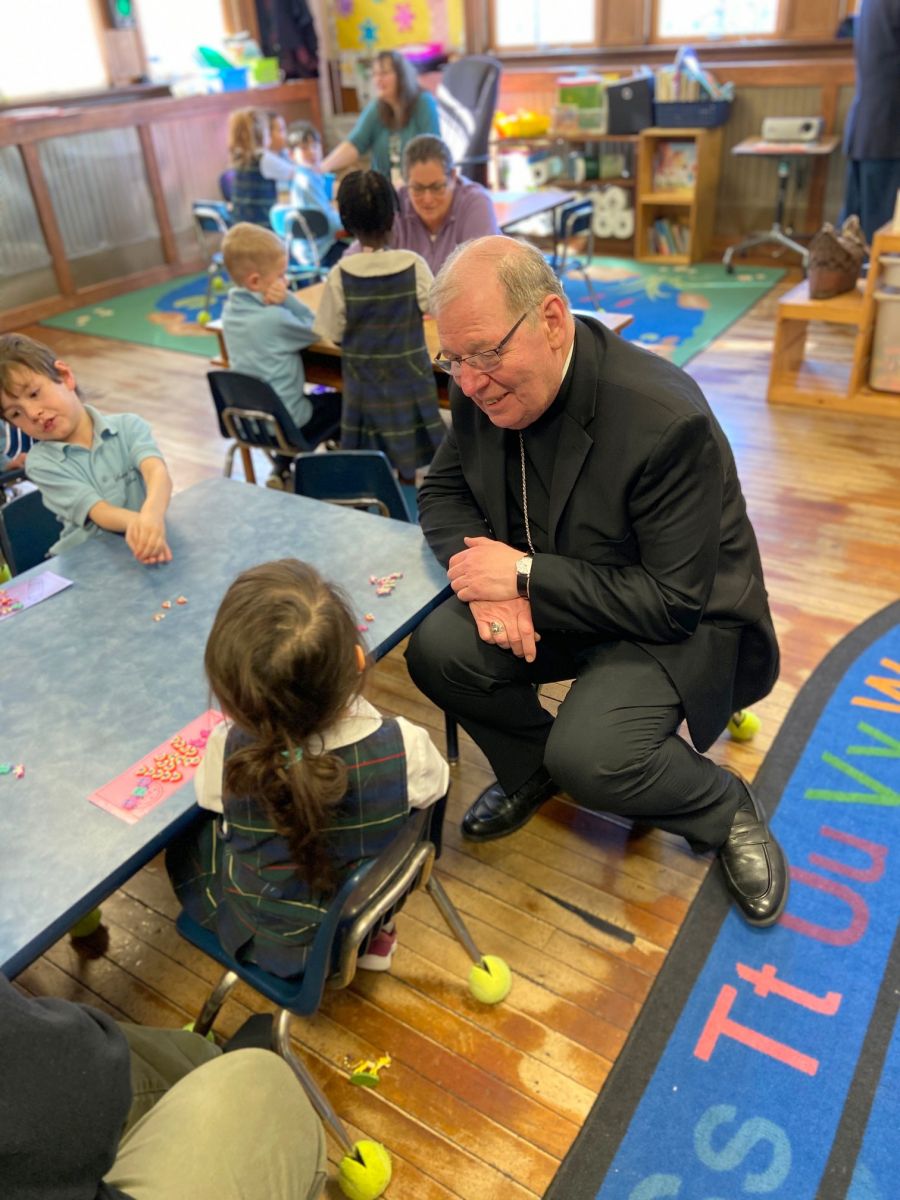 From being "served coffee" by pre-kindergarteners in their play kitchen to quizzing sixth graders on what they are learning in religion class, special moments abounded on Monday, including the conduction of an "exit interview" with eighth graders who will head to high school next year.
"If you could only keep one memory of your time at St. Brigid, what would it be?" asked the bishop.
"The people," answered one student. "The teachers, my friends, everyone just makes it a nice community. They really care about you."
"That's right," said the bishop. "We get to develop the whole person. We don't just focus on making writers and mathematicians, we integrate everything into an experience of who you are as a human being. You have a value system within which to live your life, a baseline where we develop a way of living with each other. The first principle is to love and care for one another and to help those in need."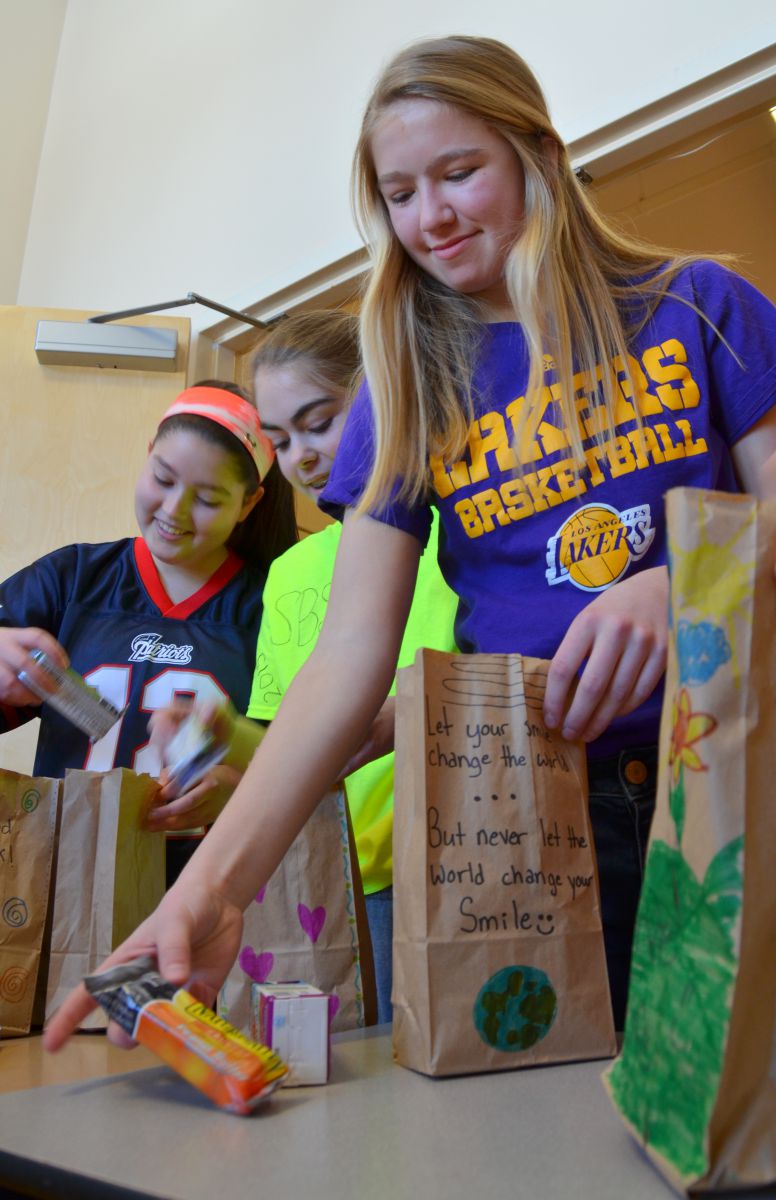 A sentiment that carried into Bishop Deeley's discussion about bullying when speaking with seventh graders.
"You know, when I talk to the older kids about what they love about St. Brigid School, they say it's the nice community and the relationships they have built."
Bishop Deeley told the students that building relationships and not bringing people down is what they will take from school into life.
"Bullies want to get someone else with them, so they make people an object. The person who is saying hurtful things is using it as a defense mechanism by getting people around him or her, get them laughing at someone else so they won't laugh at me. It's not healthy and it doesn't help you learn how to build relationships like you will throughout your life."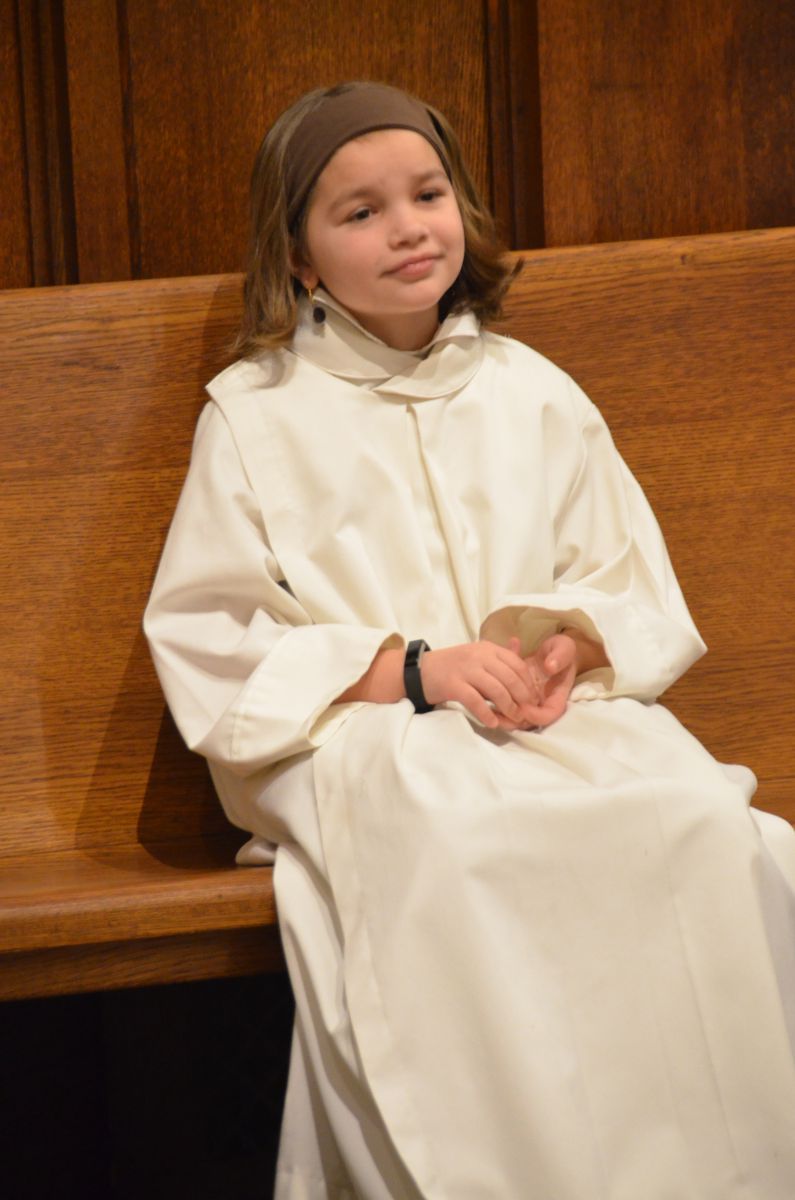 The bishop reminded the students that looking out for each other is one of the strengths of a Catholic school.
"Be sure to respect each other and listen to each other and help each other," said Bishop Deeley. "When you build relationships between each other like that, you learn that you care for each other and then, you will naturally look out for each other."
During his visit, the bishop also learned about the schoolwide penny competition during Maine Catholic Schools Week (Jan. 26-Feb. 1) that raised over $1,000 to pay for winter boots for refugees being served by Catholic Charities Maine.
"You are reminding yourself that this is what Jesus called us to do," the bishop told students. "He loves us and wants us to love one another. So, we do that through things like your project. We do it through service."
The bishop's school visits will continue next Monday when he spends time with the students and staff at Saint Dominic Academy's Lewiston campus.