PORTLAND---Due to the pandemic, the venue was different this year, but the purpose, the gratitude, and the deep reverence remained the same.
Bishop Robert Deeley celebrated Memorial Day Mass at the Cathedral of the Immaculate Conception in Portland, an occasion to offer prayers for all deceased loved ones, but most especially for those who sacrificed for our country.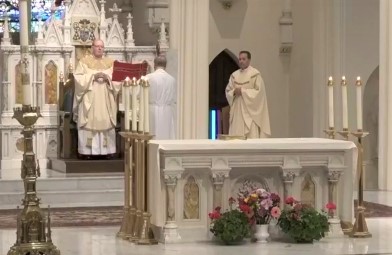 "Customarily we gather for this Mass in one of our diocesan cemeteries. Over the years, it has alternated between Calvary in South Portland and St. Peter's in Lewiston," Bishop Deeley told those participating from home via livestream. "We gather to remember their sacrifice, and, in our gratitude, to pray for them, and to entrust these veterans of many wars to the loving embrace of God."
The bishop described the men and women who died in the service to our country as "people of great love."
"They were not thinking of themselves as they went to fight for their country. They were thinking of their families. They were thinking of the ideals of their country and their duty as faithful citizens. Let us remember those who have shown us an unselfish way with honor," said the bishop. "We remember them with gratitude because they show us who we can be as a country and a people, as we too seek ways in which we can serve one another."
The Memorial Day holiday began as Decoration Day, an opportunity to place a flag and flowers on the graves of the fallen members of our military services, but has become a day for us to remember all the dead through prayer.
"Placing flowers is a beautiful sign of affection and honor," said Bishop Deeley. "We not only want to remember those who have died but also to pray for them. And we do so because what we do here is at the heart of our faith."
In Scripture, the mercy of God is visible in the mission of Jesus, showing us his Father's love and mercy and offering us the hope to pray for those who have died to live forever with the Lord.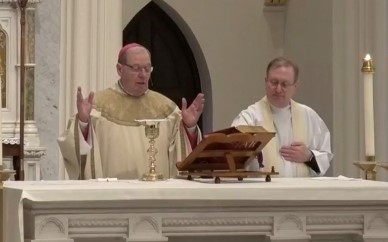 "Touched by faith, in faith we pray," said the bishop. "It is a service to those we honor for their service to the country, and to our own departed loved ones whom we now pray live with the Lord. It is compassion. It is love. It is our own hope in the promise of Jesus that makes it possible to think that our prayer could have so positive an effect on those for whom we pray."
Special prayers were offered for veterans that have lost their lives during the COVID-19 pandemic in veterans' hospitals and nursing homes as well as the medical personnel, grocery store workers, and other front line workers who have died in the service of others during the pandemic.
"Their dedication is the same commitment to others we see in our veterans," said the bishop.
Thanks to the generosity and selflessness of volunteers across the state, flowers were still placed at the gravesites of veterans at many cemeteries throughout Maine this weekend, including at St. Peter's Cemetery in Lewiston, where a record 360 volunteers placed 4,000 American flags on veterans' graves on Saturday.
"In that confidence we pray, may the souls of the faithful departed rest in peace," said the bishop.