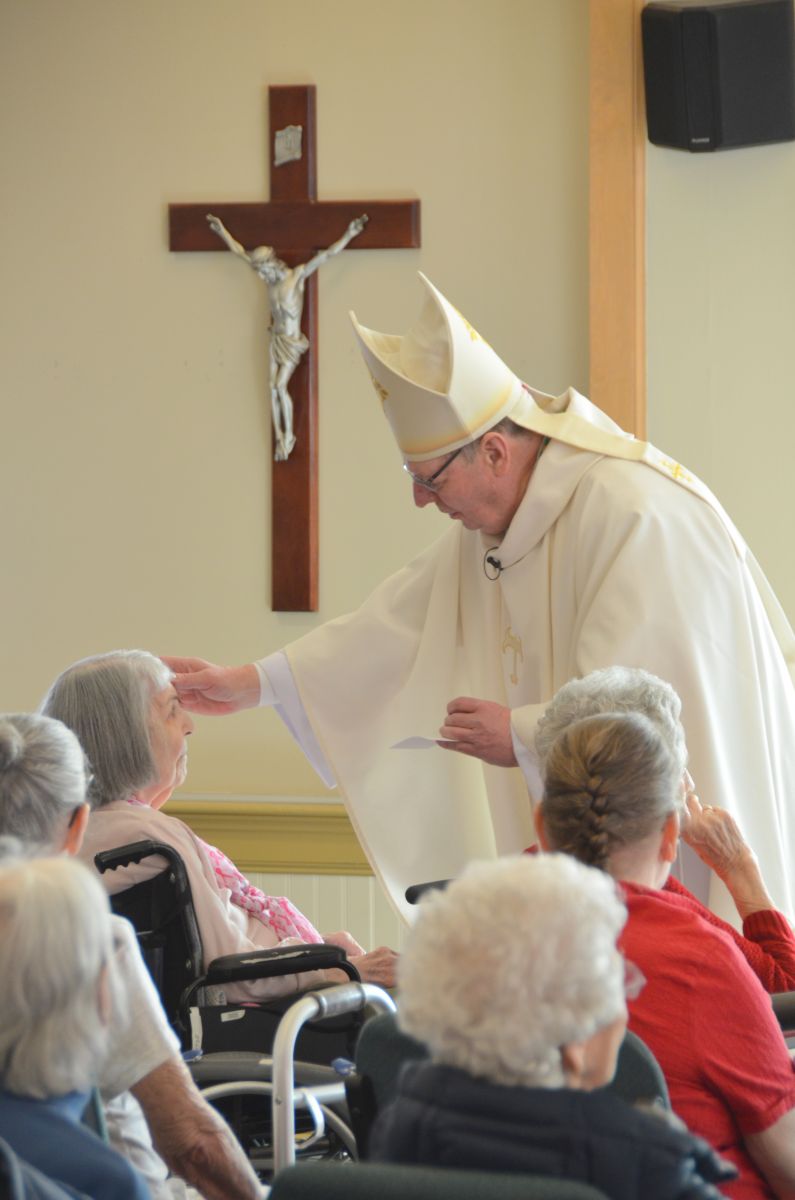 WATERVILLE---"Through this holy anointing, may the Lord in his love and mercy help you with the grace of the Holy Spirit."
The blessing was repeated over and over as Bishop Robert P. Deeley and concelebrating priests walked among the sick and elderly gathered in the beautiful, expansive common room of Mount Saint Joseph Residence & Rehabilitation in Waterville.
In observance of the World Day of the Sick (February 11), Bishop Deeley celebrated a special Mass of the Anointing of the Sick on Wednesday, February 12 (additional pictures below). The room was filled with residents of Mount Saint Joseph, many attending in wheelchairs.
"Jesus will touch you today through this sacrament," the bishop told those gathered. "To be sick or to become older, the healing you receive is in the reminder that, whatever our condition in life, Jesus loves us and shows his care for us. The healing is the healing of heart."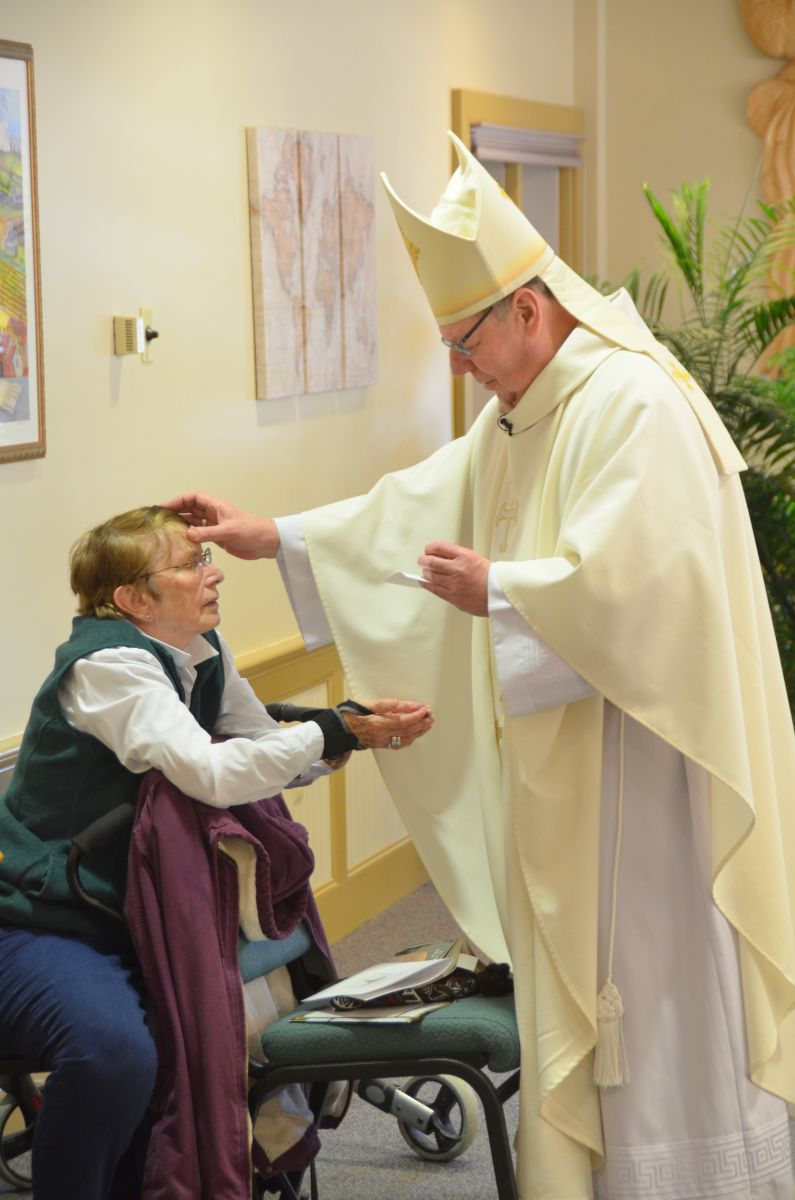 Concelebrating the Mass with the bishop were Fr. Chris Piselli, a resident of Mount Saint Joseph who was celebrating the 51st anniversary of his priestly ordination on February 12; Fr. James Roy, MM, of Winslow; and Fr. Patrick Finn, parochial vicar of Corpus Christi Parish in Waterville. Deacon Rod Berger assisted during the Mass.
The bishop and priests anointed each person's forehead and hands using the oil of the sick which brings God's health, strength, and forgiveness to those in need.
"To be healed is to know that Jesus reaches out and touches us but calls us to do the same for one another. We do that by caring for one another, praying for one another, being present for one another, smiling at one another, and helping each other as we can. Take that healing and allow it to bring this community closer together out of concern for one another."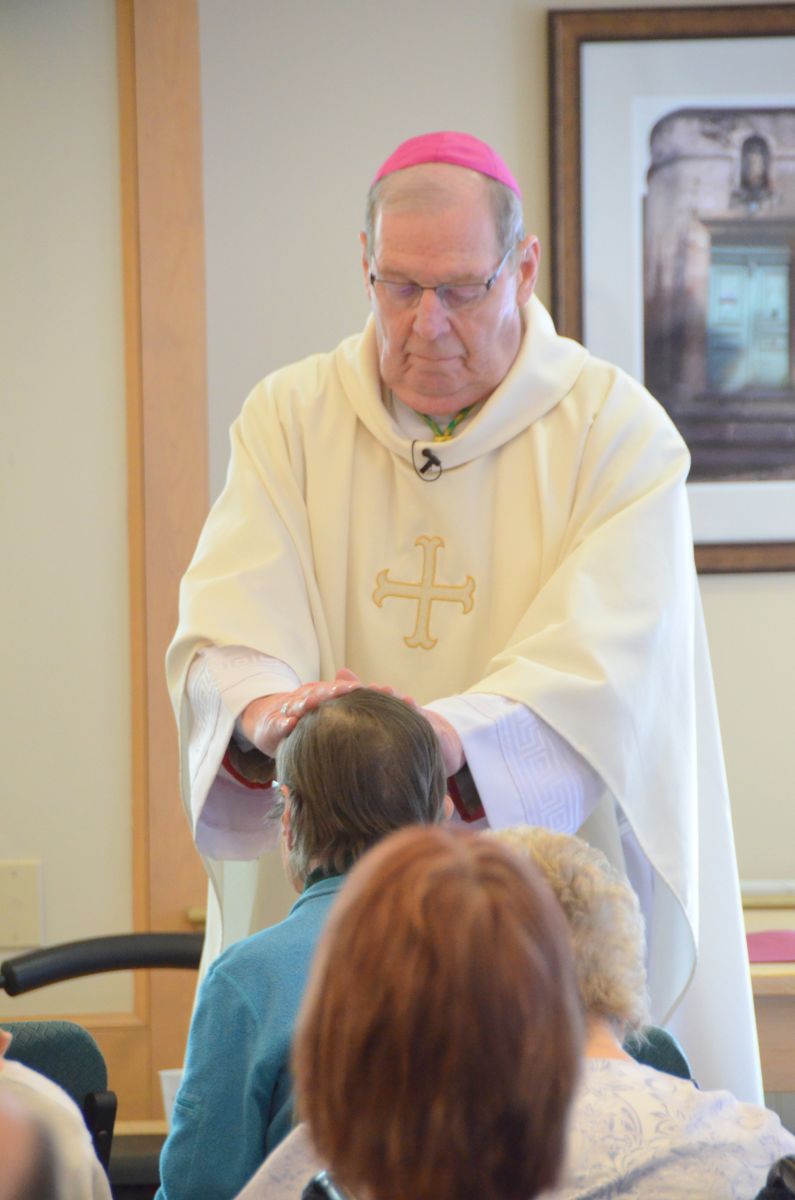 After Mass, Bishop Deeley toured the facility, spending time with residents and anointing those who were unable to make it to the common room for Mass.
"Everyone is excited. The room was full for Mass. It's wonderful," said Olivette, a resident.
"Even the non-Catholics were excited for the bishop's visit!" said Claire, another resident.
"The residents feel so privileged to have the bishop come. It's just a special grace for them," said Annette Rioux, a chaplain at the facility. "The fact that so many came down means it was so important to them."
"It's an honor to have him here," said Diane Sinclair, administrator of the facility. "All of the colleagues and the residents have been so excited to have him here. Being able to have Mass and the anointing, it's just such a special day. Everyone has been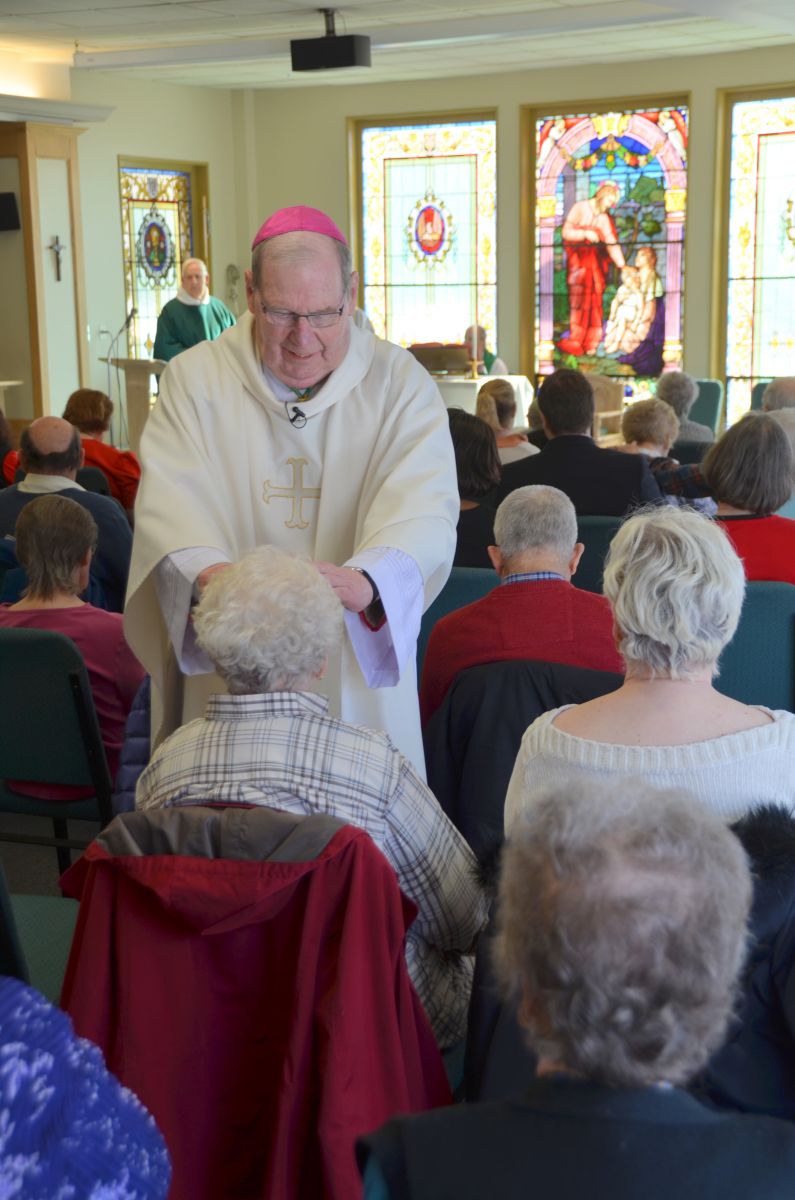 preparing. All our staff have been going above and beyond for today. It's an honor."
The sacrament of the anointing of the sick is one of the ways in which the Church carries on the healing ministry of Christ. The sacrament may be administered to individuals suffering from deteriorating physical, emotional, or mental illness. It is also administered to those experiencing a sudden medical crisis or scheduled for surgery, even routine procedures. In addition, the sacrament is appropriate for elderly weakened by advanced age or suffering from chronic or long-term illnesses. Anyone struggling or recovering from alcoholism or other addictions can also be anointed, as can individuals being treated with chemotherapy, radiation, or physical therapies.
During the Mass, prayers were also offered to all who are aged,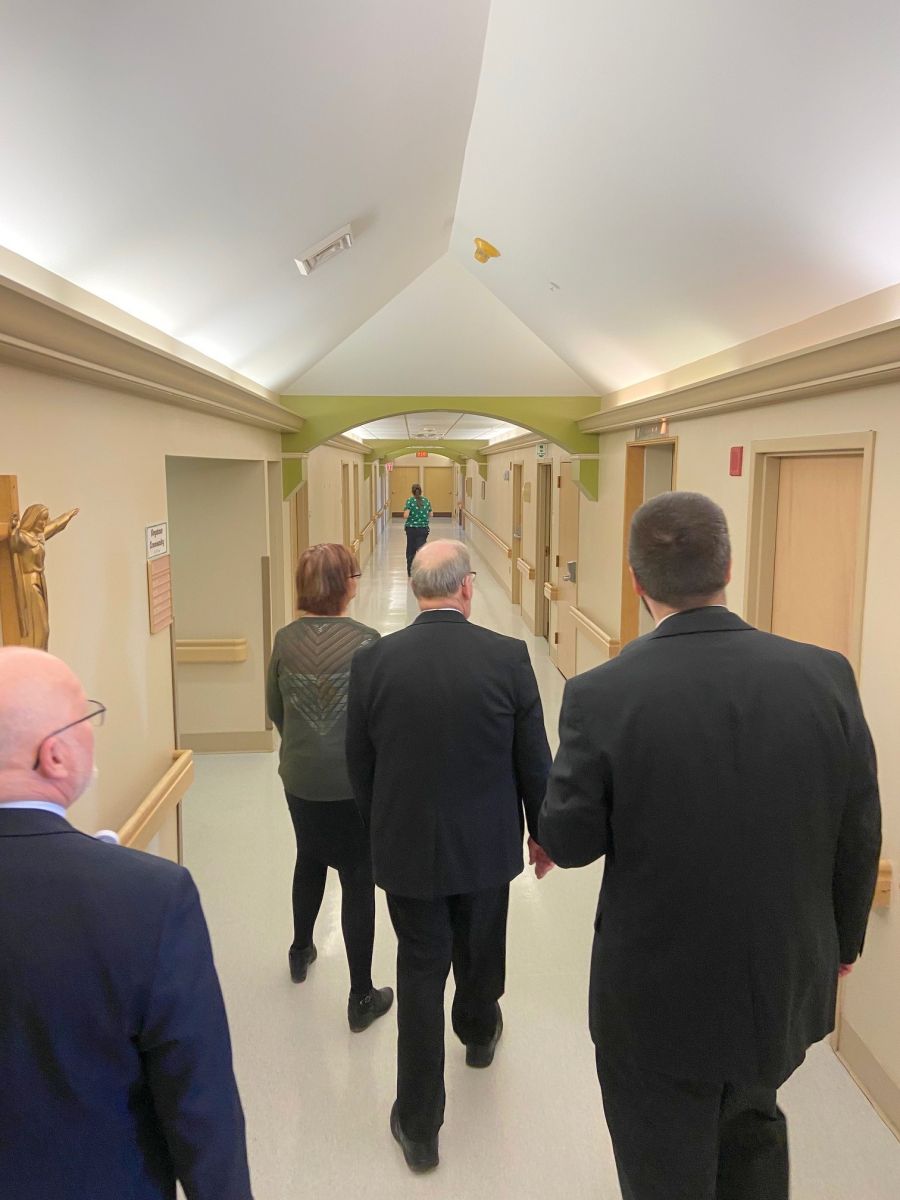 ailing, or alone, and all whose vocation is to care for the sick. Before departing, Bishop Deeley received a bronze statue of Saint Joseph to thank him for his visit and continued ministry in Maine.
The World Day of the Sick was introduced by Pope Saint John Paul II in 1992, who called upon the faithful to pray and reflect on those who are sick and struggling. The day coincides with Catholic Church's celebration of the Feast of Our Lady of Lourdes. On February 11, 1858, the Blessed Mother first appeared to Bernadette Soubirous in Lourdes, France, which has now become a place of pilgrimage and healing. The day also recognizes and honors all who serve as caregivers.
Mount Saint Joseph Residence & Rehabilitation has been caring for the people of Waterville and surrounding areas since 1966.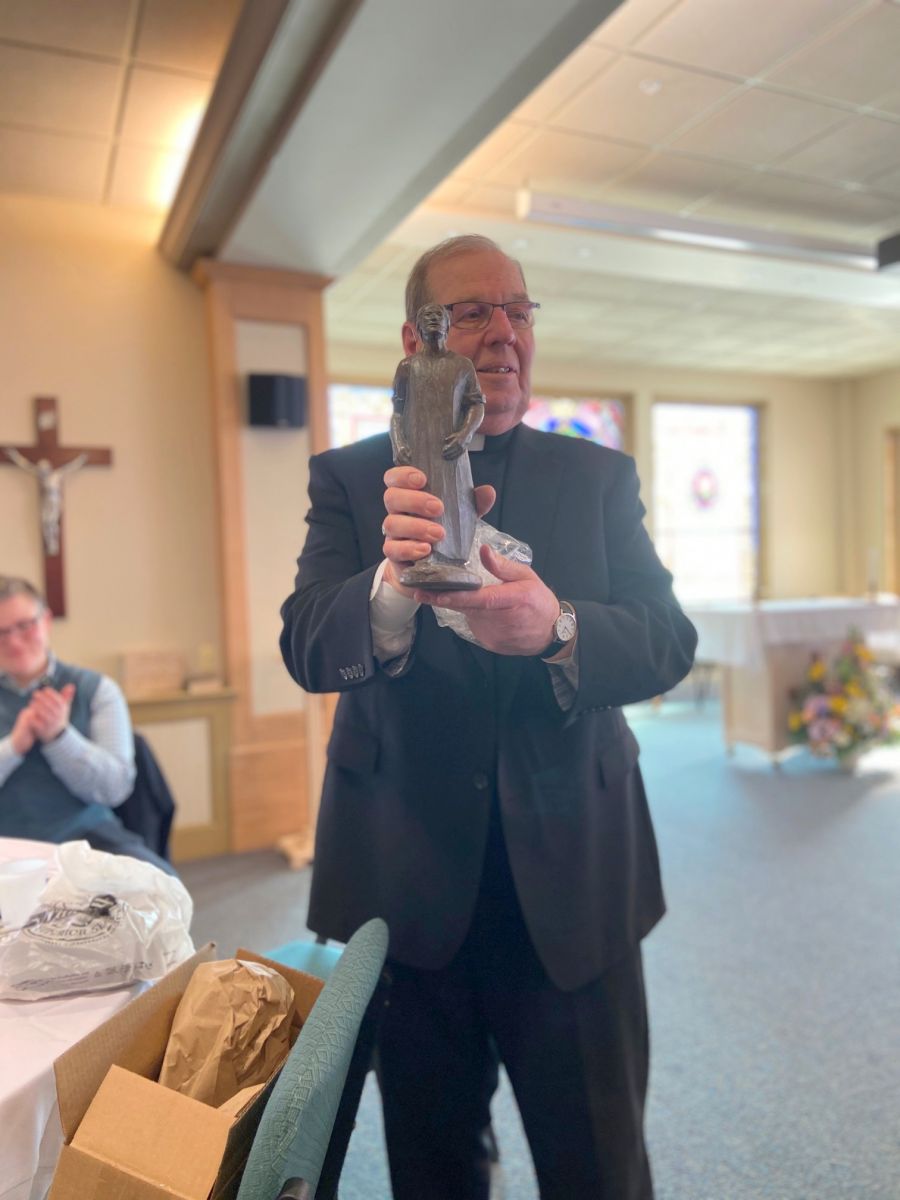 The 148-bed facility includes 111 skilled nursing beds, 27 assisted living beds, and ten in apartments. Founded by the Sisters of St. Joseph of Lyons, the facility takes pride in providing quality care that emphasizes quality of life in a faith-filled, compassionate community. Services offered include pastoral care, rehabilitation, long-term care, skilled nursing, dementia and Alzheimer's care, hospice care, physical therapy, occupational therapy, and speech therapy. Mount Saint Joseph was named Waterville's "Best Nursing Care Facility" in Market Surveys of America's "Best of the Best" awards. After over fifty years of operating the facility, the sisters transferred it to Trinity Health, a Catholic healthcare system, in 2016.
For more information about Mount Saint Joseph or to schedule a tour, call (207) 873-0705.