STANDISH---On Friday, May 10, Bishop Robert P. Deeley opened Commencement Weekend at Saint Joseph's College in Standish by celebrating a Baccalaureate Mass for students, their families, and the college community (additional pictures from Mass and commencement weekend below).
"Go forth and do good things with what gifts you have earned and received," Bishop Deeley told the graduating students. "You will make the biggest difference when you serve others and make the world a better place. Stay close to Jesus; in him all things are possible."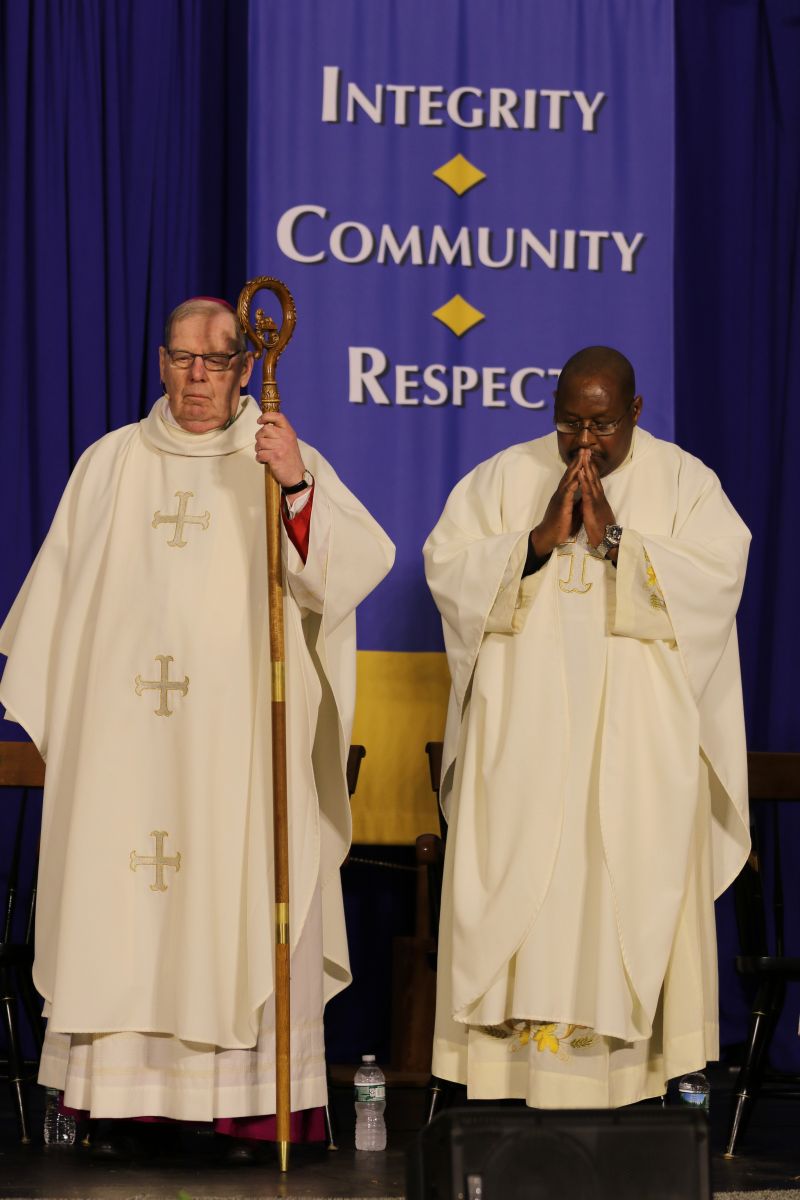 During the college's 106th Commencement on Saturday, May 11, the achievements of nearly 600 students, including both campus and 327 online students, were celebrated with the conferring of baccalaureate degrees in arts, fine arts, science, science in business administration, and science in nursing; associate degrees of science; and graduate degrees in accountancy, arts, business administration, health administration science in education, and science in nursing. Graduates hailed from 40 different states and six countries.
As part of commencement, Sister Karen Schneider, RSM, received an Honorary Doctorate of Humane Letters. Sister Karen is a pediatrician and assistant professor at Johns Hopkins University Hospital in Baltimore, Maryland, where she has been recognized for her international medical work in the service of children. Donald Tramuto received an Honorary Doctorate of Public Service. He is the CEO of Tivity Health, Inc., a leading provider of fitness and nutrition health improvement programs. Sarah Curtin of Strafford, New Hampshire, delivered the valedictory address, and Katherine Squires Rogers of Elizabeth City, North Carolina (previously of Scarborough), also spoke at commencement as she accepted her MBA from the college's online program.
Saint Joseph's College surprised the thousands gathered on Saturday by revealing the new Monks mascot character (also pictured below). Saint Joseph's is the only college or university in the United States, in any NCAA division, to have "Monks" as a mascot. The Monks mascot dates to 1970. It was only one year after the Board of Trustees decided that the college would become co-educational that then-College President Bernard P. Currier hired Christopher Kiernan from Assumption College in Massachusetts to become the new director of athletics and to launch a competitive varsity program. Knowing that Assumption Prep was about to close its doors, Kiernan asked for a donation of their team uniforms which bore the name "Monks." From that point forward, Saint Joseph's College adopted this as its mascot.
For more information about upcoming events and offerings at Saint Joseph's College, visit www.sjcme.edu.