BIDDEFORD---As Belinda, a staff member at St. André Health Care, took a stroll through the new memory care garden with Norma, a St. André resident, a picture was worth a thousand words.
"Isn't it beautiful?" asked Belinda as Norma looked from the beautifully paved sidewalk to the impressive gazebo with a smile that can be best described as ear to ear.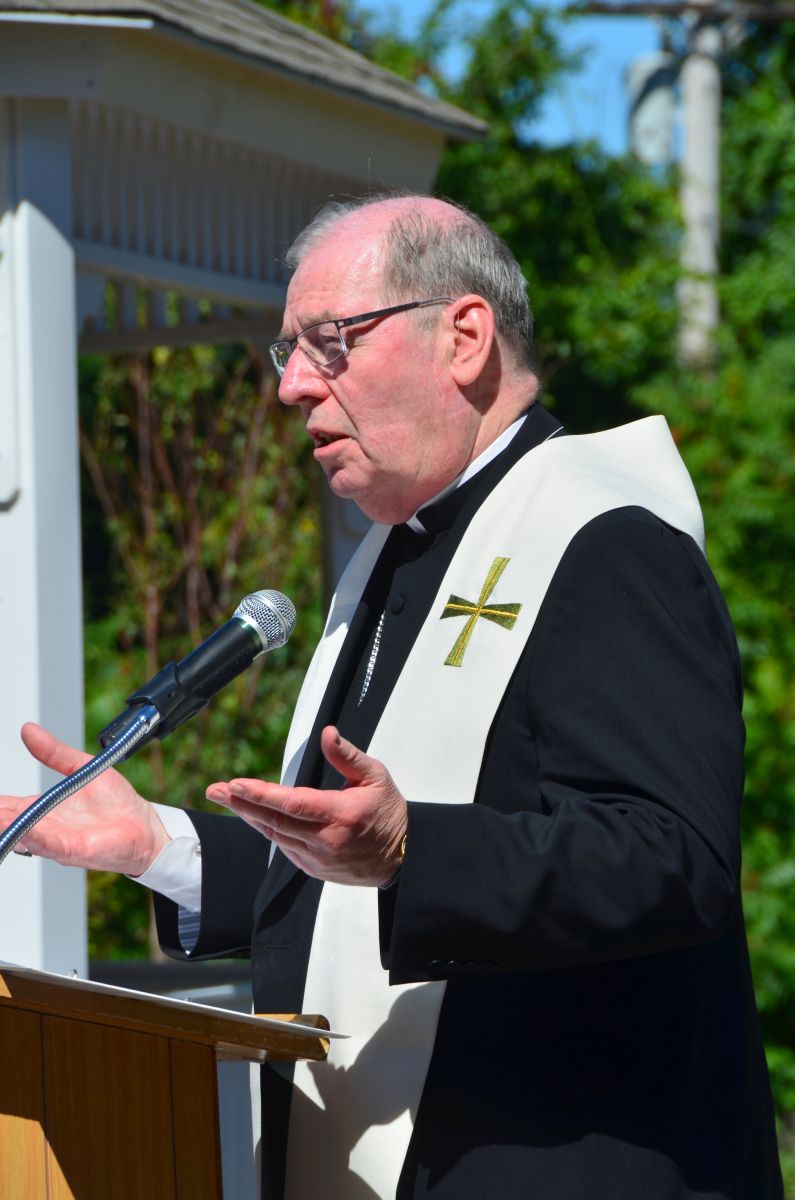 Smiles were in abundance on Friday, September 13, as Bishop Robert P. Deeley joined Senator Susan Collins, Biddeford Mayor Alan Casavant, donors, and hundreds of spectators during the dedication and blessing of the new memory care garden behind the St. André Health Care facility on Pool Street in Biddeford (additional pictures below).
St. André is a not-for-profit, 96-bed residence offering rehabilitation and skilled medical care, short-term respite care, long-term nursing care, Alzheimer's and dementia care, and palliative and hospice care.
"Lord of the planting and harvest," said Bishop Deeley prior to sprinkling the new garden with holy water, "may the residents of St. André Health Care who stroll in the midst of this garden's natural beauty also know your divine presence, comfort, and care."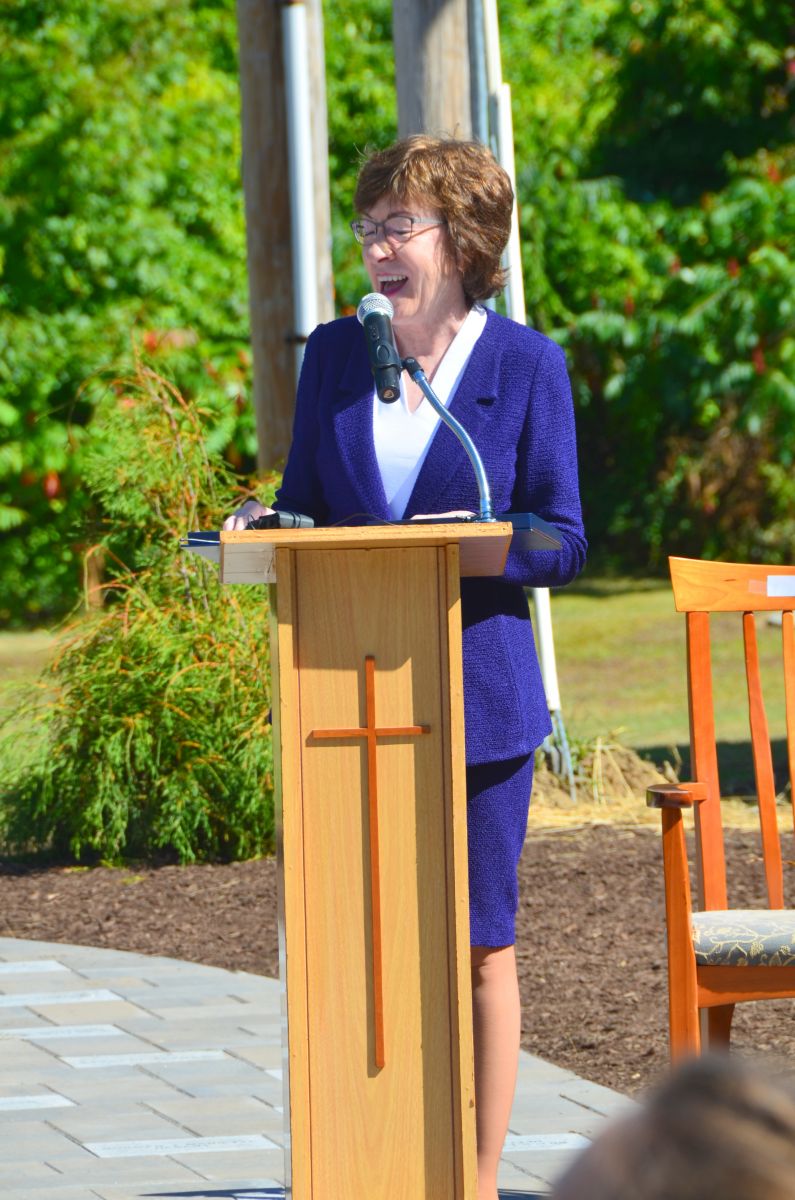 The dream for the garden began in 2017 with the launch of an annual fund to transform a park and patio in the backyard into place in which faith would meet hope and quality care. The initial goal was to raise $75,000 but, as of July, two appeals had brought in over $103,000 in gifts.
"The gifts exceeded our hopes. We wanted to respond to the growing demand for memory care among elders and to help ensure a healthy future at St. André," said Stephen Alaimo, president and CEO of St. André Health Care. "The response reflects faithfulness to our mission of providing the best healing and care."
The 5,600 square foot garden was built on the same level as the facility, so that residents in wheelchairs would have easy access. Paths, featuring pavers showcasing many of the donors for the project, are wide to offer additional assistance to those in wheelchairs. A fence to surround the entire garden will soon be constructed.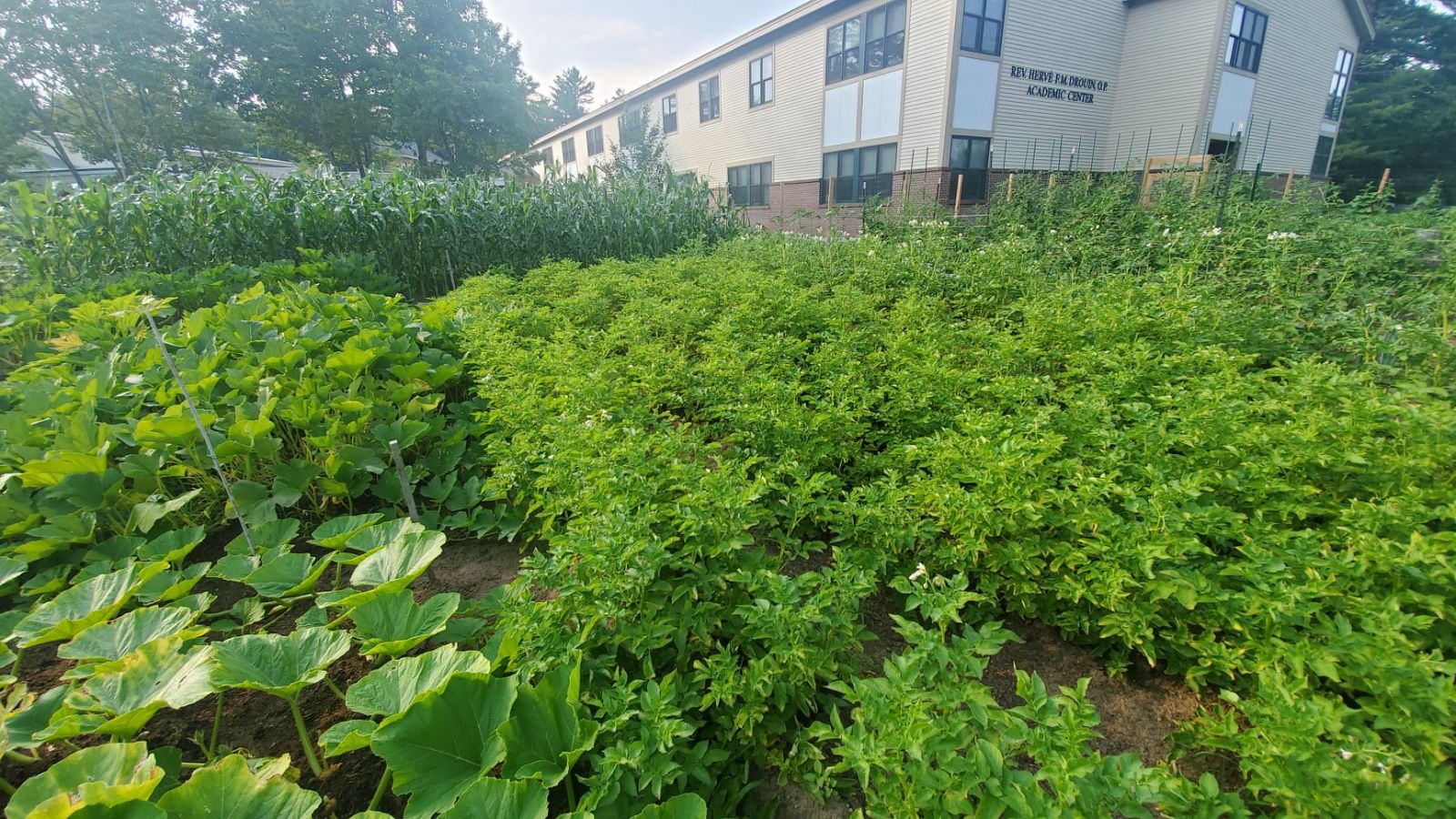 Raised garden beds surround a gazebo that was paid for by contributions from 17 councils of the Maine Knights of Columbus.
"The Knights have already raised $23,000 for this project and four Knights of the St. Joseph Council in Biddeford assembled the gazebo themselves!" said Alaimo.
The Good Shepherd Sisters of Quebec founded St. André in 1940, originally as a home for unwed mothers. Early in the garden project process, the Sisters made a $10,000 gift, a donation that offered not only financial support, but served as a call for others to help.
"We thank the Good Shepherd Sisters for their generous donation because that generosity really inspired a lot of the contributions that followed. It was a leading gift," said Michael Morel, chairman of the board of directors at St. André.
"We are so thrilled and humbled that they are dedicating this garden to the Good Shepherd Sisters. All of the sisters that have come through here and are in heaven now, it's such an honor and a beautiful legacy to have this here," said Sister Terry Gauvin, SCIM, provincial of the Good Shepherd Sisters of Quebec.
"I am blown away at the donation from the Sisters," said Senator Collins. "I love that the nuns led the way."
The garden and its purpose hold special meaning to the senator, who lost her dad to Alzheimer's disease last year.
"I know how difficult it was," she said. "This beautiful garden offers a place of peace, prayer, and serenity to those experiencing memory loss, to those looking to get outside, or to be with their family. My father would have loved coming out into this beautiful garden, sitting in the gazebo, and walking. What a difference it would have made for him and my mother."
As part of the ceremony, students from St. James School sang a spirited patriotic medley for those gathered and reinforced the special way in which Biddeford is defined by its long history of Catholic faith, its willingness to support caring organizations like St. André, and a commitment to helping each other.
"It's the people.
We care about our families. We care about our grandparents. We care about each other. This garden is an example of that," said Biddeford Mayor Alan Casavant, who has several family members that have lived at St. André. "We are so fortunate to have this facility. It is a special place."
"It will create space for physical exercise, therapies, and activities all in a safe and secure environment," said Sister Patricia Sullivan, RSM, the head of mission integration and spiritual care of the facility. "It can really improve a patient's quality of life and provide the chance to walk without the risk of getting lost. These memory-enriching opportunities will help to strengthen St. André's compassionate leadership in memory care throughout York County."
"The dream of this garden will be fulfilled through new experiences of care that will build stronger relationships among residents, their loved ones, and our staff," said Alaimo. "The garden is a testimony to the faith of those who helped support its creation. Lives will be enriched, and hope will be fostered. It's beautiful."
To assist St. André with its mission, donations are accepted from individuals and corporations. To contribute or learn more about the facility, visit www.standre.org/donate or call (207) 282-5171.