BIDDEFORD---All are welcome to join residents, staff, board members, and supporters of St. André Health Care in Biddeford for a special celebration on Friday, September 13.
The health-care facility, located on 407 Pool Street, will host Bishop Robert P. Deeley for the blessing and dedication of the new St. André Health Care Memory Care Garden at 11 a.m. A light lunch will follow.
The garden is a place that those suffering from memory loss will be able to safely visit and where those going through rehab will be able to get in some needed exercise. The ceremonial groundbreaking for the garden occurred in September of 2018.
"It's physical exercise. It's rehabilitation. It's relaxation. It's enjoyment," said Sister Patricia Sullivan, RSM, the head of mission integration and spiritual care of the facility.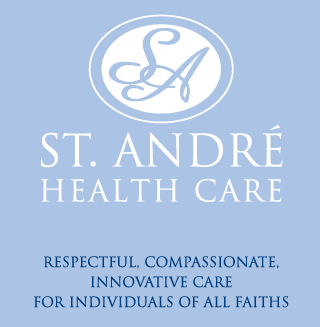 St. André is a not-for-profit, 96-bed residence offering rehabilitation and skilled medical care, short-term respite care, long-term nursing care, Alzheimer's and dementia care, and palliative and hospice care.
The 5,600 square foot garden was created in back of the health-care facility, where there is now an outdoor patio. The area has been expanded and enclosed, so that it is safe for residents with memory loss. It was also built on the same level as the facility, so that residents in wheelchairs would have easy access. Paths in the garden are wide to offer additional assistance to those in wheelchairs. Previously, the patio was only accessible by a ramp. In addition, a gazebo was built and raised garden beds were created.
"The garden will be an essential part of the caregiving process that we provide all of our residents," said Michael Morel, chair of St. André's Board of Directors. "Studies have clearly verified the health and wellness benefits of natural environment, such as those experienced in a garden setting. The common goal of the garden is to make people safe and secure, less stressed, more comfortable, and even invigorated."
The Good Shepherd Sisters of Quebec founded St. André in 1940, originally as a home for unwed mothers. In the mid-70's, it became a long-term care facility, and 16 years ago, Covenant Health took over operations. The sisters remain active at St. André through volunteering and financial support, including a substantial donation to help build the garden.
"I think it's a wonderful idea, and our community is very supportive of it," said Sister Terry Gauvin, SCIM, provincial of the Good Shepherd Sisters of Quebec. "With time, we're getting to be more sensitive to those with memory loss, and this is going to be wonderful for them to be able to come outside."
"It will create space for physical exercise, therapies, and activities all in a safe and secure environment," said Sister Patricia. "It can really improve a patient's quality of life and provide the chance to walk without the risk of getting lost. These memory-enriching opportunities will help to strengthen St. André's compassionate leadership in memory care throughout York County."
To assist St. André with its mission, donations are accepted from individuals and corporations. To contribute or learn more about the facility, visit www.standre.org/donate or call (207) 282-5171.