PORTLAND---As his ordination to the transitional diaconate approaches, Biddeford native Alex Boucher is equal parts grateful, inspired, and reverential.
"I've realized more and more that I am simply responding to a call that I have discerned over time. This journey has included great joys and unique challenges. I continue to rely on the assistance of God and the guidance of those entrusted with my formation to conform my life more and more to Jesus Christ."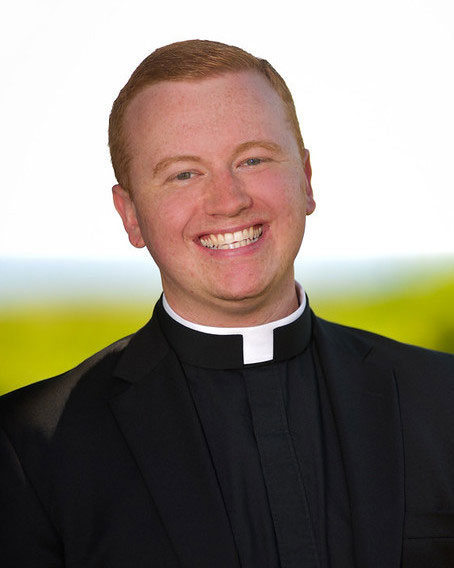 On Sunday, June 2, Alex's commitment to his vocation to the priesthood will take another step forward as he is ordained to the transitional diaconate by Bishop Robert P. Deeley. The designation of "transitional deacon" indicates that although Alex will always be a deacon by virtue of his ordination, the expectation is that he will one day be ordained to the priesthood.
All are welcome to attend the Mass of Ordination which will begin at 10 a.m. at the Cathedral of the Immaculate Conception in Portland.
"The Rite of Ordination is full of so many beautiful moments. I'm mindful of the many priests and deacons that have been ordained in the very spot in the Cathedral of the Immaculate Conception where I will soon be ordained," said Alex. "Their example of faith and commitment to the Lord, the Church, and the people of God is inspiring."
The story of faith and formation that led Alex on his path is inspiring as well, and it all began when he was a young student at St. James School in Biddeford.
"I first remember vocalizing a desire to be a priest as a young kid attending the first Mass of a newly ordained priest," he said. "God certainly planted the seeds for a priestly vocation at a young age. As I got older, it always seemed to be in the back of my mind, but I resisted and tried to ignore it for a long time."
Alex attended Cheverus High School in Portland where he was active in campus ministry. As a teen, he also helped develop a youth ministry program in the Biddeford/Saco area and served for two years as a member of the former Maine Diocesan Council for Catholic Youth. The experiences allowed him to encounter teachers, Jesuits, and diocesan priests who encouraged him in his discernment and challenged him to deepen his knowledge and love of the faith.
"It wasn't until college that I really started to open my heart to the possibility that God might be calling me to the priesthood," said Alex, who attended The Catholic University of America in Washington, D.C, where he earned a bachelor's degree in theology and religious studies. "I was fortunate to be in an environment that was conducive to vocational discernment, and I developed enduring friendships with women and men of great faith who supported and encouraged me in my discernment."
Daily prayer, the sacraments, and spiritual direction deepened and enriched his desire to serve Christ and the Church as a priest.
"Many of my friends were also actively discerning vocations to the priesthood or religious life, and several close friends are now also in seminary, religious formation, or have been recently ordained," said Alex.
During his college years, Alex enjoyed a variety of volunteer and professional work experiences that provided him with a wider view of the Church. He was involved with the Knights of Columbus, was active in campus ministry and a men's discernment group, and served regularly at the Basilica of the National Shrine of the Immaculate Conception. He also worked as a project administrator for the National Leadership Roundtable on Church Management in Washington, D.C.; program and operations manager for the Catholic Apostolate Center in Washington, D.C.; and intern in the Office of the Vicar General for the Archdiocese for the Military Services, USA. Alex also worked as a pastoral associate for the Portland Peninsula & Island Parishes in the areas of liturgy and parish life.
Ultimately, the Blessed Mother and a strong support system helped Alex realize where his journey should continue.
"Even when I was trying to avoid or ignore God's call to the priesthood, Mary's constancy in drawing me back to her Son, and her own example through her perfect fiat, is ultimately what has led me to this point," said Alex. "I'm blessed to have the unconditional love of my family, the unwavering support of so many trustworthy friends, and the example of many good and holy priests which has made pursuing the vocation to priesthood so much easier."
Alex was assigned by Bishop Deeley to Saint John's Seminary in Brighton, Massachusetts, where he first studied philosophy and recently completed his third year of theological studies, his fifth of six years overall.
On June 2, surrounded by friends, family members, priests, deacons, and parishioners, Alex knows he will be where he is meant to be.
"I've been overwhelmed by the outpouring of prayers and support from family, friends, parishioners, and even complete strangers from across the diocese and beyond," said Alex. "It's humbling to see how much people love their priests and their future priests. I'm reminded of a line from the Liturgy of the Hours: 'Through all eternity, O Lord, your promise stands unshaken.' As ordination to the diaconate approaches, I'm grateful to God for his faithfulness."
A Holy Hour for Vocations will be held the day before the ordination at the Cathedral of the Immaculate Conception. The Holy Hour on Saturday, June 1, will begin at 11 a.m. Seminarians will be serving the Holy Hour and all priests, deacons, and laity from the diocese are encouraged to attend if possible. Those gathered will pray for Alex and for vocations to the priesthood and religious life.