Scheduled to visit:
St. Mary of the Visitation Parish, Houlton, and St. Agnes Parish, Island Falls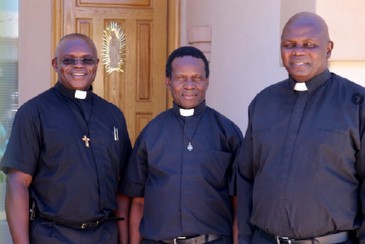 The Apostles of Jesus was founded in Moroto, Uganda, in 1968, by two Italian missionaries. Currently, there are more than 400 Apostles of Jesus members serving in countries around the world, including Botswana, Cuba, Ethiopia, Kenya, Papua New Guinea, Sudan, South Sudan, South Africa, Tanzania, and Uganda. The missionaries care for refugees and for the sick, including operating a medical center in Uganda and caring for those with AIDS. They also operate schools and have farms, where they teach good farming practices.
In 2020, the missionaries are asking for support for the ongoing formation of its members.
"We came to realize that some of our priests and brothers need time to rejuvenate – a sabbatical to renew their spirit, their theology and pastoral skills, and heal some wounds," said Father Richard O'Nyamwaro, AJ, director of the Apostles of Jesus U.S. Mission Office.
If you would like to learn more about the work of the Apostles of Jesus, please visit https://www.apostlesofjesusmissionaries.com.