BANGOR---All Saints Catholic School in Bangor is pleased to announce that Matthew Faragher-Houghton has been named principal effective July 1, 2018. All Saints is a pre-kindergarten through eighth grade school with two campuses (166 State Street and 768 Ohio Street).
Faragher-Houghton succeeds Joseph Gallant, who is retiring after seven years as principal at All Saints and nearly 40 years of service in education.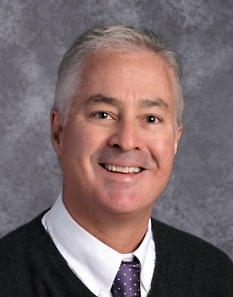 "As a Catholic, I am truly excited to lead this large and diverse school community," said Faragher-Houghton, who, along with his family, is a parishioner at St. Gabriel Church in Winterport. "I value communication, relationship building, and shared leadership. Throughout my career, I have worked to consistently develop trusting and honest relationships with students, families, and staff members. I am also personally inspired by the opportunity to learn and grow in my Catholic faith while looking for new ways to enhance an already wonderful school community."
Faragher-Houghton is currently the principal at two Maine elementary schools: Morse Memorial School in Brooks and Monroe Elementary School in Monroe. He has held his current position since 2008 and oversees a total of nearly 50 staff and 200 students. From 2005-2008, he worked as a distinguished educator for the Maine Department of Education, creating improvement plans in reading and math for local schools and providing regional support to schools as part of the department's No Child Left Behind School Improvement Team. In addition, Faragher-Houghton has served as principal at Belgrade Central School in Belgrade (2004-2005), the Laura E. Richards School in Gardiner (1996-2004), and the Miller School in Waldoboro (1994-1996).
"The search committee was impressed by his devout faith, experience, and collaborative style," said Fr. Frank Murray, pastor of St. Paul the Apostle Parish of which All Saints is a part. "I think he is the perfect fit for All Saints as we begin a new chapter in our history. The school community is fortunate to have found a faithful Catholic steward to help guide the school to new heights of success."
A Maine native, Faragher-Houghton holds a master's degree in education from the University of Maine at Orono and a bachelor's degree in physical education/health from Springfield College in Springfield, Massachusetts. He has also earned a certificate of advanced study from the University of Maine at Orono and is currently enrolled in the Ed.D. program in education leadership at the university.
Faragher-Houghton has three sons (Colby, 27; Noah, 11; Arlo, 5). He and his wife Kate reside in Monroe with their two younger boys.