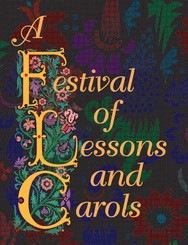 ELLSWORTH---Celebrate the hope, joy, and spirituality of the Advent season at Festivals of Lessons and Carols set to be presented at multiple locations in the coming weeks.
The Festival of Lessons and Carols is an Advent tradition that dates back to the late 19th century. It is a blend of Scripture, prayers, and Christmas carols carefully chosen to tie into the themes of this sacred season. It is one of the rare times carols such as "Silent Night" and "O Come All Ye Faithful" are sung in church prior to Christmas Eve. The story of salvation will be told through nine Scripture readings or "lessons," which begin with the fall of man in the Garden of Eden and continue through the birth of Christ. The Festival of Lessons and Carols is a prayerful and joyous way to prepare for the celebration of Christmas.
Festivals are scheduled for (by date):
Ellsworth
St. Joseph Church, 231 Main Street
Sunday, December 8
3 p.m.
***Social hour to follow in the parish hall.
Cape Elizabeth
St. Bartholomew Church, 8 Two Lights Road
Sunday, December 8
5 p.m.
***Blessing and lighting of Christmas tree outside church and dinner/caroling in the parish hall to follow.
Yarmouth
Sacred Heart Church, 326 Main Street
Tuesday, December 10
6:30 p.m.
Jay
St. Rose of Lima Church, 1 Church Street
Friday, December 20
6 p.m.
A special section featuring a wide range of Advent resources, materials, and events is now available on the Diocese of Portland's website. The Advent section highlights the four-week period leading up to Christmas, a time of preparation for the celebration of the Lord's birth in which Christians celebrate the way the Lord comes into our lives each day. Included in the section are prayers and reflections; a variety of Advent calendars in English and Spanish; multiple listings of events and giving opportunities at Maine parishes; fun activities to do individually or as a family; Mass times for holy days; and informative essays. The Advent section will be updated throughout December.