PORTLAND---From invocation to closing prayer, the inauguration of a U.S. president provides a patriotic vision of the fabric and essence of America, an opportunity for rebirth, and a reminder of the liberty and democracy that defines our nation.
On Wednesday, January 20, Joseph R. Biden, Jr. will be inaugurated as the 46th President of the United States, marking the second time a person who professes the Catholic faith will serve as the leader of the free world, and Kamala D. Harris will become the first woman to serve as vice president.
In advance of that historic occasion, Bishop Robert Deeley celebrated a morning Mass at the Cathedral of the Immaculate Conception on Sunday and spoke of the special significance the inauguration holds for each of us after one of the most turbulent and divisive elections in history.
"Mr. Biden will be the second president who is a Catholic. It is 60 years since we inaugurated the first. That was John F. Kennedy," said Bishop Deeley. "I remember well that election and inauguration. I was a 14-year-old newspaper boy. On the morning of Kennedy's election, I had one of his election stickers on the front of my bicycle so that I could announce to my customers who the winner of the election was."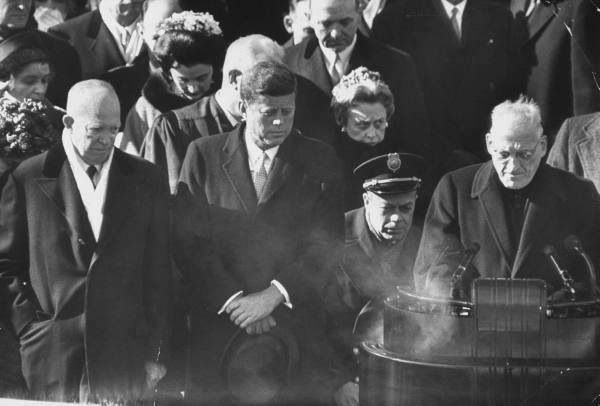 Bishop Deeley told the assembly that Cardinal Cushing of Boston gave the invocation that day, and his choice of words for the prayer were timely both in January of 1961 and today.
"'We ask Thee, Almighty God, to enlighten us. That we may know, as Americans, our political, social, and humanitarian responsibilities, and that we may know, as children of God, our responsibilities to the Father of all mankind. Enlighten us that we may know how to put this principle of responsibility into daily practice, both in ideal and action, in these troubled but hopeful times,'" recited Bishop Deeley. "At 14, and in my freshman year of high school, I am not exactly sure of what was 'troubled' about the time. But I do know that the time we are presently in is a troubled one. The division and anger in our society is profound and harmful."
Troubled times call for Catholics to pray that God will watch over our president and other leaders, but they also call for action.
"Troubled times call us to be engaged in solving what makes the time a troubled one," Bishop Deeley said during his homily. "Each of us has a vocation, a calling from God to be something and to do something for others with the gifts and talents that are unique to each of us."
The bishop said that God speaks to us in the Scripture and, as we allow his words to take root in our hearts, we can learn how he wants us to live.
"The disciples teach us that the meaning of life is not something we possess, nor is it a doctrine we try to understand, it is a relationship. It is a personal friendship with Jesus Christ, the Lamb of God, who brings the love of God into the world, who gives himself for others, who saves us from sin on the cross, and who invites us to follow him."
The message of Jesus, then, is not just a message of love. It is a call to love.
"Jesus has told us that we are to love one another as he has loved us," said the bishop. "That is what it means to be a follower of Jesus. It is also the way to peace, to reconciliation and harmony in our communities and our nation and our world. We ask God to help us to show in our lives his way of love for all people. By so doing, we will show forth the hope that Jesus' teaching brings to the world, and we will help to solve what makes our time a troubled one."