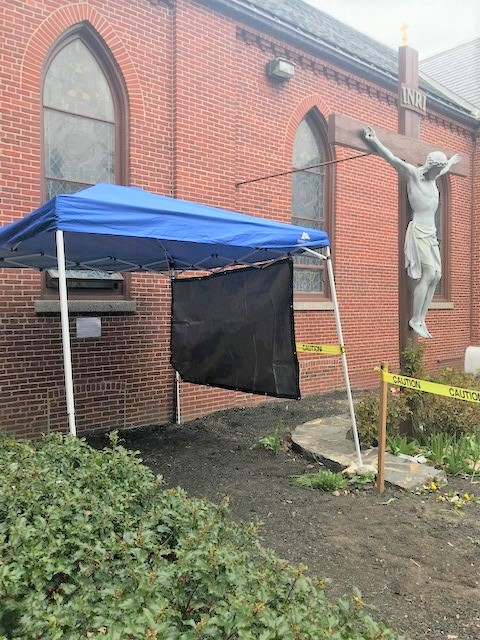 PORTLAND---After the success of "drive-thru" confessions at parishes across Maine, the Cathedral of the Immaculate Conception will offer "window" confessions on Saturdays from 2:30 p.m. to 3:30 p.m.
While the doors of the church remain closed due to the pandemic, a window will be open in the chapel. Participants can walk or drive into the Cumberland Avenue side of the parking lot of the Cathedral (307 Congress Street in Portland) and will be directed. A priest will be inside the chapel where he will offer the sacrament of reconciliation through the window. The practice was successfully conducted with a number of parishioners over the last two weeks.
"From inside the chapel, I heard confessions while penitents walked up to the window from outdoors. A curtain protected their privacy as well as their health," said Fr. Kevin Upham, parochial vicar at the Portland Peninsula & Island Parishes of which the Cathedral is a part.
In between confessions, Fr. Upham looked up at the stained-glass window above him.
"The image on the stained-glass window depicted a heart with a crown over it, with the following Scriptural passage from Matthew 5:8, 'Blessed are the clean of heart, for they shall see God.' It was not planned this way, but it serves as a reminder of how the Holy Spirit works in our personal lives and the life of the Church," said Fr. Upham. "This open window provided, and will continue to provide, our parishioners with the opportunity to clean their hearts to better see God in this difficult time through the sacrament of reconciliation."
Many parishes in Maine continue to offer confessions in a variety of ways during the pandemic. To view a list, visit www.portlanddiocese.org/drive-through-confessions.