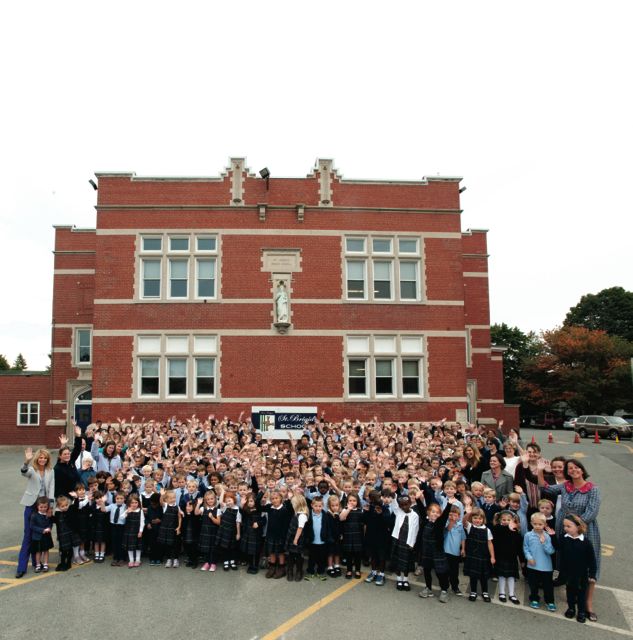 PORTLAND---A question posed during a staff meeting at St. Brigid School led to the development of a service initiative that will involve students, families, and staff at the Portland school all summer.
"One of our kindergarten teachers, Mrs. Culpovich, asked what the school had done to assist the wider community in a service capacity during the pandemic," said Ellen Couture, administrative assistant at St. Brigid. "Soon, 'Summer of Service' was created with the perspective of taking care of ourselves, others, and the greater community."
The "Summer of Service" will feature weekly activities with reminders being sent to members of the school community, spanning from a blood drive on campus to lemonade stands for non-profits. The initiative will kick off on June 9-11 with a major food drive to support Wayside Food Programs. Community members are encouraged to drop off items at the school (enter on Elmwood Street and exit onto Stevens Avenue) on any of the three days from 8 a.m. to noon. At present, the program is in particular need of peanut butter, sun butter, rice, lentils, pasta, healthy snacks for kids, canned tuna, canned chicken, tomato sauce, canned or boxed soups and stews, low/no sugar canned fruit, canned vegetables and beans, granola or cereal bars, cereal, macaroni & cheese, and non-fat powdered milk.
Additional "Summer of Service" themes include:
Week of June 15---Healthy Habits
In order to help others, people must first help themselves. Students will take pictures of themselves being healthy with a "Flat Brigid" (inspired by Flat Stanley) which will be posted on the school's Facebook page (www.facebook.com/stbrigidschoolportlandme). Each student will receive a "Flat Brigid" to tag along with them this summer.
Week of June 22---Take Care of Your Emotional/Mental Health
Students will take pictures with "Flat Brigid" to show how they are reducing stress and working on their personal resiliency.
Week of June 29---Reinvest in the Maine Economy
School families will support a local restaurant, bringing "Flat Brigid" along for the ride, of course.
Week of July 6---Physical Health
Members of the school community will go hiking, kayaking, paddling, biking, swimming, and "get moving."
Week of July 13---Brighten Someone's Day
Students are asked to create cards, letters, and drawings which will be delivered to residents at Park Danforth and Deering Pavilion, and Our Lady of Hope parishioners.
Week of July 20---Feed Yourself Culturally
Students will take their "Flat Brigid" on a virtual tour of museums or on a self-guided walking tour of Portland.
Week of July 27---Choose Local Businesses
The school community will only shop at local businesses for the things they need.
Week of August 3---American Red Cross Blood Drive
The school will host a major blood drive on campus to help with the increased need created by the sheltering in place orders.
Week of August 10---Old-Fashioned Fun
Students will build lemonade stands to support non-profit organizations.
Week of August 17---"Love thy Neighbor"
Current students will help in welcoming new students and families to the school communities.
In addition, the school is working on another project entitled "Masks for Mass" that would produce masks for individuals and families in need who are attending in-person Masses at Our Lady of Hope Parish.
"This plan will allow us to do some good for others and help the Maine economy recover from the effects of the pandemic. Enlisting our families and students in these service projects will have a great impact on not only themselves, but also the togetherness of our entire school and wider community," said Bill Burke, principal at St. Brigid.
For more information about "Summer of Service" at St. Brigid School, call Ellen at (207) 797-7073 or email stbrigid@portlanddiocese.org.