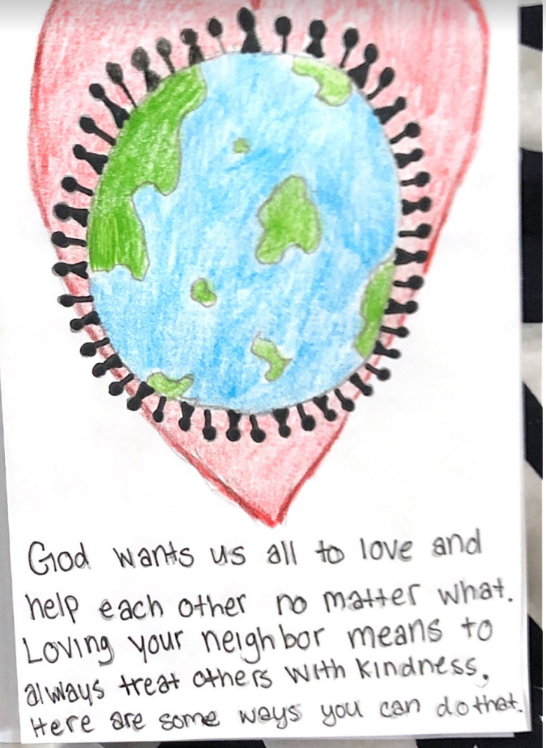 PORTLAND---"God encourages us to love all of our neighbors, especially the ones who are harder to love. Although it's a challenge for us all, we can strive to be better people by showing that little bit of extra kindness to someone who could use it."
The words of Maggie, a student at St. Brigid School in Portland, were one of many inspiring thoughts and emotions expressed by seventh graders during a project this week entitled "Love Your Neighbor."
The instructions for the projects were simple, but execution required thought, creativity, and careful consideration about how best to express love and care for others.
"The task was to creatively demonstrate what it means to love your neighbor and its importance in our lives as Christians," said Erica Papkee, the middle school religion teacher at St. Brigid. "The creative outlet could be through the format they chose, but it had to be original."
Erica's students answered the call in several different ways.
"I painted five different animal-characters, all different species, colors, and clothing, holding hands on a piece of paper," said Maggie. "They represent us and how we're all unique in our community. Two of the animals are painted on little strips of paper, rather than the main sheet, so they can be shifted around. In other words, you can choose whether to group them with the rest of the characters, or you can purposefully leave them out, just like how we, as members of a community, can choose whether to welcome in those on the margins of society or leave them out. Without those couple of animals, the piece looks incomplete, just like how we, as a whole, are incomplete without even one person."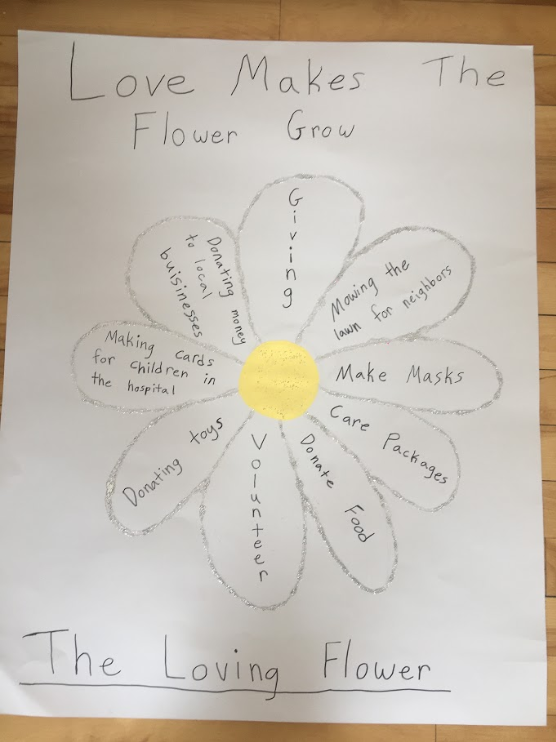 Sophia surrounded a heart with paint handprints of different colors.
"This piece is showing that we can love anyone no matter who they are. We are all unique in our own way and as neighbors we should love them for who they are even if it's different from us," she said. "I chose this piece because it is important to always keep in mind that people may have different beliefs as you and act differently or even look differently than you, but we always need to love them all with the same respect."
Moira wrote a poem entitled "If You Love, You Shall Be Loved." Each line began with a letter that spelled out "Love your neighbor."
"Going through this together has made us bond, do things we have never done before, get us outside more, but most of all, it has made us spend more time with our families," wrote Moira. "Our love is never-ending, so, ready, set, love!"
"Learn to Love Like Him," a picture book assembled by Vaanya, featured pictures that displayed ways in which people can show kindness to neighbors.
"I chose to make a children's book because I think it is a creative and understandable way to show people what God envisions when he asks us to love our neighbors," she said. "I also think that adding pictures can make it more fun to learn and read!"
Estelle drew a picture of one person helping an older woman across the street with her groceries.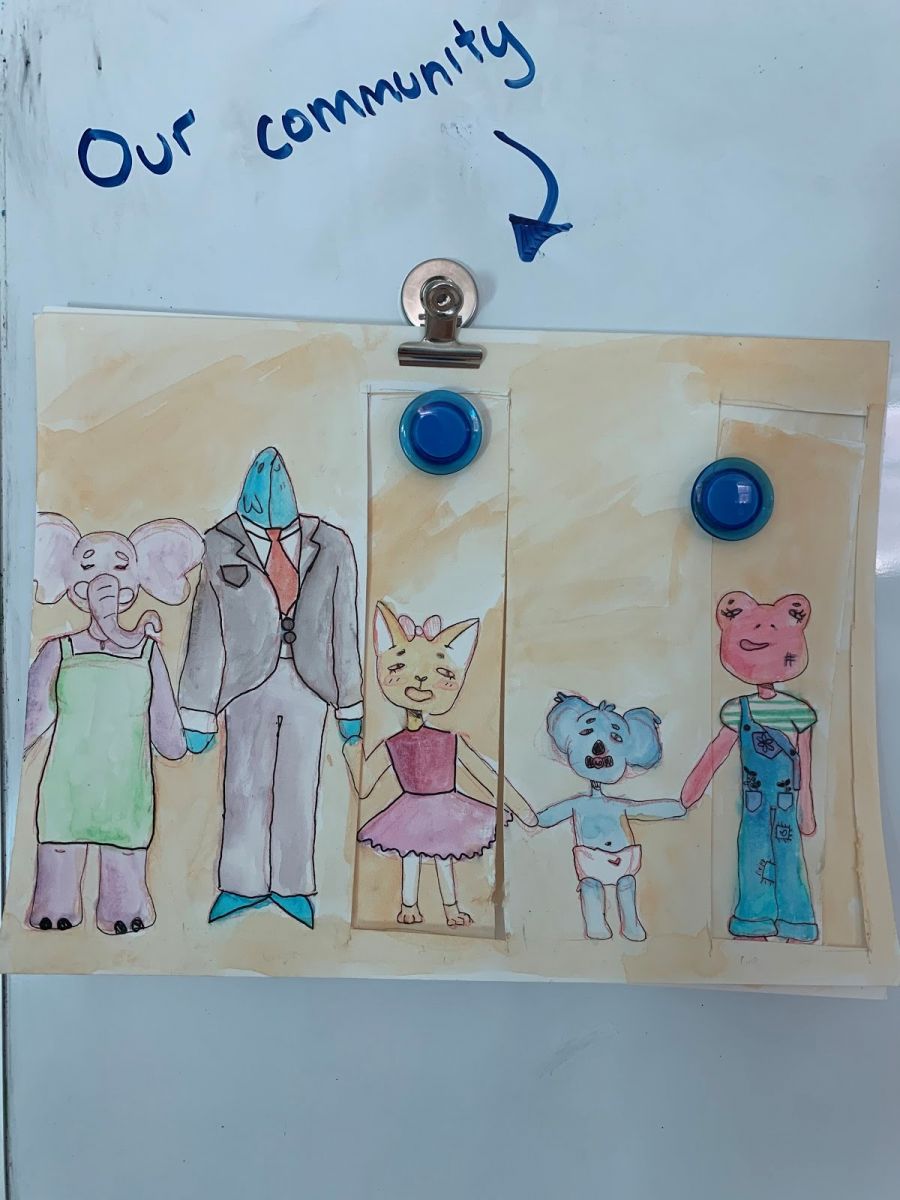 "The older woman needs a walker, which would make it very difficult to hold grocery bags and a walker," she said. "Helping someone with their groceries is kind and generous. That is why I thought it would be perfect."
Cash wrote a poem called "The Most Important Commandment" that listed reasons to love your neighbor and explained that if you help others in their time of need, they will help you.
"Love you neighbor 'cause they're always there for you, no matter what you do. Your neighbor can be anyone, they can be an aunt, friend, or son. Anytime of day, they're there to ask if you're okay."
Gabrielle created "The Loving Flower," a drawing of a daisy with each petal displaying a different way to love your neighbor.
"Love makes the flower grow because the world grows happier if there is more love in the world," she said. "I chose to do a flower because they bloom every year and when they bloom, everyone gets happy."
Several students took their benevolence outside of their homes, completing the project in a tangible way through actual acts of kindness.
"I chose to make posters and hang them up around my neighborhood," said Bella. "I feel that most people are either happy, sad, or in the middle, and most people are happy but the people that are sad want to make other people sad so they can be happy. They are not the right people to follow, you can stand up to them and you be the one who they follow. I chose this project because the world in the pandemic right now needs to be lifted up by happy people."
Meanwhile, Lannie baked banana bread and delivered it, in a socially-distanced way, to close family friends.
"We showed that we cared about taking the time and love in baking something that really shows how much our neighbors mean to us, especially during this time."
Lannie said the idea was inspired by the recent loss of a close family friend's mom, capturing the life lesson behind the project in the process.
"During this time, it's hard, because we can't go to their house and hug them and try to comfort them in the way we normally do when people need support. So, we baked a banana bread and gave it to the family along with a note letting them know that we love them and are here for them. Fortunately, we were able to leave it on their doorstep all wrapped and signed with a note. Even though we can't hug them, we have shown our love for them just the same."