SANFORD---Over 60 years later, Lucille LaChance stands where she did as a student.
What was once her homeroom is now her new home.
"I graduated here from St. Ignatius High School, so I wanted to have my old classroom back."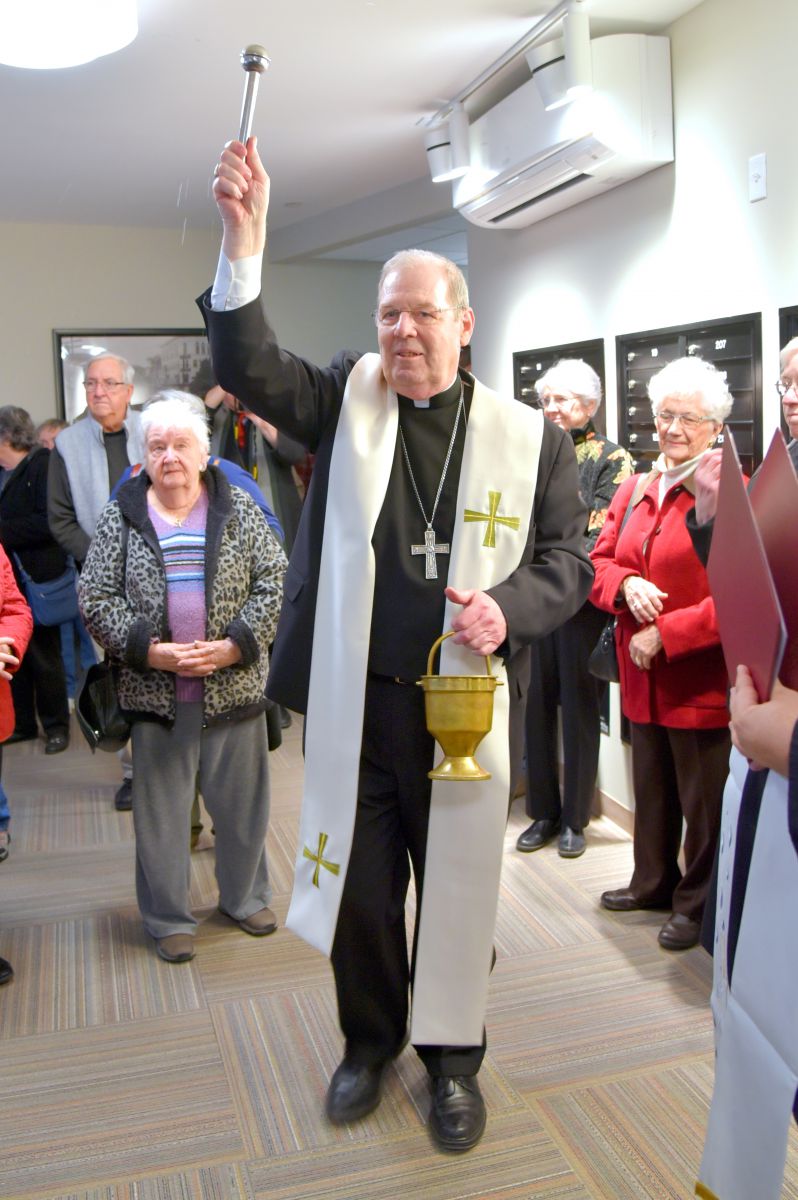 Like Lucille, many gathered at the new St. Ignatius Apartments in Sanford on Wednesday, November 29, could be seen looking thoughtfully down hallways and inside renovated rooms, warmly reliving cherished memories while appreciating the reality that the beloved building will enrich lives once again.
Joined by future residents, city leaders, and community members, Bishop Robert P. Deeley blessed the apartment building, located on St. Ignatius Street, just days before it is slated to open on December 1. The project included the transformation of the former St. Ignatius Church and school building as well as the construction of a new building, producing a total of 66 new units of affordable senior housing (additional pictures below).
"Lord, be close to your servants who have and will move into these apartments and now ask for your blessing," the bishop said before sprinkling the first floor lobby with holy water. "Be their shelter when they are at home, their companion when they are away, and their welcome guest when they return."
And returning was indeed the order of the day for many who had only known the building as a church and school before Wednesday. St. Ignatius Church was built in the 1920s to accommodate a growing number of area Catholic families who also wanted a school for their children. The church was located on the first floor of the three-level building with the top two levels occupied by a school that eventually evolved into a four-year high school in 1941. The high school closed in 1969, but parishioners continued to attend the church until it was closed in October of 2010.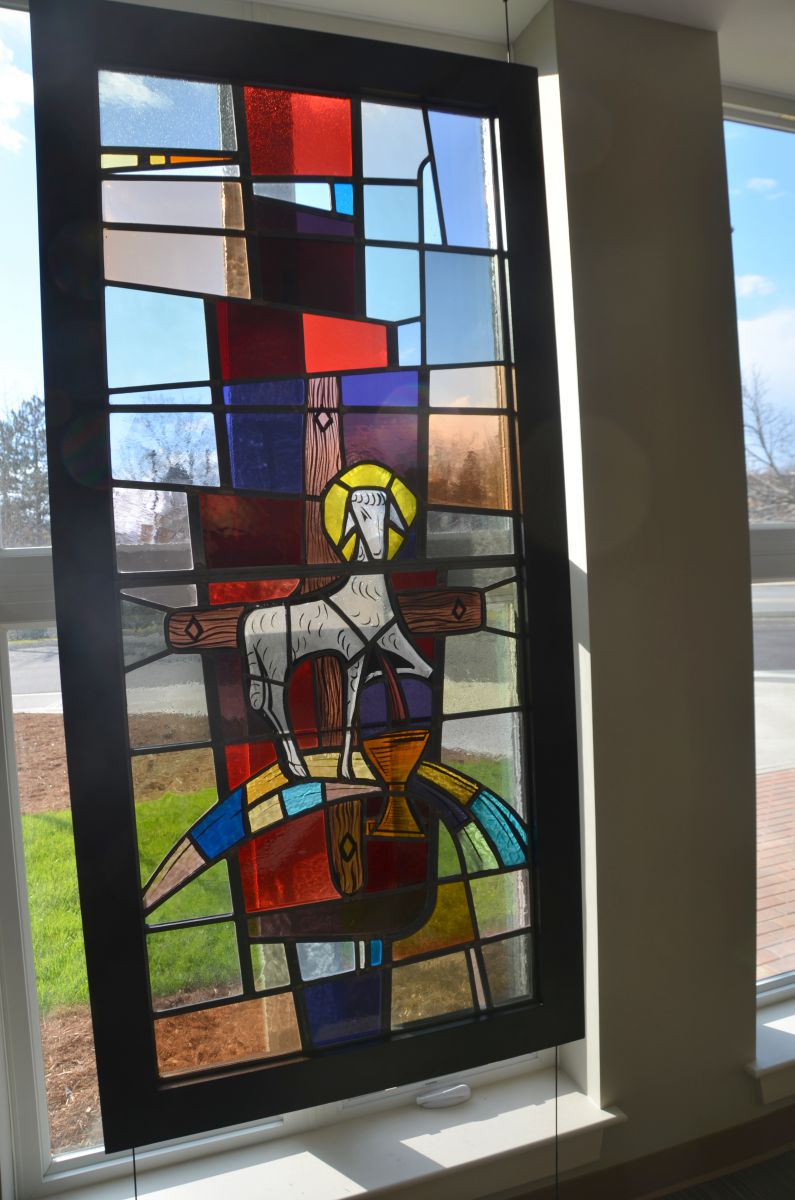 To the delight of those viewing with a sentimental eye, the original maple floors and window openings remain in place on the upper levels, while five stained-glass windows from St. Ignatius Church greet visitors upon entering.
"This is a great day for this community and for our parish," said Fr. Philip Tracy, pastor of St. Thérèse of Lisieux Parish in Sanford. "St. Ignatius was a spiritual home for so many people for so many years, educated generations of children, and now to provide quality housing for our elderly, it's beautiful."
The excitement isn't limited to those with fond memories of the building's past. Many of the soon-to-be residents are thrilled at the modern amenities in the facility's apartments in both the old and newly-constructed buildings. The apartments present in a variety of layouts and include full kitchens, open floor plans, heat and air conditioning pumps, open voice audio intercoms, and other features. Spacious communal areas and a centralized elevator system can be found at the end and center of hallways.
"I'm so happy this is happening. I'm very excited. Where I live right now, it hurts me to go up the stairs," said Sandy Search, a native of Boise, Idaho, who moved to Maine this year and will move in next week. "I've been waiting a long time for this."
"I was the first one to sign up and receive approval. I was so excited about it," said Harvietta Harmon from Lincoln. "It's so nice. The architecture of the room is slanted which gives it a little more character. I wanted a third-floor apartment and I got one!"
The facility's location between Main Street and Riverside Avenue is another draw that also serves as a tie between the memories of a lively neighborhood, pictured in frames on the hallway walls between apartments, and the hopes that the new apartments will help it return.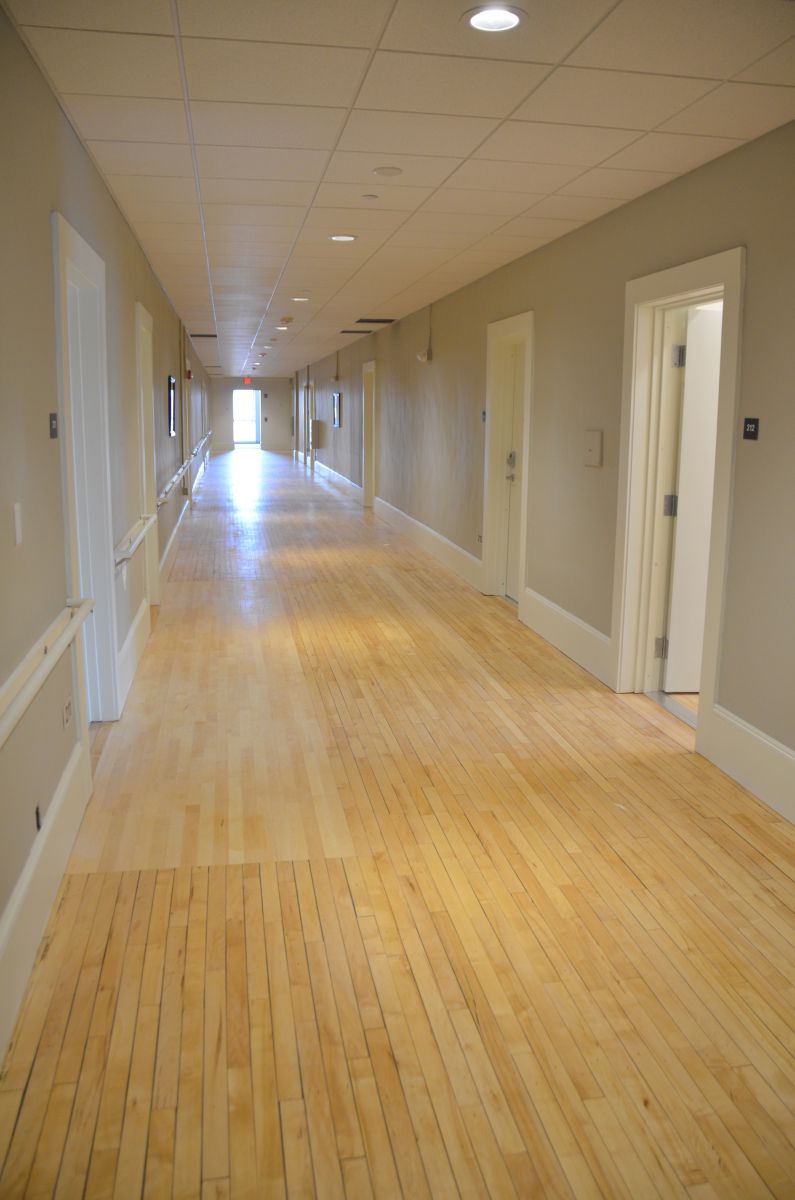 "It's right in the center," said Fr. Tracy. "People are excited it's close to so many things. Having 66 apartments full of people will help revitalize some of downtown."
"I can walk to everything," said Lucille. "I volunteer at Books Revisited across the street, and we have prayer meetings in the convent on the other part of the street, and I cater for lunches after funerals. So, I've got three places that I'm involved right here. Rite Aid is across the street. My bank is across the street. I don't even need my car."
"We really have something special here," said Sanford Mayor Tom Cote. "This is a building that the city is proud of and that can serve as a centerpiece in our community. This is a special day in Sanford."
Many who attended the blessing on Wednesday remained after its conclusion to converse and introduce themselves to their new neighbors, showcasing what will truly bring new life to the building.
"It's going to be a nice group of people," said Sandy. "I'm thinking about putting a sign outside of my door that says 'Coffee Here' so folks will come in and get to know each other. No charge, all free!"
If you or a loved one are interested in living in the new St. Ignatius Apartments, you are asked to call (207) 636-7341 or send an email to info@stignatiusapartments.com.