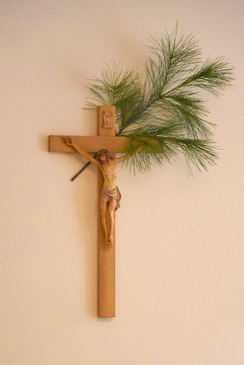 "Open the 'eyes' of our hearts, Lord Jesus. Help us to see and understand who you really are."
Families at the Parish of the Holy Eucharist in Falmouth join in prayer to begin weekly faith formation classes. Now, however, instead of families gathering before or after Sunday Masses, they sit in dining and living rooms.
"I usually sit on the couch with my mom. She brings up what we're going to do on her computer, and then, if there is a video, we watch it," says Remy Corral, a fourth grader from North Yarmouth.
Lessons are delivered each Friday by email. They include a video that reinforces the Gospel message, a practical family action, and a prayer for the coming week.
"We want to keep it simple, yet meaningful," says Georgette Dionne, the parish's director of lifelong faith formation. "I am so proud of our families and, in particular, the parents and guardians, the primary teachers, who are taking initiative."
"We are able to take the time to sit down and talk about it, and look at it, and read it, and that's kind of nice actually. It's kind of a gift that we didn't have before," says Margaret Corral, Remy's mother.
At Corpus Christi Parish in Waterville, catechists also regularly reach out through email, sending their students a greeting, an activity, and a link to a weekly YouTube video that include songs, prayers, and meditations.
"We are blessed in our parish in that we had some online infrastructure in place before these current challenges. So, it was not hard to simply up our game in those areas," says Daja Gombojav, parish catechetical leader.
The game changer, as we know, is the COVID-19 pandemic. When thousands lined up to receive ashes on their foreheads at the start of Lent, who could have imagined that before the season was over, churches would be closed, the pews remaining empty even on the holiest day of the year, Easter.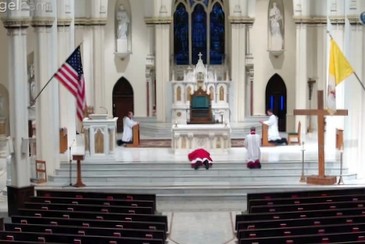 "We would rather not go through this time, this disease, this dislocation of our lives, but, in faith, we accept it," Bishop Robert Deeley said. "By remaining apart, we slow the spread of this horrible disease. As such, our sacrifice becomes an opportunity to show one another in our own lives what the Eucharist makes known to us: God loves us. Our action becomes a manifestation of that love, for all love is of God."
Amid the crisis, parishes are finding new ways to share the love of God and bring people together, despite restrictions that keep us physically apart. Prior to the coronavirus outbreak, just five of Maine's 54 parishes had Masses viewable online. Now, 41 of them do, either on websites or Facebook pages.
The Corrals say they still gather as a family for Sunday Mass.
"We have it projected on the TV, and we put up chairs in the living room. Then, we have holy water that we got a bit ago, and we have that in a nice bowl. Then, we have candles that we light," says Lucy, who is a junior at Cheverus High School. "I think it's important to keep it up."
Many who were previously unable to attend daily Masses have seen a new door open to them.
"Having so many choices for attending Mass online has been a wonderful experience for me. Not only does it offer me the opportunity to attend Mass every day, it's celebrated at different times during the day. We are blessed to have wonderful, caring, and technologically brave priests who are stepping out of their comfort zones to bring the word of God to us in our homes every day. I have attended online services in Caribou, Bangor, Sanford, Portland, and weekend Mass in Brunswick," says Christine Pitteroff, a member of All Saints Parish in Brunswick, as well as executive assistant to the Bishop's Office.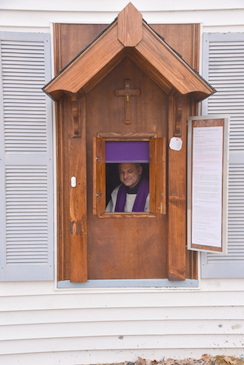 "It's amazing how many people are tuning into the Mass more, not necessarily live but over the course of the day, more than would come to daily Mass regularly," says Father Jack Dickinson, parochial vicar at St. Matthew Parish in Limerick and St. Thérèse of Lisieux Parish in Sanford. "It's definitely not the way it's meant to be, but we're seeing how God is still providing."
While parishioners have not been able to receive the Eucharist, they have been able to participate in the sacrament of reconciliation in many communities thanks to the commitment and creativity of priests and parishes. Father Seamus Griesbach led the way when he built a confessional, with a small door, in his father's basement and then attached it to the window of the rectory at Our Lady of the Rosary Church in Sabattus, allowing penitents to drive up.
"I've taken some time with this, and that's because sacraments are important. They give us grace," he says. "Especially in this time, we need to experience the freedom and the peace that come from a clear conscious."
In other parishes, tents or partitions have been set up in church parking lots and driveways. Father Phil Tracy, pastor of the Parish of the Holy Eucharist, says he spent two hours hearing confessions during his first weekend sitting outside Holy Martyrs of North America Church in Falmouth.
"I was touched that many people were truly touched to be able to unburden their souls in Lent, which reinforced to me how difficult it is for people to be away from the Eucharist," he says.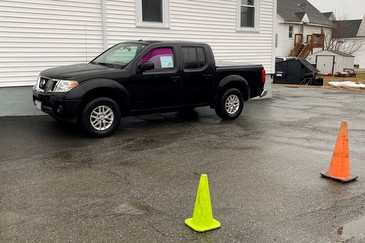 In Bradley, Old Town, and Orono, Father Kyle Doustou, pastor of the Parish of the Resurrection of the Lord, awaits the arrival of penitents from his pickup truck, which has a purple cloth covering the driver's side window. His message to parishioners: "The cab light is on for you."
And at Our Lady of Perpetual Help Church in Windham, Father Louis Phillips, pastor, hears confessions through a rectory window. In one spot, parishioners can remain anonymous. In another, they can confess their sins face-to face.
"I've come to realize that the coronavirus restrictions have resulted in a renewed appreciation for the sacrament of reconciliation—actually the importance of sacraments in the life of the Catholic Church. The seven sacraments connect us not only with our God but with one another in the community of the Church. With some creativity, ingenuity, and a whole lot of adaptation, we've made the sacrament of reconciliation available at a time when all of the other sacraments are not readily available to the faithful. These days, only priests are receiving the Eucharist. Confirmations have been put on hold. And while baptisms, marriages, and ordinations are permitted to take place in private circumstances with a limited number of people present, because of the community nature of these sacraments, they are being postponed, with good reason, in almost all cases. The sacrament of the sick is still available, but hospital and nursing home restrictions, as well as home quarantines, make this sacrament not nearly as accessible as before the coronavirus outbreak. So, what's left? The sacrament of reconciliation. It has become the only way to 'connect' sacramentally with the Church for many, if not most, Catholics today. It is somewhat ironic that the most private of all the sacraments has become for most Catholics the only way to sacramentally connect with the community of the Church. So, whatever accommodations we can make for people to celebrate the sacrament of reconciliation are not only sensitive to the needs of the faithful but vital to the life of the Catholic Church in a time of challenge," Father Phillips says.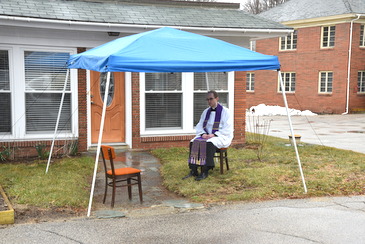 To ensure the needs of parishioners are being met, many parishes have also been reaching out in other ways. Some priests are posting video messages and prayers on parish apps and Facebook, often in a casual, conversational format.
"It breaks my heart that many of us cannot be there for the Mass, but hearing your words of comfort and prayers is very helpful. Thank you for this," Donna Patterson, a St. Thérèse of Lisieux parishioner, commented on Facebook.
Parishes and priests are also using services such as Flocknotes to connect with parishioners through texts or emails and are providing faith enrichment opportunities through online programs such as FORMED.
"That has been a grounding form of faith for me in these strange, distant days," says Angela Nasveschuk of Yarmouth.
Connections are also being made in more traditional ways.
"I have enjoyed conversations with older parishioners using our old-fashioned phone tree and have shared Facebook links, faith formation resources, and spiritual, online opportunities with younger parishioners and families. It makes us realize everyone wants to feel connected," says Bette DiAngelo, administrative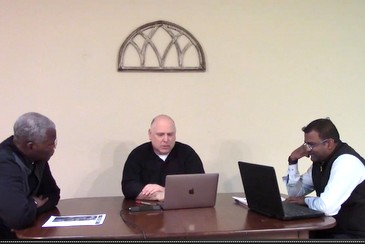 assistant at Holy Family Parish in Greenville.
"We now have over 30 volunteers connecting weekly with roughly 60 people who are living alone, homebound, recovering from illness/surgery, or elders who appreciate a connection during this time," says Dionne, about the Parish of the Holy Eucharist. "People have been so eager to help."
At the Parish of the Precious Blood in Caribou, members of the parish's social action commission, H.O.P.E. (Helping Our People Eagerly), along with members of the Worship Commission and the youth ministry coordinator, have been calling every family in the parish, more than 1,200 in all.
"I sent them the 49-page, 'simple listing' of families in the parish. They broke it down by community," says Janet Beckwith, pastoral life coordinator.
Parishioners are asked how they're doing, whether they need anything, and if they have any prayer intentions.
"Most of the prayer intentions are thinking of other people and not themselves, which I find very uplifting," says Pamela Murchison, chairperson of H.O.P.E. "Most of the prayer intentions are for the people who are ill, and I've had some for people in nursing homes, because no one can visit them."
Murchison says one desire the homebound have expressed is for livestreamed Masses to continue even after this crisis is over.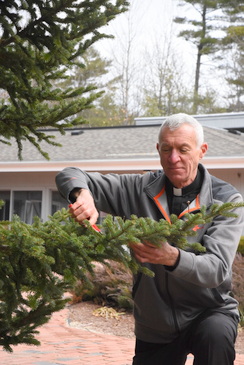 "People are very thankful for the Masses being streamed and not just at our church. For example, Fr. Kyle, who was here a couple years ago, they're watching his Masses. They're watching Fr. Agustin's (Sebasthiyan) Masses. They're watching all over," says Murchison.
This has been a difficult time, but priests, parish staffs, and parishioners continue to find ways to meet the challenge. Father Phillips, for instance, suggested that pine branches replace palms on Palm Sunday.
"The people of Jesus' day used what they had on hand to welcome the Lord into their lives, so can we use what we have," he says. "I'm suggesting that we celebrate 'Pine Sunday' this year. Let's use what we have, and it will be enough. So, in place of blessed palms, maybe you'd like to go outside and snip off a branch or two from a pine tree, and then, put it somewhere in your home where you will occasionally see it."
Some families have made their faith visible by transforming windows and doors into pieces of religious artwork. In Presque Isle, for instance, 18-year-old Kailee Cox used finger paints and blue packing tape to depict the sacraments of baptism and the Eucharist on windows, saying she wanted her faith to shine forth despite not being able to go to church.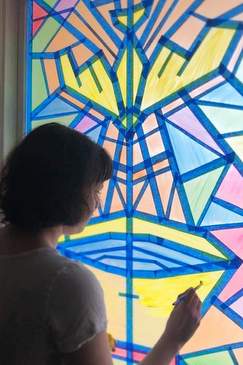 Father Dickinson says one family shared that, because they couldn't attend Mass, they prayed the rosary together, describing it as a profound experience.
The Corrals say they still gather as a family for Sunday morning Mass.
"We have it projected on the TV, and we put up chairs in the living room. Then, we have holy water that we got a bit ago, and we have that in a nice bowl. Then, we have candles that we light," says Lucy, who is a junior at Cheverus High School. "I think it's important to keep it up."
Jason Lundy, who has children in faith formation at the Parish of the Holy Eucharist, says his family also has found a way to make the most out of watching Masses online.
"What's been very cool about the experience is that we get to pause the Mass and really talk in depth about the readings, the people mentioned in the reading (Martha, Mary, Lazarus, Thomas) and the other stories from the Bible," he says. "(It's) probably not as structured as the regular faith formation but great to spend some one-on-one time with the kids in hopes of helping them learn about the faith."
Father Phil Tracy says his fervent hope is that through this crisis, we will learn something about ourselves and the importance of our faith.
"Sometimes, we need to be woken up because we do take things like going to Mass for granted," he says. "The time spent in quarantine for families may be a grace-filled chance to work on some issue, celebrate each other without having to transport children to many activities. I know, for myself, I have been able to enjoy reading, relearning a bit of Spanish and…reaching out to friends and family."
And while the road has been a long and difficult one, Father Wilfred Labbe, pastor of St. Matthew and St. Thérèse of Lisieux parishes, reminded his parishioners that it is Christ Himself who invited us to pick up our crosses and follow Him.
"We have to take up the suffering that comes our way. We have to take up the struggle, the discomfort, the inconvenience, all that we're facing now and do so with great generosity and great gratitude," he says. "Yes, we're following Him on the Via Dolorosa, the way of the cross, but we're also following Him into the empty tomb, and we're also following Him to the resurrection from that empty tomb and, hopefully, to eternal life in His presence. This is our hope."