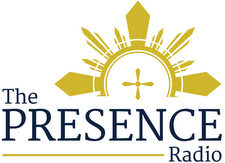 The Presence Radio Network is a faith-based, Catholic, non-profit corporation founded to support evangelization through Catholic radio. The Network is an independent lay apostolate, operated by laypeople in cooperation with the Diocese of Portland.
The Presence Radio Network broadcasts Catholic programming twenty-four hours a day, seven days a week on 106.7 FM in Greater Portland, 90.3 FM in Greater Bangor, 89.5 FM in Augusta, 89.7 FM in Bath-Brunswick, 105.7 FM in Springvale, 97.5 FM in Fort Kent, and 1390 AM serving northern Maine. If you live outside these areas, you can listen live on your computer or on your smartphone by downloading an app, available here.
The programming includes the best of Catholic radio from around the country and the world including Ave Maria Radio, EWTN, Franciscan Radio, St. Joseph Radio, and Vatican Radio. You can tune in to Mass every morning at 8 a.m., pray the rosary and Chaplet of Divine Mercy, learn about Catholic teaching, or get some of your Catholic questions answered during live call-in programs (click here) for a complete programming schedule).
---