Fr. Michael Seavey is parochial vicar of St. Michael Parish (St. Mary of the Assumption Church, Augusta; St. Augustine Church, Augusta; St. Joseph Church, Gardiner; Sacred Heart Church, Hallowell; St. Denis Church, Whitefield; St. Francis Xavier Church, Winthrop).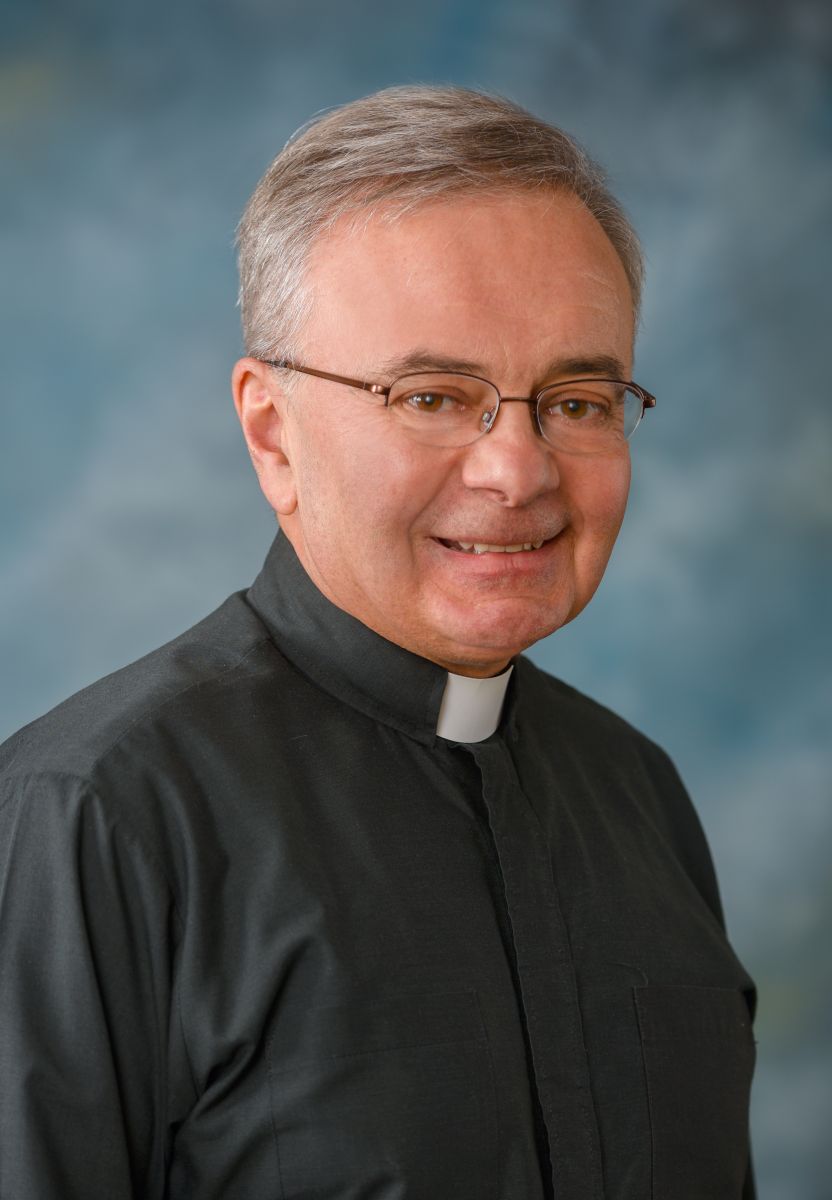 In addition to his diocesan responsibilities, Fr. Mike also makes time for issues related to Catholic social teaching, particularly issues of workplace justice and immigration, as he advocates for low-income workers and secures rights for workers here as refugees, immigrants, and those seeking asylum.
Fr. Seavey's blog begins below. To view his seven-part series explaining the Catholic Church's teachings on immigration, click here. An explanation of some of the passages and references can be found here.
Fr. Seavey has also written several homilies over the years discussing the sexual abuse crisis in the Church, the abuse of power in society, and how we can confront the dark forces behind abuse. To read a compilation of those homilies, including one from September of 2018, click here. Here is a follow up to those homilies regarding diocesan personnel files.
---
Divine Indwelling
With God's grace, the divine indwelling consumes and transforms more and more of our human life and every aspect of it. Here are two examples from daily life to assist us. Read Full Entry
---
Mercy and the Eucharist
The Eucharist is not a reward for good behavior, but a welcome and forgiveness in times of sin and repentance. The Eucharist restores us to community, celebrating our return; discarding humiliation and shame. What the Pharisees found so scandalous and so offensive is for us the greatest source of joy, "This man welcomes sinners and eats with them." Read Full Entry
---
The Narrow Gate
In the Gospel, Jesus talks of a narrow gate. But the narrow gate welcomes everyone from every different direction. In order to enter the narrow gate, it's obviously important to let go of something. Perhaps that "something" is our "pride." We place too much emphasis on our political opinions at the expense of other relationships. Disagreement over political choices means a relationship bound for hostility and scorn. Many social commentators refer to our society as becoming more "tribal." We associate only with those who agree with our political stands and read only what reinforces what we already believe. This means we don't allow people of differing views into our more personal lives and we don't allow ourselves to be challenged by different points of view. Our pride is all encompassing. Only "my" political positions are valued. Read Full Entry
---
Flowing from Love
Here are three ways where discipleship requires a different look at family life. Read Full Entry
---
Preferential Option for the Poor
Our faith requires providing for the poor out of our own resources and advocating for justice for all people. This is a central moral call for all the baptized. We need not be concerned if no one ever thanks us for our efforts. Jesus promises we "will be repaid at the resurrection of the righteous." Read Full Entry
---
Clouds of Witnesses
Like all those who left, you have lived through decades of sexual abuse discoveries and the accompanying cover-ups. You have lived through financial scandals, decline in numbers of ordained priests, parish realignment, changing Mass schedules, and other significant struggles and lesser irritations. Yet, you are here, and continue to be here. We are all just as affected by the scandals. But something or rather "Someone" is greater than all that combined. Read Full Entry
---
Parable of the Rich Farmer
Our human work is called to develop natural resources for the common good and for the flourishing of everyone's humanity. Everyone has a right to draw from the common good; everyone has a responsibility to contribute to the common good. In this spirituality, we discover a meaning and purpose for our life. Our life develops and grows. This is what it means when Jesus tells us to be "rich in what matters to God." This will be the primary substance of our judgment when we stand before God. Read Full Entry
---
The Good Samaritan Today
The parable of the Good Samaritan is so familiar to us that it seems to present itself as a wonderful account of human nature through the Samaritan's compassion. We see the parable only for its happy ending. Therefore, we lose the great irritation and even hostility the lawyer would have felt hearing Jesus tell this parable. Unless we understand the Lord's calculated use of characters and events to purposely disturb, we miss the full intent of his teaching. Only if the parable is updated with contemporary personalities and events can we grasp the disturbance the Lord intended for those in his presence that day. So, here is the Parable of the Good Samaritan using present events and current personalities. Read Full Entry
---
Marks of the Cross, Marks on the World
In Spring of 2010, the young women of Roncalli Catholic High School's softball team in Indianapolis were on their way to a third complete season without suffering a loss. Their next opponent were the young women from Marshall High School from the poorest area of the inner city. This was to be their first game, and they showed up poorly organized, poorly coached, and poorly equipped. All equipment was previously used at best. They had seldom practiced, and their coaches had little skills to teach them. By the end of the first inning, the game was already a runaway. Before the Roncalli women came back on field for the second inning, they held a quick team meeting in the dugout. They announced their decision to forfeit the game, take the loss, and spend the rest of the afternoon teaching the Marshall women some basics of playing softball. They threw away their opportunity for a third perfect season. Read Full Entry
---
Holy Trinity
Loneliness dissolves as people become part of something fostering their own healing. One of the greatest human needs is simply "to be seen for who we really are." One of the greatest human strengths is unconditional love in the image of God. Read Full Entry
---
Nationalism
Patriotism always places "love of God" as primary, and "love of country" as secondary. Our "love of country" then flows from our "love for God." Nationalism, on the other hand, places the nation as first recipient of our loyalty and devotion, with love of God as secondary. In this order, all religions are in grave danger of becoming servants of the state, instead of providing a moral conscience for the state. Read Full Entry
---
Peace
The peace of Christ does not cover up, minimize, deny, pretend, or justify destructive and abusive behaviors. The peace of Christ is also not a narcotic inducing a euphoric haze, detaching us from the world around us. The peace of Christ is absolutely not that! Nor is the peace of Christ an excuse to avoid conflict because others will be upset. Avoidance of conflict may at times be a good thing to do, and we all need to choose what issues are worth confronting and what issues can be postponed. That is "prudence", a great virtue involving wisdom. But at other times conflict should not be avoided, and issues must be confronted, especially when innocent ones are in danger. Read Full Entry
---
Easter
A frequent stereotype for priests is choosing the phrase, "Well, it's a mystery" to avoid a challenging or complex question regarding our Catholic faith. For some reason calling something a "mystery" has the ability to bring a lively conversation to a sudden halt. But saying a statement of faith is a "mystery" should never end a conversation. Rather, saying a faith statement is a "mystery" should begin a conversation that can never be exhausted. A mystery of our faith is certainly ample substance for a lengthy and thoughtful conversation lasting well into the night. Such a conversation only serves to deepen one's faith even as the mystery itself remains unfathomable. Read Full Entry
---
Good Friday
When someone is dying, loved ones gathered around the bedside are sometimes the only solace they can count on. Their words of love and hope, their prayers, and the human touch can be the only source of consolation as death continues to make its claim. But for Our Lord on the day he died, even this one consolation was denied him. Read Full Entry
---
Redemption
What about us? Are we grateful for Jesus' mercy redeeming others of sins and healing memories of past immoralities? Do we let mercy release us from what holds us bound? Can we let mercy release us of guilt from the past in order to embrace the joy of loving friendship with the Risen Lord? What do we choose to remember, and what should we hope to forget? Read Full Entry
---
Moses
Remaining stuck with questions of "Why?" can leave us stuck in life. Choosing to respond to human suffering with what Pope Francis refers to as a "revolution of tenderness" can have dramatic impact in the lives of those hurting and wounded in our world. Read Full Entry
---
The Transfiguration
We need to awaken the world to the glory of God. A world awakened can better recognize the great darkness of evil with the light of Christ. The world needs to be awakened to human dignity that begins with conception and ends with natural death. The world needs to be awakened to human responsibility for the ecological life of our planet and our call for deep conversion regarding responses required to try and stave off an irreversible ecological catastrophe. The world needs awakening to the great injustices and violence of racist attitudes. Read Full Entry
---
Integrity
Integrity allows us to be faithful without being self-righteous; truthful and honest without being crushing and condemning. Integrity allows us to stand firm, but not be stubborn; to hold on to truth without being closed to learning. Integrity allows us to be committed to a community and yet avoid a mob mentality. Integrity allows others to move into our circle of life and be safe, treated with dignity, and served justly. Integrity is the core identity of our soul meant to reflect the very image of God. Integrity recognizes our humanity as a communion of body and soul. Denying one ultimately wounds our entire life. The greater our lives have integrity, the greater our ability to hold all of these and more in creative balance. Read Full Entry
---
Words Matter
Our national soul is broken and wounded. A toxic corruption has diseased the land. If we in the Church begin the process of conversion and transformation of shaping our hearts, we can bring great redemption to our nation's soul, and redemption to our families as well. Read Full Entry
---
The Great Hope
Love of enemies proclaims great hope in every person. Love of enemies professes that those responsible for the most despicable and repulsive of crimes are in fact capable of far greater things in life. The love of God, flowing through Jesus' disciples, can draw that good from the coldest and hardest of hearts. This is the great hope we are all called to. Read Full Entry
---
John Menario
Here is the obituary for John Menario. He was my uncle, a mentor, and a confidant, but he was also a visionary in Portland and for Maine. Below is my homily for this great man.
The late Senator Robert Kennedy often spoke the following, "Some see things as they are and ask 'why?' But, I dream things that never were and ask 'why not?' John Menario was a dreamer at a time when dreamers were required. He did not merely see the City of Portland as it was and ask "why?" He, rather, saw where the city could be and asked "why not?" He formed alliances and built bridges to accomplish the many tasks necessary. He dreamed where the City of Portland "could be," given the situation it was in half-a-century ago, with the tools and resources available half-a-century ago. He knew how to take people where they were at, and work with them. He knew how to take a city where it was at, and work with what was available then, to give dreams a reality. Read Full Homily
---
The Great Reversal
One of the great themes in St. Luke's is often referred to as "The Great Reversal." The understanding and accepted ways of life present in Jesus' time become completely reversed with his teaching. The Blessed Mother's Magnificat (Luke 1: 46-55) spells out many of these reversals. God "has cast down the mighty from their thrones and has lifted up the lowly." God "has filled the hungry with good things and the rich he has sent away empty." Read Full Entry
---
Beloved Community
"Beloved community" preaching did not begin with Rev. Dr. Martin Luther King, Jr., but came earlier in the 20th Century. Rev. King, through the civil rights movement, gave this image great notoriety through his preaching and writings. The "beloved community" is a more secular term paralleling images from Sacred Scripture. This allows all of us as Christians and of the Jewish tradition to enter into secular dialogue regarding the shape and priorities of our society and culture. Read Full Entry
---
Baptism of the Lord
Sometimes when we reflect on our baptism, we can ask questions that seem appropriate but in fact are quite inadequate. For example, when we renew our baptismal promises at Easter, we might ask, "What does baptism do for me?" This is an important and even essential question. But unless the following question is also considered, we are not fully understanding the baptismal commitment. That question is "What will baptism cost me?" Read Full Entry
---
Epiphany
The recent cover story of Harvest (Jan./Feb. 2019 edition), the magazine of the Diocese of Portland, was of a baby boy adopted by a couple: Katina and Joshua. Their first child together, born with severe disabilities, died within minutes of birth. With ongoing infertility issues, Joshua suggested they look into adoption, but Katina was initially hesitant. "I really don't think adoption is for me'' she thought, "I don't know if I could love another child as much as I love (my own)," and "then would feel guilty for not loving them enough." But then she attended a birthday party and a little girl completely unknown to her came and just sat on her lap. Katina explained, "I started rubbing her hair and I got this overwhelming feeling of 'I could take this child tomorrow if God called me to do so.'" The encounter with this unknown girl became in her own words an "aha moment." She told Joshua, "I'm ready. I (can) adopt. I think God sent this little girl to me and to give me this moment" of being called to adoption. Read Full Entry
---
Christmas
Connecting the person of the Risen Christ to the sufferings of every person of every continent. Only the Church is uniquely created by God for this purpose. Read Full Entry
---
Visitation
Perhaps there are two groups of people we often need to be distant from when we experience a tragedy, an underserved injustice, a sudden illness or financial challenges. Read Full Entry
---
Human Beings
For seven years, I served the four Catholic parishes on Portland's peninsula and lived at St. Peter's rectory, one block away from our Cathedral. Each day, I witnessed what I called the "great migration." Dozens of poor often homeless people moved from their space to the St. Vincent DePaul Soup Kitchen at the Cathedral. Then they walked back towards St. Peter's Rectory and lingered there until Milestone shelter opened for the chemically dependent. One day as I left the rectory, one of the homeless men familiar to me stopped to talk. Read Full Entry
---
Solemnity of Christ the King
Movies can often present strong religious images within the story and plot. That is true for several movies depicting the lives of boxers or fighters. Read Full Entry
---
Love
This is the love we are called to have for God and for each other. Read Full Entry
---
From Hostility to Humanity
As we approach another national election and are told, yet again, that "this is the most important election you will participate in," let me offer two essential points. Read Full Entry
---
Authority
Authority is an important foundation for stable and vibrant community. Authority that is weak, vacillates, or unable to provide stability leads to chaos, confusion, and ultimately anarchy. At the same time, authority that lacks creativity, flexibility, the ability to change, and the ability to be transformed leads to stagnation and death. Read Full Entry
---
Being "Rich"
We can be "rich" in many things that block our journey from following Jesus. We cling to them, as though they are essential to our core identity. We can fear who we would be without them. We cling to them so possessively, regardless of how much they take us away from God and away from our true self. Here are a few examples from everyday life. Read Full Entry
---
Divorce
In the Gospel, Jesus condemns the ease of divorce in his times that left women defenseless and vulnerable. Women had few if any rights apart from a husband or father in ancient patriarchal society. Divorced women, if not welcomed back into their father's home, suffered terrible abandonment and deprivation. In our own time, divorce continues to be a painful and sad experience in families, leaving marks of pain, souls of suffering, and broken hearts. Divorce has loomed large over the last several decades as legislation made divorce more permissible. Read Full Entry
---
Sexual Abuse Crisis
Once again, it is necessary to address the horrible scandals of sexual abuse in the life of the Roman Catholic Church. Read Full Entry
---
The Eucharist and Christian Marriage: Love Culminating on the Cross
Marriage as a sacrament is not just about the couple receiving grace. Rather, couples offer their relationship to God that the love of Christ will be known through them. Read Full Entry
---
The Eucharist
A Sacred Meal
There has always been a strong commitment among Catholics in Maine to provide food to those who lack financial resources for food stability. It is in our DNA! This commitment comes from our communal celebration of the Eucharist, where we recognize the Lord's abundance of creation and share the Lord's concern to feed the world with both physical and spiritual food resources. Read Full Entry
The Sacrifice of the Church
The Eucharist is indeed the "sacrifice of Christ" and the "sacrifice of the Church." The Eucharist not only calls us to be the hands and heart of Christ for the world; the Eucharist empowers us to do with the transformative power of the Holy Spirit moving through the baptized and joining all of us to the glorified Lord's eternal sacrifice of praise. Read Full Entry
The Sacrifice of Christ
To rephrase his question, "What's in it for me?" are five of the deadliest words in the English language. These words narrow one's soul to self-benefit. That attitude can cut the soul off from bonding with others and prevents seeing one's life as a gift for others. "What's in it for me?" are words that isolate and darken the soul, leading to resentments, smoldering anger and bitterness. Read Full Entry
---
New Humanity
The rescue of Thai soccer players manifested the power of Christ's blood building a true community formed by compassion. When those soccer players in Thailand were trapped miles deep in a cave, the word went out for international teams of rescue divers. When they arrived in Thailand, no one asked them what their religion was, or what political party they belonged to. No one cared who they voted for in the last election, and no one inquired if they entered the country legally or illegally. They had only one question, "Can you help us get our boys out of that cave?" The divers transcended everything that could divide them, and working together manifested what it means to be truly human, and what a truly human community might look like. Read Full Entry
---
Why Church?
The Church is where God's love is known and experienced. Read Full Entry
---
Self-Understanding
Earlier this past week, at one of the funerals I presided at, the son of the deceased gave a beautiful eulogy on his father's life. His dad was born in Northern Maine, and orphaned at a young age, was raised by his grandparents. His grandmother taught him the catechism page by page. As a young man, he served our nation in the US Air Force and for a while was assigned in the deep South during the 1950s. There, he was horrified by the segregation of races mandated by law. Read Full Entry
---
Baptism
Infant baptism reminds us of the foundational truth that God initiates all relationships with humanity. We cannot initiate a relationship with God unless God first makes the first move. We cannot know who God is, or that we need God unless God chooses to be revealed and extend an offer of friendship and love. That is why God called Abraham, God called Moses, God called Israel. Through his humanity, Jesus is called by God the Father at his baptism in the River Jordan by St. John the Baptist. Jesus then calls disciples and forming the church, all of us are called to participate in this dynamic love that God has for all humanity, especially the church. Read Full Entry
---
Power of Peace and Forgiveness
This week, many news sources reported of a short but spiteful obituary of an 80-year-old woman who died last week. The obituary, apparently written by her son and daughter, was published in a small newspaper in a tiny town in the Midwest where she was born. But like everything else, something published in a small town newspaper can quickly receive national attention. Read Full Entry
---
Solemnity of the Most Holy Trinity
The Solemnity of the Most Holy Trinity brings forth our core belief that the One True God is a perfect community of three persons: Father, Son, and Holy Spirit living in a communion of perfect love and peace. The love shared in their relationship pours out over all, welcoming everyone to share the love that is shared with them. Read Full Entry
---
Responding to God's Call
Jesus makes clear his commandment, "Love one another as I love you. No one has greater love than this, to lay down one's life for one's friends." This love the Lord speaks of is the love that builds community. The community bearing his love heals wounds, and binds people together from their sorrows as well as their joys; their sufferings as well as their pleasures; their failures as well as their achievements. We refer to this community as "the church." Read Full Entry
---
Sister Anne Boyle, RSR
This homily was delivered at the Mass for Solemn Profession for Sister Anne Boyle, RSR. The Mass was presided by Bishop Robert Deeley at St. Margaret Church in Old Orchard Beach on Sunday, April 15, 2018.
I met Sr. Ann at Holy Cross Parish in South Portland, my first assignment following ordination in 1986. Then Ann Boyle was active in parish activities, especially as director of the Rite of Christian Initiation of Adults (RCIA).
To read the homily, click here.
---
Human Dignity
All of us are capable of saying things in the heat of anger we would never say when we are rational and then immediately regret. All of us need to get our comeuppance from time to time, or need to be brutally honest about someone's behavior. It's also okay to be passionate about those issues we hold to be the core of our beliefs. Even at these times, the basic boundaries of human dignity measure what is appropriate. But many of these comments come from patterns of speech or writing employed as a way of either crushing those who disagree with certain opinions, or intimidating them from further presenting their views. Regrets seem to come with reluctance, lacking a certain sincerity, and issued only after consequences have been applied. Read Full Entry
---
Divine Mercy Sunday
How do we get mercy? We ask God for mercy. God is the only source of mercy and God pours out mercy at the slightest hint of a request. How do we earn mercy? When do we deserve mercy? What do we have to do to get mercy? Nothing! There is nothing we can do to get mercy beyond simply asking God or recognizing it within us. We can never earn mercy and we never deserve it. Mercy can certainly be experienced in various church devotions and spiritual exercises. But mercy can never be contained or controlled within any church devotion. Obtaining mercy is simple. But "simple" should not be confused with "easy". Read Full Entry
---
Passion Sunday
Each one of us must decide what we will shout in the face of injustice, tyranny and evil. Will it be the way of Barabbas or the way of the cross? Read Full Entry
---
Lifting the Cross of Christ
The light of truth allows us to see what is truly happening in the world around us. Every human life is illuminated by the cross of Our Lord and all aspects of a human life are also illuminated. Lifting the cross of Christ brings mercy to a merciless and cold-hearted world. We must always keep the cross of Christ before us on our journey of salvation. The cross reminds us how deeply the world has fallen away from God, and how paths of darkness take us to the deepest crevices of violence, selfishness, bitterness, and corrosive anger. Read Full Entry
---
Purification
Our spiritual life requires the ongoing inventory of our personal soul. What zeal do we have in our own life? Where does this zeal lead us? What draws us closer to Christ and what might lead us away from Christ? The catechumens begin a three-week series of rituals called scrutinies. These scrutinies assist them in the process of purification preparing them for baptism at the Easter Vigil. Read Full Entry
---
Divine Glory
The tragedies and horrors of our life beg for answers, but we are wise to avoid offering a simple or quick answer. That is equally true when overwhelmed with divine glory and love. St. Peter is so quick to understand and explain what he is witnessing, "Rabbi, it is good that we are here. Let us build three booths: one for you, one for Moses, and one for Elijah." But he is so far off in grasping what is truly manifested before him. Even St. Mark tries to defend him. "He hardly knew what to say. They were so terrified." In fact, the best response we have to the darkness of our time is one word spoken in the gospel, "Listen!" When we "listen" to Jesus' voice, we do not receive so much an answer but rather a response. The response is to follow him in discipleship for the redemption of the world. Here is a four-part process of that discipleship: "Listen, Believe, Follow, Faithfully." Listening to the Lord, following the Lord and remaining faithful will bring us deeper into the mystery of divine love. Read Full Entry
---
"I do will it. Be made clean."
The Lord's words "I do will it. Be made clean." come from his heart of compassion and mercy. We, baptized into His risen life, are called to be transformed into his very heart of compassion for all, but especially for those pushed to the margins of life and told they don't belong and don't deserve to be cared for. In our own nation, the marginalized hope to be brought to the center of our society and to be full participants in the responsibilities and benefits of the common good. Currently, one national debate revolves around the DREAMERS, children of undocumented immigrants, who were raised in our country and know no other home. Read Full Entry
---
From the Core of the Church's Mission
Down through every century, one constant and uninterrupted Church action has been caring for the sick. This has also been a strong component of evangelization drawing many pagans and non-believers into the Church's fold. The Holy Spirit has raised up religious orders of women and men time and time again strictly for caring for the sick, especially those who are poor and uncared for. For all the sick, but especially for those who are poor, the Catholic Church has stood out as a beacon of compassion and competent care. Read Full Entry
---
Agent of Transforming Grace
The #MeToo movement is a great sign of God's Spirit moving in our society. More and more women, along with some men, are now empowered to say they were also sexually harassed, intimidated, or assaulted in the workplace. And the names of the fallen high and mighty grows significantly every day. This is a great sign of hope that dominating and exploiting spirits are being cast out by liberating, healing and renewing Spirit of God. Read Full Entry
---
A True Education
The first time I was named pastor, my assignment took me to some of the most northern and rural parts of Maine, where for centuries, families of Acadian French descent lived, worked, and devoutly practiced their Catholic faith. Thus were the towns of Wallagrass and New Canada with their settlements of Soldier Pond and Daigle, comprising then two parishes and one mission church. Although their life was hard and material possessions were few, they were the most resourceful people and the most generous of people. Nothing ever went to waste, and if someone needed something they had, it was given with joy and without hesitation. Many elderly parishioners served on various parish committees and I learned to rely on them for their collective wisdom, willingness to help, and their deep love for their parish and their faith. Their wisdom was often accompanied by a strong shyness covering over feelings of inadequacy and even shame. Read Full Entry
---
Martin Luther King Jr.
Gathering together all the "beloved disciples" would help create "the beloved community" that Rev. Martin Luther King Jr. preached of and dreamed about. Although the idea of "the beloved community" didn't originate with Rev. King, his preaching and teaching gave it a universal recognition. As a primary motivator of the dramatic civil rights movement in the late 1950's and 1960's, Rev. King lived in the midst of intense hatred, institutional racism, and blatant brutality. Read Full Entry
---
Epiphany
Most all of us will not be granted such dramatic experiences manifesting God's presence among us. But, in the ordinary of daily living there are epiphanies going on all around us. God moves to break through the narrow categories of faith that can keep us bound. Read Full Entry
---
Christmas Scriptures
The real story of Christmas is not about "perfection," far from it. The Christmas Scriptures tell a different story of the road to our salvation. Read Full Entry
---
Second Sunday of Advent
Unfortunately, our diocese has made the headlines twice in the past couple of weeks and both stories are sad and maddening. It is important to address these issues from the pulpit. I have this adage, "Adults can talk about anything. So long as they talk about it like adults." Read Full Entry
---
First Sunday of Advent
During the recent wind storm with accompanying power outages, some areas of the state had power restored days before other areas. A good friend of mine was in the latter group and waited over a week before his lights came back on. He lives in a suburban area but a more remote part where power lines cut through large wooded areas. Power lines could not be reconnected until numerous downed trees were cut and removed. Read Full Entry
---
Love the Church
After Cardinal Bergoglio was elected to the Chair of St. Peter and took the name Pope Francis, many were amazed with his simplicity when he was introduced to the waiting crowds in St. Peter's Square. He came forward in simple attire, dressed only in the white papal clothing. Why was he not wearing all the other regal vestments and apparel? There was a story that circulated regarding that. Whether the story is true or not, it indicates a new moment in Roman Catholic Church life. Read Full Entry
---
Falling in Love with God
Over many years of priesthood, several married couples have talked to me about difficulties in their relationships. Sometimes, what happens is one spouse decides to make the other spouse completely responsible for all their well-being, their happiness, their security, and their peace of heart and mind. In other words, one spouse is the center of the universe whether or not there is any desire to be there. It is a form of idolatry. Eventually, that relationship drifts apart. Either one spouse is tired of being constantly disappointed in the other for not taking care of all his/her needs, or the other spouse is tired of constantly being disappointing and walks away or both. When relationships reconnect to their proper order and God becomes the center, and the One fulfilling all our desires, needs, and happiness, there is healing and reconciliation. Read Full Entry
---
Respect Life Sunday
In many ancient pagan cultures, any newborn infant was placed at the feet of the father of the household. If the father decided to accept the baby, he lifted the child into his arms. If the father rejected the baby, he simply got up from his chair and left the baby to die unattended. This practice was common in pagan cultures. Why did it cease? Christian missionaries proclaiming the Gospel transformed entire cultures, making this practice forbidden and ultimately extinct. Read Full Entry
---
Phillipian Canticle
St. Vincent's name is almost synonymous with charitable works for the poor. The St. Vincent de Paul Societies are committed to serving the poorest of the poor at the local level. Beginning over 200 years following St. Vincent's death, and now located worldwide, they are a testament to the strength of his name in the church's history of caring for the poor of the world. But his early life gave no indication of this commitment to the poor, or to any depth of faith commitment. Although St. Vincent came from a poor peasant family in rural France, he was ashamed of his deprived background. Once, when his father visited the seminary he attended, he refused to receive him. His biographers tell us, he initially became a priest because it was a position of privilege that allowed him a steady income and the opportunity to retire early! But a major conversion experience led him to cast off a life of privilege for a life of humble service. Read Full Entry
---
Parable of the Merciful Landowner
Someday each of us will stand before God for judgment. We will stand alone before God with no spin doctor and no defense attorney. God's love and our life of faithful love will stand before each other. Assume God has three standards of judging us and we get to choose the standard God will utilize. Assume the three standards for judging are "fairness," "justice," or "mercy". Which one will you choose? Read Full Entry
---
Forgiveness
The Scriptures' focus on forgiveness presents a great challenge of the spiritual life. Perhaps of all the Lord's moral commands, "forgiveness" and "love of enemies" are the most difficult and challenging. We are all happy to seek and receive God's forgiveness for what we have done; and rightly express great gratitude for that forgiveness. But forgiving someone else is a different story. We can express our care for the poor with generosity, but generosity with forgiveness is a different story. Read Full Entry
---
Constantly Perfecting Our Love
How is Christian marriage called to manifest the divine love pouring from the Lord's paschal mystery? The foundation of Christian marriage as a sacrament begins with baptism. In Catholic Tradition, marriage is the only sacrament not ministered by an ordained priest or deacon. Rather, the couple minister the sacrament to each other by the exchange of their vows and union of their bodies in conjugal love. Only baptized people can minister sacraments, thus the sacrament of marriage rests on both spouses having been baptized. Baptism, already a life changing immersion into the Lord's dying and rising, shapes the heart for the offering of one's self as a gift of generous and sacrificial love in daily life. That is true for everyone baptized. For marriage, the baptized couple continually shape their hearts into an offering of self-giving to each other and for their family. This is one way Christian marriage is called to be a "permanent reminder for the Church of what took place on the cross." Read Full Entry
---
The Cross
The essence of sacrifice is not "destruction" but "transformation" (a "making sacred"). We are not called to self-destruction, but the transformation of our entire self in communion with the Lord's sacrifice on Calvary. Every time we gather at the Eucharist, the Lord's sacrifice at Calvary is present to us and draws us into its transforming power. We are not here merely to observe it. We are not here only to worship or express gratitude, important and essential as that is. Rather, we are here to enter into the paschal mystery and to let the Lord's death and Resurrection embrace and absorb us. The cross both cleanses and transforms us. Read Full Entry
---
St. Peter's Keys
Reading Church history can be sobering and depressing when we witness human sinfulness and the forces of hell attacking the Church from outside and from within. But reading Church history can also be incredibly hopeful when we witness the fidelity of God and the power of St. Peter's keys to unleash the forces of heaven. We can rightly be concerned about the challenges the Church faces today: decline in ordained priests, generations casting off the faith and increased secularization along with more hostility toward organized religions. While these are serious challenges, we must not fall into despair. As one who enjoys reading Church history, it seems to me we are in a healthy period of time. For many decades, the Church has been in a transition, but maintained vitality and manifested many strengths. Read Full Entry
---
Acceptance
Those terms were meant to sow seeds of fear among Americans that Catholics or "Papists" were really under the control of a foreign absolute monarch sending people here to undermine our system of rights and liberties. Catholics were considered a subversive force ready to corrupt the American way of life ultimately uniting the American government under the Pope of Rome. Refusing to call us by our preferred name robbed us of beauty of our faith, instead labeling us with evil intentions and sinister goals in this country. Does this sound familiar? Elements of Christian churches including Roman Catholics have similar fears of people who are gay. Can we learn from our own history? Ignorance and misunderstanding lead to fear; and fear is the great divider and instigator of violence. Referring to people by their preferred term is respectful and "respect" is the hallmark of a decent people. Read Full Entry
---
Greater Faith
Stepping out in faith does not mean we will not feel fear; just as feeling afraid does not mean we don't have faith. Faith and fear often live simultaneously in our hearts. We decide which voice gets our attention. We decide which one will ultimately rule our life. Read Full Entry
---
Going to Mass
In other parishes I have served, sports were the priority regardless of cost. One city where ice hockey was significantly important, parents and children often got up at 4 AM or 5 AM on Sunday morning for time at the ice rink, but some of those same parents would inform me, the Mass times are too inconvenient. If faith is boiled down to simply "religious practice" in all its dull and boring repetitive mannerisms, then small things will keep us away every time and we will hardly miss it. But if faith leads us to an encounter with the Living God, we will be shaken at the core of our lives, and only those life emergencies or restrictions will keep us from attending. Read Full Entry
---
The Wheat and the Weeds
The Holy Spirit groans for those locked in sinful patterns of life, or abusive patterns and understands completely humanity's weaknesses. Let the Spirit's groaning and interceding lead us beyond the power of sin and abuse. Let us lean on the merciful and gracious God the psalmist speaks of, and prays to for mercy. Read Full Entry
---
Christian Hope
In the darkest times of our life, we need to know the Lord is not only present to us and not only accompanies us. In the darkest moments of our life when we can't see where we are let alone where God is. In those times, God shepherds us through the darkest of times. In many ways, our mission as disciples is to accompany one another in times of dark suffering and pain. The power of the cross gives us light to see beyond the darkness of our current suffering, our past horrors, or future anxieties. It is that power that may only light the very next step we walk, but offers us the most precious commodity of our time: Christian hope. Read Full Entry
---
Baptism
Baptism connects our life to the transforming power of the Lord's death and Resurrection. Baptism joins our life to this pattern of salvation: we "die with Christ", we are "buried with Christ" and "we rise with Christ." Our life in baptism joined to Christ is not merely static, something over and done with. Rather, our baptism in Christ is dynamic. Our baptism calls us to let this pattern of "death, burial, and rising again" to be let loose within us. This pattern shapes our entire life, becomes the basis for our life's decisions and opens before us the way we should live. Read Full Entry
---
Living Sources of "Good News"
The Gospel is both gift and responsibility, blessing and burden, freedom and binding. The religious makeup of our nation is becoming more and more "unaffiliated." In the most recent Pew Trust polling, almost 30% of all Americans do not affiliate with any religious body or worship. Most of these are younger Americans. This presents us with both a challenge and an opportunity. We must believe our Catholic faith is not only a gift, but can be attractive to those without faith. Our witness and life as Catholics in the everyday world of our society can and should be an invitation for others to seek out the source of our joy, our commitment to justice, our desire to see all people freed from their burdens. Our fears will find common ground with all people. But our choice to not let fear be the motivation of our life choices will make us an attraction to many. Read Full Entry
---
Trinity Sunday
One summer almost twenty years ago, I was temporarily assigned as a hospital chaplain at Maine Medical Center. One day I was called to the maternity section and was told a young couple would soon deliver an infant boy that had no chance of surviving for more than a few hours after birth. They asked me to be in the delivery room to baptize the baby immediately after the birth. I stood beside the mother and a cloth curtain propped up maintained the dignity of the moment. The young dad was on the other side of the curtain awaiting the birth. Immediately after birth, the young father with newborn son moved from behind the screen coming towards me for a baptism. He had a look of intense and passionate love; a look of incredible pride and gratitude. His face glowed with an aura of joy as though the son he held could live for 80 years and not only 80 minutes. Read Full Entry
---
Pentecost
he Pentecost experience reminds us that God has created us, shares our human experience including suffering, rejection and death. The Holy Spirit continually presents God's invitation to friendship and salvation to every human heart. The Pentecost experience reshapes our heart and soul into the very heart and soul of the Risen Lord, Jesus Christ. This is the ongoing work of the Holy Spirit, alive in the Church. Read Full Entry
---
"Sacramental Imagination"
A "sacramental imagination" understands that everything and everyone is connected to everything and everyone else in creation. The "sacramental imagination" then understands God connected to all of it, everyone and everything. Read Full Entry
---
Good Shepherd Sunday
Throughout the Bible, God calls people by name. When first experiencing God calling, there is often a response of overwhelming awe and a sense of being insignificant enveloped in the powerful glory of the divine. But as God remains with the one called, that sense of awe and littleness begins to be accompanied by a deep sense of intimacy, friendship, and a relationship based on love and trust. God's love is first and foremost revealed in relationship. Read Full Entry
---
Holy Thursday
As Church, we are always about remembering, but such remembering is not about simply recalling what has already happened. Remembering is always about being present to the Risen Lord and his saving actions always fully present to us in the Church's life and most especially in the Eucharist. Read Full Entry
---
Raising of Lazarus
True spiritual life draws us out of our self-absorption and into the needs of the world around us. Jesus had the people remove Lazarus' burial cloths. Jesus had them set Lazarus free. There are no spectators in the life of faith. True spiritual life joins Jesus at the sealed tombs of those held bound. True spiritual life witnesses the power of Jesus' words calling those bound to come forward. True spiritual life participates in the Lord's salvation by participation in the removal of their bonds. But it often begins simply by shedding tears. Read Full Entry
---
The Samaritan Woman
Have we met the Samaritan woman? Do we recognize her? Is she or he someone close to us? Does she represent someone in our family, our neighborhood, our workplace or circle of social acquaintances? Has this person suffered from out jokes, or whispers accompanied by glances and giggles? What does the Samaritan woman's story encountering Jesus tell us about the power of compassion, mercy and acceptance? What potential do they have to be evangelizers if they know their story can be told and welcomed? Read Full Entry
---
The Transfiguration
Our baptism gives us hope at the same time it makes a claim for our lives. Remaining on the mountaintop as Peter suggests is not an option. The sacramental life is meant to accompany us in our daily life, faithfully living out our baptismal commitments. As we prepare to renew our baptismal promises at Easter, let us spend the remainder of Lent paying attention to the Lord's presence in our daily life by opening the ears of our hearts and listening to the beloved Son of the Father in heaven. Read Full Entry
---
Facing Temptations
Temptations come with whispers of greatness, promises of actions without consequences, assurances of escaping responsibility and offers of sweetness of revenge. The result is a decline in trust, a rise in cynicism, a breakdown in community and a society bent on self-destruction fueled by blaming others, "getting what's coming to me", and "taking what I deserve". "After all, everyone is doing it, aren't they?" Well, frankly, no, everyone is not doing it! Many people live lives of integrity and honor. Their word is their bond, their heart is gold and their soul sees the world through the eyes of pure love. Their motivation is the innate dignity of every person, the sacredness of all creation, and ultimate value of true community. Read Full Entry
---
Righteousness
How do we seek the Kingdom of God and the righteousness of God? What is God's righteousness? "Righteousness" is a life choice of fidelity to living in imitation of God. "Righteousness" acknowledges the deprivation and suffering of others around us and throughout the world. "Righteousness" then reaches out in compassion serving others by providing for their basic needs and advocating for them to the "powers to be." Read Full Entry
---
Sermon on the Mount
A few months ago, I saw the movie Hacksaw Ridge. This movie is based on the true story of the first and only soldier awarded the Congressional Medal of Honor who was also a conscientious objector. Desmond Ross enlisted in the United States Army during World War II knowing he would never agree to use a weapon or hold one in his hands, even during his time in basic training. Serving as a medic, he was the only soldier in World War II to never carry a firearm on the battlefield. In spite of hostility from his fellow soldiers and officers, including beatings and actions of vandalism, he held to his convictions. Eventually, he won the day, even if not at first winning their respect. Read Full Entry
---
Habits of the Heart
There was a television show a few years ago featuring a veteran police detective taking on the task of mentoring a young detective known for being rash and impulsive but with the potential for brilliance. The veteran detective at one point sits his younger colleague down and says words similar to these, "Inside of you and inside of all of us are two hungry wolves desperate to be fed. One is integrity and the other is ambition. The one you feed the most is the one that will run your life." Read Full Entry
---
Light of Truth
Speech and communication ultimately must assist in the search for truth. They are God's gifts for humanity's task of building relationships with trust, dignity, respect, and mutual care. When we use speech to tear down, humiliate, abuse, harass someone, or slander someone's good reputation, we are guilty of violating God's intent for the gifts given to us. We have gravely sinned. Sometimes the sin is not what is said, but rather what has not been said. For the last several years, the United Nations has sponsored a worldwide Holocaust Remembrance Day. Every year, the president has issued a statement commemorating the event and committing this country to never allowing it to happen again. Presidential statements by both Presidents George W. Bush and Barack Obama took pains to mention the particular targeting of Jewish people throughout Europe by Hitler's regime. Their statements also referred to new anti-Semitic movements in the world today. This year was different. Read Full Entry
---
Beatitudes and Bruce
Lately when asked, "What are you reading for spirituality these days?", I respond, "Bruce Springsteen's autobiography Born to Run." Taking a cue from the writings of the late Father Andrew Greeley, searches for "grace" and a "Catholic imagination" are to be sought in places not usually considered to be spiritual. Read Full Entry
---
Holiness
Ultimately it is love the purifies, cleanses, transforms, renews and sets free. Ultimately it is divine love pouring through the human heart of the Lord Jesus Christ that becomes the ultimate source of holiness. And love cannot be earned or bought or stolen or borrowed. Love is only received as free gift and responded to with love in kind. The Sacraments are really all about the privileged rituals of love celebrated by those baptized. This is the relationship the Church is called to manifest to the world around us. Read Full Entry
---
Make Christ Known
Our mission to identify Christ's presence and make Christ known to others needs to begin with an inventory of our life. Where is Christ present within us? How do we know Christ from our own life, our personal history, our present daily life? Logic may dictate we begin by naming our blessings, our successes, our moral virtues, and our spiritual strengths. Perhaps the inventory should begin with our weaknesses, our moral failures, or our moments of tragedy, disappointments or trauma. We should be ready to re-examine our darkest times and our most troubled moments from the past. No matter how dark and isolating, we are asked to look again and see if God was indeed present when God seemed most absent, most distant from us. We do this not to remain chained by shame, guilt, or a sense of personal failure. On the contrary, we go back to those moments to be touched by grace and to know the Lord Jesus Christ and his merciful love. Read Full Entry
---
New Year's Day
New Year's Day is one of the few times I recycle a homily. The basic structure of this homily has been utilized on New Year's Day for probably at least fifteen to twenty years of preaching on this solemnity. It has been well received. So I have chosen not to make too many changes to the basic message. Read Full Entry
---
Fourth Sunday of Advent
There is little said about the great person of St. Joseph in the New Testament. St. Joseph himself is not recorded as saying anything at all. Yet, his life speaks loud and clear in the decisions he makes on behalf of his wife Mary and the child Jesus. Read Full Entry
---
Third Sunday of Advent
The Third Sunday of Advent in Latin is referred to as "Gaudete Sunday," or "Sunday of Joy." Joy comes from hope, and all who look forward to the coming Kingdom in glory have great reason to hope. Our awareness of the Kingdom in our midst comes from the reality of God's grace in every moment of everyday life. This awareness requires a constant conversion and giving over to God all that we are. This is a lifelong process, requiring discipline, generosity, an open heart and a deep trust in God's merciful love for each of us. The foundation of our faith is "love." Love God, neighbor and our self is universal standard for judgment. That this standard sounds simple does not translate to being easy. Read Full Entry
---
Solemnity of the Immaculate Conception
As Church, each of us and all of us are called by God to respond to the horrors of our time. Our response involves the very kindness, mercy, and compassion of Christ alive in us and working through us. We may never stop "feeling afraid," but we can begin today to stop allowing fear to govern us or paralyze our communities. Read Full Entry
---
Second Sunday of Advent
Advent's penitential focus, the preaching of John the Baptist, calls for the need to humanize our communities again. Each one of us and each community: parish, neighborhood, workplace, town, nation, and community of nations needs constant transformation to what is truly human. The more human we become, the more divine we become. The more we become the person God created us to be, the more we are filled with the very life of God. Read Full Entry
---
The Season of Advent
The Advent season is one of the best kept secrets of the Catholic Church. It is rich in imagery and spiritual renewal and not simply a countdown to Christmas. Advent offers its own spirituality attention related to Christmas but also distinct. Read Full Entry
---
Jubilee Year of Mercy
Jesus was a man totally void of self-interest. Every miracle he performed was always and only a service to those in need. He never performed a miracle to provide proof of his real identity, and he would certainly not begin now as his life slipped away in the agonizing and cruel horror of crucifixion. Those voices "save yourself if you are the King of the Jews," spoken as much in mockery as opportunity of proof passed through him with no attraction or interest. For Jesus, his only interest was fulfilling the will of his Heavenly Father by proclaiming and revealing the Kingdom of God. Read Full Entry
---
Through the Eyes of the Risen Lord
Opening our hearts and minds through prayer, education, and open discussions with heartfelt listening can lead us to new and creative possibilities. Developing communities based on human dignity, justice, and mutual respect creates true freedom and true peace. Governments cannot build community, only people can, and Christian communities have the best tools for building communities where everyone is welcomed, everyone is cared for, everyone's gifts are called to flourish, and everyone is safe. As our national election mercifully comes to a close, we can use these truths to begin the healing our nation so desperately needs. Read Full Entry
---
"Salvation has visited this house."
My years of seminary formation included serving time as hospital chaplain. One hospital had a residential alcohol and drug treatment program. For those trying to remain sober, their days included 12 step meetings, individual and group counselling and spiritual help. For some in early stages of sobriety, the idea of spirituality and even "God" is a new one. Often these people were raised in homes so consumed by everyone's drinking and drugging, there was little care or attention given to children. Therefore, there was no exposure to spirituality or to any notion of God. One day as I was walking through the hospital to visit patients, a 12 step meeting was just ending. As the folks passed me in the hallway, one man noticed my chaplain's badge and asked for a moment of time. Read Full Entry
---
Prayer
In this conversation, we can speak honestly to God about our fears, doubts, concerns and challenges. We can express our gratitude for many blessings, our need for conversion and mercy, our joy regarding our faith and our burdens regarding our struggles. We know from faith, that God's response will always be merciful, loving, consoling and challenging. But this conversation is also communal as God speaks to us with the same message shared within the privilege of the church's faith. Our personal prayer joins the church throughout the world and the saints in heaven in a constant prayer worship and rejoicing. Prayer draws us deeper into the heart of the Church and there we encounter the heart of Christ. Praying with the Church bonds us together and lifts our hearts to God as one Body of Christ. Read Full Entry
---
The Healing of Ten Lepers
"Fall guys" and scapegoats have been prominent targets on both sides of the presidential election this year. Such tactics serve to generate more fear and less community. Many unfounded or discredited accusations have taken American politics to new lows, and lowered the bar of decency and acceptable standards of political discourse. This is a profound moral issue needing to be addressed as such. We need to listen to the many voices of our political life and discern what is good even if we are in disagreement and reject what is divisive even if in agreement with goals that are worthy. But before we decide who to welcome and who to reject, we should first remember our own history as Catholics in the United States and the fear generated among many convinced of our malicious motives. We must avoid at all costs the attitude of the nine lepers who can't see new opportunities to discard old prejudices and divisions. Read Full Entry
---
A Small Seed Waiting to Be Harvested
Generous and compassionate service can heal wounds and quiet rage in human hearts. I often wonder if so much anger in our nation comes from a feeling of detachment, a sense of abandonment, a simple lack of care and being cared about. The ultimate face of evil is the death of compassion; something we all have the ability to respond to. Most of the time, it will be simply continuing to do what we are already doing. Read Full Entry
---
Two Rich Men and Lazarus
An old and wise proverb can assist us to open the mysteries of this parable, "Wealth is a loyal servant but a demanding master." This parable is often referred to as "The Rich Man and Lazarus." But that is the wrong name for this parable. It is not about "one rich man" and Lazarus. Rather it is about "two rich men" and Lazarus. Abraham mentioned in heaven with Lazarus in his bosom was also a rich man. Of the two rich men, Abraham is in heaven and the other, unnamed, is in a place for the damned. The poor man Lazarus is also in heaven but we know nothing of his life to appreciate why he ended up there. But we do know of Abraham and the other rich man. Read Full Entry
---
Reality of Sin
Throughout the gospels, Jesus uses parables to reveal the Kingdom of God in daily life. He only uses those events of daily life people would be familiar with. His parables are about a fisherman casting a net, a woman baking bread, a shepherd looking for the lost sheep, the woman looking for a lost coin, the farmer casting seed on to the soil, invitations extended to a royal wedding banquet, or a grower hiring workers for his fields. Read Full Entry
---
Works of Mercy
In the history of the Catholic Church, especially in times of either great oppression from outside the church or great corruption within the church's life, the works of mercy served to cleanse the church, renew her and revive her life in the wider world. The simple and gentle works of care and consolation became powerful experiences for healing and restoration for entire countries. Read Full Entry
---
Seeing Humanity
Are there people in our life we often ignore their full humanity? They might be people we see but dismiss, people we take advantage of, people we can take for granted. Seeing them again in a completely new way enables us to see their complete humanity. This new way is seeing others and the whole world through the eyes of the glorified humanity of the Risen Christ. How is this possible? Read Full Entry
---
Pursuit of "Perfection"
Every religious movement has its own recipe and paths for perfection, and often many secular cultures and societies adopt their own standard for becoming perfect. For American culture and society, perfection is often summed up in one word "winning." If we are winning or sometimes "winning's" first cousin "succeeding," we are moving to perfection. This path of perfection brings with it a lot positives to our society and nation. We have the world's strongest economy and the most powerful military. At the same time, this path also brings considerable negatives including great stress and pressure young people often experience to succeed and win beyond their own capacities. Read Full Entry
---
"Strive to enter through the narrow gate..."
Over centuries and millennia, saints, mystics and spiritual writers have reflected on this image of the "narrow door" that Jesus speaks of in this passage from St. Luke's Gospel. Synthesizing their meditations could come in these words, "The wider we live our lives, the narrower our heart will be. But the narrower we live our lives, the wider our heart." Read Full Entry
---
The Peace of Christ
When Jesus says in the gospel, "I have come not for peace but for division," the peace Jesus rejects is the attitude of burying deep wounds, tolerating abusive behavior, living with exploitation and hateful racism. That is a false peace that has nothing to do with the Kingdom of God. Read Full Entry
---
Encountering the Living God
Mark Twain once said, "There are two important days in your life. The first is the day you were born and the second is the day you found out why." Read Full Entry
---
Farewell to Portland
On August 1, Fr. Seavey began his appointment as parochial vicar of St. Anne Parish, Gorham; St. Anthony of Padua Parish, Westbrook; and Our Lady of Perpetual Help, Windham.
Prior to his departure, he wrote a farewell column to parishioners and community members in Greater Portland.
---
First Anniversary of Laudato Si'
This month marks the first anniversary of Laudato Si', Pope Francis' groundbreaking encyclical on global warming and environmental responsibility. The encyclical placed papal authority squarely on the issue of global warming and humanity's irresponsible behavior fostering the conditions allowing it to develop. Pope Francis did an exhaustive study on the issue before writing the encyclical and as a former science teacher in Jesuit schools, he had a background to do so. Read Full Entry
---
Joyful Call to Mercy
We are told constantly that the church is considered irrelevant, and we need to make the church relevant again. We all too often look for some elaborate plan or social media solutions to make this happen. But French Catholics discovered in the late 1800's that simple works of mercy, touching the many wounds of our world, are far more effective and far more worthwhile. Read Full Entry
---
Response of Mercy
Human suffering needs to open our eyes to the common ground that we all share one humanity, the only humanity there is. A response of compassionate mercy then creates more common ground where wounds can be healed and community can grow strong. Read Full Entry
---
Conscience Formation
In the life of the Church, Christ delivers his identity over to us. In his identity, we do not dissolve into a mass of mob. Rather, in the Risen Lord, our identity is brought to its fulfillment and completion. While darkness hovers over mob mentality, the identity with Christ casts a light of discovery, and a path to justice, forgiveness and ultimately reconciliation. If conscience formation disappears in mob mentality, conscience formation develops in most difficult circumstances in the life of the church. The lives of the saints, particularly the lives of the martyrs are witnesses to this conscience development and become examples for us to imitate. Read Full Entry
---
What Do We Do Now?
In the gospel, Jesus is gathered with the disciples at The Last Supper. The Lord prepares them for the transition of his dying and passing from this world to the Father in heaven. His disciples cannot comprehend the Son of God experiencing death, let alone being tortured and sentenced to death for crimes he was not capable of committing. Yet, such would be the case, leaving the disciples scattered in grief and hiding in fear. Read Full Entry
---
Holy Family
Children can teach us a lot about what "holy families" are. Read Full Entry
---
Jubilee Year of Mercy
Pope Francis has emphasized God's mercy since his election and this Jubilee Year is a wonderful way of both celebrating God's mercy in our own lives and becoming sources of mercy for the world around us.
Read Full Entry
---
Experiences During Papal Visit: Part II
In addition to sitting in the House gallery to witness Pope Francis' speech to Congress, I was also able to read an advance copy earlier that morning. The written words themselves brought tears to my eyes as I read the beauty and poetry of his thoughts. I have selected five significant quotes from that speech and offer my own commentary. Read Full Entry
---
The Right Number
During my two days in Washington D.C., Senator King also invited me to sit in on his staff meetings with various discussions on both domestic and foreign policy. I must admit that sitting in on those meetings stirred the juices of earlier desires to enter that career and again realized how much I would have loved that type of work. I share this story because I relate to the man who approaches Jesus and kneels before him. Following graduate school in Minnesota and receiving a Masters' Degree in Public Policy, I began to wrestle with the felt call to priesthood. After completing six years of study and hoping to return to Maine, and eventually hoping to marry and raise a family, I was convinced that God had dialed the wrong number. Read Full Entry
---
Realities of Divorce
When divorced people are able to move forward in their life, they manifest the healing power of the cross and the mercy of God. In an ironic sense, divorced people testify to marriage's great sacramental beauty as they grieve its loss much like widowed people grieve. Read Full Entry
---
Pope Francis' Visit to the United States
On September 23, I was the guest of Senator Angus King at a White House reception welcoming Pope Francis. The following day, he arranged for me to sit in the gallery of the US House of Representatives while the Holy Father addressed The Joint Session of Congress. Having known Angus since I was 18 years old, this gift was an opportunity of a lifetime and beyond my ability to imagine. Read Full Entry
---
Compassion and Commitment
The photo of the body of three year Aylan Kurdi washed ashore on a Turkish beach in the refugee crisis captured and broke the heart of almost the entire world. Although over 140,000 have died in Syria since the civil war began, including seven thousand children, the photo of one child brought home the evil of war and the massive humanitarian crisis. We can see and hear the numbers of those fleeing so many war torn areas of our world. But the photo of one child's body suddenly gives the story "a human face" the numbers all too often simply can't convey. Read Full Entry
---
Deeds First, Then Words
If we say "Jesus is the Christ," those words of faith need to be translated into action of daily life. The words of faith without the action in St. James words, become "dead." By the same token, "the actions without words" can become self-serving and vainglory instead of "God serving and giving glory to God." Read Full Entry
---
Speaking Kindness
Curt Schilling is a retired major league baseball pitcher completing his career brilliantly with the Boston Red Sox. Last spring, his daughter Gabby was admitted into Salve Regina College in Rhode Island, and like a proud dad, he posted the good news on his social media account along with a picture of his beautiful daughter. Read Full Entry
---
The Real Presence
Our mission is not to bring Christ into the world. Christ is already present there. Rather, our mission is to witness the Lord's divine presence to others unable or unwilling to acknowledge Him in their daily lives. Uncovering this truth brings the light of God's merciful love as liberating truth. Read Full Entry
---
Solidarity
Solidarity requires us to see ourselves and see the world around us through the vision of the Risen Lord. We are to re-evaluate our own values and society's values through the lens of morality flowing from the glorified humanity of Christ. We are to seek the healing and renewal of the human community empowered by the presence of Christ in the Eucharist. Read Full Entry
---
Joy is Discovered in the Eucharist
When we join our life to the Risen Lord's and when we imitate his offering of life as a sacrifice of gratitude and sacrifice of praise, we discover joy. We discover "joy" because we come to realize the value God places on our life. Read Full Entry
---
What is Our Vocation?
We are sent out to tear down walls of hostility throughout our society, communities and throughout the world. There are many walls and barriers in our world and society today. Some walls are physical and visible. Other walls are less visible but as divisive. Walls between the haves and have nots keep many from realizing their full potential as humans in the human community. Read Full Entry
---
Why Do We Need the Church?
This reality helps us respond to the question confounding our society and culture. "Why do we need The Church?" Why Church at all? "I can be with God in the beauty of nature and in the warmth of my own home." That is true as well and need not be denied or minimized. We are indeed called to relationship with God in a personal way and we are called to find God everywhere. But that is not the full realization of God. Read Full Entry
---
God's Mustard Seeds
Throughout the two plus millennia of Catholicism, it is often one man or one woman in a challenging set of circumstances called by God to take a stand against a prevailing social catastrophe or to change a prevailing attitude within the Church itself. Read Full Entry
---
Asking the Right Questions
One of the most dangerous questions we can ask is, "What's in it for me?" This question contains the five most dangerous words in the English language. Read Full Entry
---
Among the Saints
The greatest of saints are those who love, and love with the very love of the Lord Jesus Christ. The saints never stopped loving and never stopped growing in love. They grew in the Lord's love for them and grew in loving others with God's own love. The saints loved regardless of social status, ethnicity, family of origin, personal background, or past sins. They loved and grew loving those most marginalized, most excluded, and most convinced they simply do not measure up or belong. Read Full Entry
---
Time to Sing His Tune
St. Barnabas provides a wonderful model for a ministry so desperately needed in our church, society and world today. Recognizing the terrible and hostile divisions separating us, ministries of breaking down barriers separating and building bridges uniting are essential. Transforming hostility into hospitality might be one of the greatest ministries in the church today. Read Full Entry
A full archive of Fr. Seavey's blog entries can be found along the right side of this page.
---