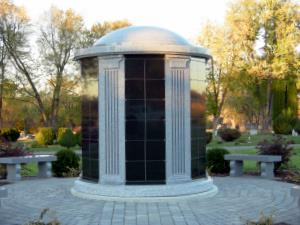 What is it? That's the most common question asked at Mt. Pleasant Cemetery these days, in reference to the unusual-looking structure on the 14th Street side of the office.
It's a columbarium, a structure for the interment for cremation urns. Surrounded by new brick walkways lain in the form of a Celtic cross, it will be the focal point to the new cremain garden (details) for cremation burials. The cremain garden is being installed to satisfy a growing demand for cremation lots.
The columbarium was purchased from Sunset memorials of Calgary in Alberta, Canada and the exterior is constructed entirely of granite. It is six-sided with each side containing twelve 'niches', each capable of holding either one to two cremain urns: each niche face will be furnished with a stylishly-designed bronze plate containing the names and dates of the deceased.
The area surrounding the columbarium, amounting to approximately 1/24 acre, will be subdivided into four-foot square cremain burial lots, which may be marked by either flat makers of small upright monuments. The final grading and landscaping planting will be completed in the spring as soon as weather permits.
---
449 Ohio Street
Bangor, Maine
(207) 947-4322
---
Guidelines - Cemetery Guidelines Adopted July 2006
Early History - Early History of the Catholic Church in Bangor