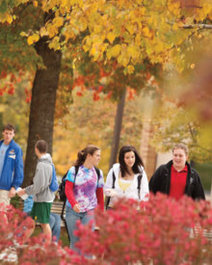 Saint Joseph's College is Maine's only Catholic college. Its liberal arts curriculum and student life programs nurture intellectual, spiritual, and social growth in students of all faiths within a values-centered environment. "You become a better person here, not just a better student," is how one student described his experience at Saint Joseph's. The college was founded in 1912 by the Sisters of Mercy.
Saint Joseph's offers 40 academic programs, along with career internships, community service projects, lab research and field trips. The honors program and study abroad opportunities at 254 colleges in 36 countries complement the traditional academic offerings.
Class sizes are small. That means caring, engaged teachers get to know students, and students get to know teachers.
At St. Joe's, 85 percent of the student population lives at the 350-acre campus on Sebago Lake, with its own private beach and breathtaking views of the White Mountains. Portland is just 30 minutes away and Boston is just two hours.
The college also features many extracurricular activities, including entertainment at The Chalet and a variety of clubs such as Habitat for Humanity, Dance Club, Environmental Awareness Club, Campus Ministry, Feeney Players, Business Club, Political Science Club and Rescue Club.
In addition to its normal tours, the college offers open houses in the fall. At the open house, prospective students have the chance to take a tour, meet with faculty and current students, and hear about the admission process. To schedule an appointment for a tour or open house, contact the Office of Admissions at 800-338-7057 or visit www.sjcme.edu.