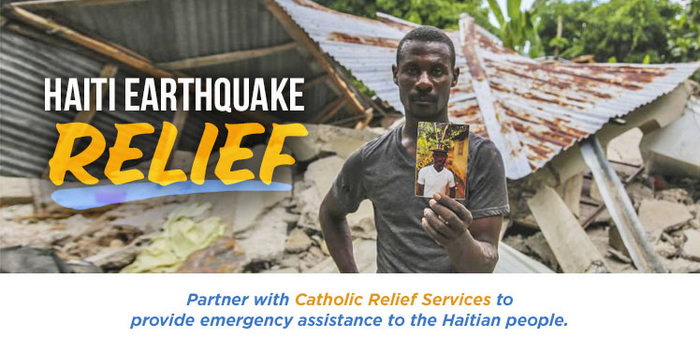 Earthquake rocks Haiti killing more than 1,400 people
A 7.2. magnitude earthquake struck the island of Haiti on Saturday, August 14, killing an estimated 1,400 people, injuring 6,000 more, and leaving thousands of others homeless. CRS has teams on the ground, providing emergency assistance, such as clean water, sanitation, and shelter. CRS, the official international humanitarian agency of Catholics in the United States, is well-positioned to assist the people of Haiti because it has been serving on the island for 60 years and works with 200 partner agencies.
Please consider supporting CRS as it works to help the people of Haiti. Donations may be made online here.
Spotlight on CRS
Where María Ana lives, many children cannot study due to hunger or because they cannot afford their school supplies. Because of this, María Ana and her siblings walk a long way to study. Her family lives in Honduras, and even though her family has a small farm, there are times when they only eat once a day – a meal they receive at school through the McGovern Dole program thanks to funding from USDA Foreign Agricultural Services. It's only because her school receives funding from USDA that she receives nutritious meals AND the school supplies she needs. Visit www.crs.org to see what you can do to help support foreign aid.
"Those who are more influential because they have greater share of goods and common services should feel responsible for the weaker and be ready to share with them all they possess… the Church feels called to take her stand beside the poor, to discern the justice of their requests, and to help satisfy them, without losing sight of the good of groups in the context of the common good." ~ Pope John Paul II
South Sudanese Communities Build a Road and Peace
Motiviated by the teachings of Jesus to uphold the sacredness of all human life, Catholic Relief Services carries out the commitment of the Bishops of the United States to assist the poor and vulnerable overseas. This week, the spotlight shines on the work being done in South Sudan.
Until March of this year, if Nuer villagers from Panyok in South Sudan's Uror county wanted to travel to the nearest town, Pajut, they had to walk for hours on a narrow footpath through the bush, which left them vulnerable to bandits. Now, through a European Union-funded cash-for-work initiative, they have joined together with nearby Dinka communities to build a 10-mile road connecting Panyok to Pajut.
"The road will help us travel safely," says Rebecca Nyathiai Wan. "Now it is wider so people can more easily see ahead and to the sides. We will not have to fear ambushes by criminals." Other key benefits of the road are improved access to health care services and transported goods. The Panyok-Pajut road is part of the Building a Culture of Social Cohesion and Peace project funded by the European Union and implemented by Catholic Relief Services in Greater Jonglei. The aim of the project is for communities to adopt peacebuilding practices that help them to develop and sustain resilience against recurrent conflict. [Learn more.]
The mission of CRS is promoted and supported in the Diocese of Portland through the CRS Office. The director is Yvonne Borelli-Chace, who may be reached at yvonne.chace@portlanddiocese.org or 207-321-7817.
CRS Homepage - End poverty and world hunger with Catholic Relief Services.
Emergency Relief Donations - Make your emergency relief donations through Catholic Relief Services.
Learn about the Plight of Refugee - More than 70 million people around the world have been forced to flee their homes because of persecution, conflict, poverty and violence. There are more refugees and internally displaced people now than at any other time in history.
In this pivotal moment when COVID-19 is making displaced communities even more vulnerable, we remember that Church teaching encourages us to welcome foreigners seeking the securirty and livelihoods they cannot find in their home countries.
CRS offers a self-guided, online prayer retreat to encounter our migrant and refugee sisters and brothers.
Downloadable Prayer Book
Join together in prayer with this downloadable prayer book. It includes some of the basic prayers of the Catholic Church, such as the Our Father, Hail Mary, and the Nicene Creed, accompanied by images of our brothers and sisters around the world.
CRS Ethical Trade
CRS Ethical Trade inspires Catholics to act on their faith and values by building on the principles of fair trade and moving beyond its boundaries to include other models of ethical trade.
The CRS Ethical Trade program mobilizes the Catholic community to live their faith through practicing ethical purchasing grounded in Catholic social teaching with a global focus, working with more than 20 companies to promote fair and ethically traded products such as: coffee and tea, home décor, chocolate and candy, religious items, jewelry, and products for special occasions for use by Catholic individuals and institutions.
The organization offers an online directory of fair and ethically traded products from companies that meet their high standards and opportunities for parishes, schools and universities to host fair trade sales.

Learn more about the transition and new opportunities to reflect and advocate on issues affecting the most vulnerable, including human trafficking, climate change and livelihoods for refugees, by clicking here.