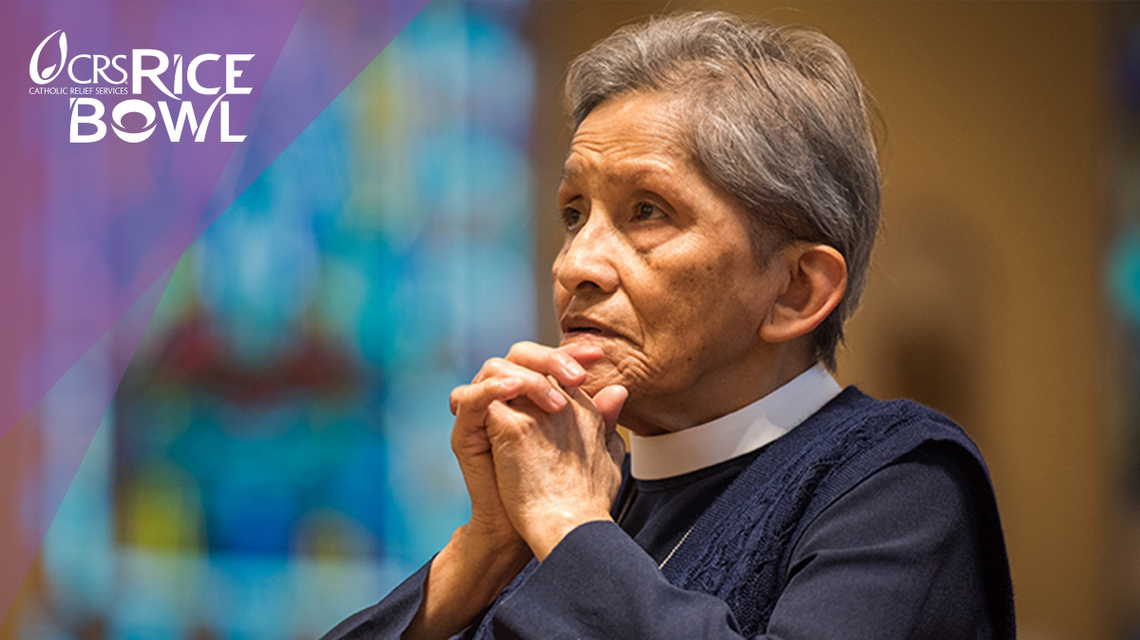 CRS Rice Bowl
CRS Rice Bowl is Catholic Relief Services' Lenten program for families and faith communities in the United States who want to bring Lent to life. Through CRS Rice Bowl, faith communities in dioceses throughout the United States put their faith into action through prayer, fasting, and almsgiving. Pick up a rice bowl in your parish and as you journey through Lent, drop donations in it and make small sacrifices to benefit others. Also join in praying for those around the world and in fasting in solidarity with them. Donations made through CRS Rice Bowl support the work of Catholic Relief Services in more than 100 countries each year. Seventy-five percent of your donations will go to help CRS in its work around the world while 25% will stay in our diocese, supporting hunger and poverty alleviation efforts. [Learn more.]
Support the people of Ukraine
Your help is needed in Ukraine where there is great risk of suffering for those remaining within the country and for those fleeing to neighboring countries for safety. CRS and its Caritas partners are ready to provide safe shelter, hot meals, hygiene supplies, fuel to keep warm, transport to safe areas, counseling support, and more. Read about the work being done and how you can help.
Spotlight on CRS
Heavy rain from Cyclone Ana caused major flooding across southern Africa last month. CRS is responding in Zambia and Malawi by providing temporary shelter, water treatment for clean drinking water, and hygiene items. Please visit www.crs.org for more information to see how you can help! Thanks for your support!
"In imitation of our Master, we Christians are called to confront the poverty of our brothers and sisters, to touch it, to make it our own and to take practical steps to alleviate it." ~ Pope Francisrvices should feel responsible for the weaker and be ready to share with them all they possess… the Church feels called to take her stand beside the poor, to discern the justice of their requests, and to help satisfy them, without losing sight of the good of groups in the context of the common good." ~ Pope John Paul II
CRS Ethical Trade
CRS Ethical Trade inspires Catholics to act on their faith and values by building on the principles of fair trade and moving beyond its boundaries to include other models of ethical trade.
The CRS Ethical Trade program mobilizes the Catholic community to live their faith through practicing ethical purchasing grounded in Catholic social teaching with a global focus, working with more than 20 companies to promote fair and ethically traded products such as: coffee and tea, home décor, chocolate and candy, religious items, jewelry, and products for special occasions for use by Catholic individuals and institutions.
The organization offers an online directory of fair and ethically traded products from companies that meet their high standards and opportunities for parishes, schools and universities to host fair trade sales.
Learn more about the transition and new opportunities to reflect and advocate on issues affecting the most vulnerable, including human trafficking, climate change and livelihoods for refugees, by clicking here.
CRS Online Prayer Retreat in Solidarity with Refugees
More than 70 million people around the world have been forced to flee their homes because of persecution, conflict, poverty and violence. There are more refugees and internally displaced people now than at any other time in history. In this pivotal moment when COVID-19 is making displaced communities even more vulnerable, we remember that Church teaching encourages us to welcome foreigners seeking the securirty and livelihoods they cannot find in their home countries. CRS offers a self-guided, online prayer retreat to encounter our migrant and refugee sisters and brothers.
Additional Resources
CRS Homepage - End poverty and world hunger with Catholic Relief Services.
Emergency Relief Donations - Make your emergency relief donations through Catholic Relief Services.
Downloadable Prayer Book
Join together in prayer with this downloadable prayer book. It includes some of the basic prayers of the Catholic Church, such as the Our Father, Hail Mary, and the Nicene Creed, accompanied by images of our brothers and sisters around the world.