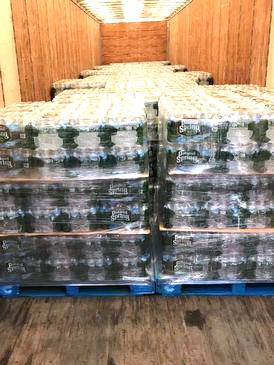 Catholic Charities Maine and Poland Spring are pitching in to help Aroostook County prepare for the possibility of spring flooding. Poland Spring donated 40 pallets of natural spring water to the County, delivering it to Catholic Charities' warehouse in Monticello. According to Dixie Shaw, director of hunger and relief services for Catholic Charities, the water will be delivered to fire departments throughout the area as part of preparedness efforts.
"We are incredibly grateful to the folks at Poland Spring Water," said Shaw. "As we face warmer weather thawing, we are praying for the best and preparing for the worst."
The water was delivered at the request of the Aroostook County Emergency Management Agency.
"We submitted a request for assistance to Maine Emergency Management who immediately contacted Poland Spring. Poland Spring was eager to provide us with the water we need and even offered to deliver it," Darren Woods, Aroostook EMA director, said in a statement.
Shaw said that Catholic Charities Maine worked closely with Aroostook EMA during the devastating floods of 2008, and one of the early, urgent needs was for bottled water. That is why they wanted to be sure to have it on hand before any flooding hits.
Concerns about flooding are high this year because of the deep snowpack. According to a National Weather Service report issued March 7, the flood potential for open water and ice jam flooding is well above normal in northern Maine, with the highest threat being across the St. John and Aroostook River basins.
If the bottled water turns out not to be needed. Aroostook County EMA said it will be donated to firefighters for their use during wildfire season.