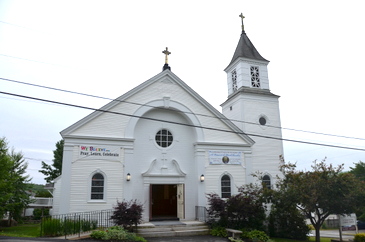 A long-time tradition is returning to St. Vincent de Paul Church in Bucksport, although with a few modifications due to the COVID-19 pandemic. On Saturday, July 18, Knights of Columbus Council 5756 will resume their monthly fish fry dinners. Instead of gathering in the church hall, however, the meals will be served take-out.
"We have a certain amount of people who always come to our fish fries when we have them inside, so if we get the word out, which is what we're trying to do, hopefully we'll have a good turnout," says Kenneth Allen, Grand Knight of the council. "The guys have been missing doing it, and it is a money maker for our council."
Allen says six to 12 Knights will help prepare the meals, which will feature haddock, potatoes, coleslaw, homemade tartar sauce, and biscuits. The cost is $10 each.
Proceeds from this first fish fry will go to cover some of the council's own expenses, but future dinners, if they are able to continue, will be dedicated to the Knights' many charitable causes, which include support for seminarians, Relevant Radio, the local Little League, and folks in town who have a need.
"We do a lot of donating to people and organizations," says Allen. "Whatever we make at the fish fry, we give it to them. We take just enough to keep our heads above water and give the rest away."
Knights of Columbus Council 5756 has been holding the dinners for as long as Allen can remember. He says they go back at least 10 to 15 years and are typically held on the third Saturday of every month, following the 4 p.m. Mass at the church.
He says attendance varies, but they have drawn as many as 100 people,
"We have a clientele who usually comes to our fish fries devotedly. Every time we mention one, they're there, and that's not necessarily people who go to our church. That is people from town," he says. "One thing about Maine people is that they like to donate, and this is their way, and they get a pretty good meal out of it to boot."
He says the more people who come, the better.
"People who come to our fish fries, they enjoy them, and then they return a lot of times. That's how we get people," he says. "As many as we can get, we enjoy having."