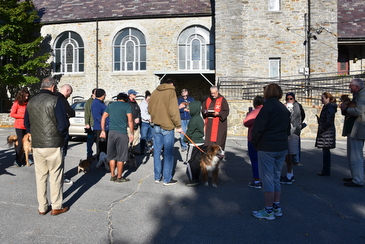 In commemoration of the Feast Day of St. Francis of Assisi, pet owners gathered at churches around Maine to have their dogs, cats, and other beloved animals blessed.
At Sacred Heart Church in Yarmouth, parishioners have been gathering for years on the first weekend of October for the ceremony, cradling their pets in their arms or holding fast to their leashes.
"We are big fans of animals, especially dogs. We love dogs. And we fully believe in the blessing of St. Francis and animals," said Mary Polito, owner of Demi, an 11-year-old bichon frise.
"We like to come every year. He needs a blessing," said Judy Bivens, owner of Jacques, a dachshund-terrier mix. "We just want to take care of him and make sure he is safe."
The Blessing of the Animals, held in the parking lot of the church, began with the reading of the story of creation from Genesis. Father Roland Daigle, OFM Cap., then asked the Lord God to bless the animals, praying, "Blessed are you, Lord God, maker of all living creatures. You called forth fish in the sea, birds in the air, and animals on the land. You inspired Saint Francis to call all of them his brothers and sisters. We ask you to bless these animals. By the power of your love, enable them to live according to your plan."
Father Roland then walked around, sprinkling the pets with holy water.
Those in the crowd included Father Paul Marquis, a priest of the Diocese of Portland, who brought his dog, Bella, to be blessed.
"Bella has been a gift from God to me. She is there to greet me when I come home. She is always anxious to go out for walks. She is a greeter. She meets people along the way and kind of opens doors for me to talk with people on the street," Father Marquis said. "It's a lot of joy and a lot of grace and thanksgiving to God. That is why I love to have her blessed."
Saint Francis of Assisi was known for his love of all God's creatures, which is why the Blessing of the Animals traditionally takes place on or near his feast day which is October 4. The prayer service recognizes the important role pets play in people's lives.
"Why would animals be so special to St. Francis and therefore associated with him? He saw in animals, basically, an opportunity that was rejected by human beings. The animals are completely dependent on God. They do what they're meant to do, and they are who they're meant to be. And they are free to love as they can," Father Roland told those gathered. "They love you completely and unconditionally as God loves us. And it reminds us that we can be free that way as well if we just refuse our independence and turn to dependence on God."
Eighteen parishes and one school around the diocese are holding Blessing of the Animal prayer services, including a number that are taking place on Sunday, October 6, and one on Saturday, October 19, at St. Louis Church in Portland. You will find a complete listing of them here.