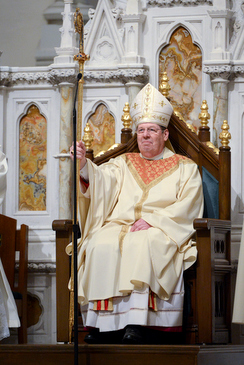 On a chilly February day in 2014, the Diocese of Portland extended a warm welcome to her new chief shepherd, Bishop Robert Deeley. At the time of his installation, the bishop expressed a desire to bring a spirit of joy to his episcopacy in Maine, and during his first five years here, he has strived to do just that.
"I believe that the message of the Gospel is a message of joy. It is a message that gives great meaning to my life, and I hope I am able to impart that to others," he says.
The bishop set out to bring that message of joy to all corners of the state. Within six months of his installation, he had already traveled to 39 churches from Madawaska to York, a pace that hasn't slowed since. He has now celebrated Mass at 107 of the diocese's 147 churches and chapels, with the goal of going to all of them. On the rare weekend when his schedule is open, he often passes on downtime to spend time with his flock.
"Anytime I have the opportunity to visit parishes and be with people and have a chance to chat with them is always an enjoyable moment. Of course, the moments with the children, both in the sacraments of initiation and with my school visits are always priceless," he says.
His time with students has been known to include games of trivia, hitting the ski slopes, lacing up his skates, or sharing a s'more or two.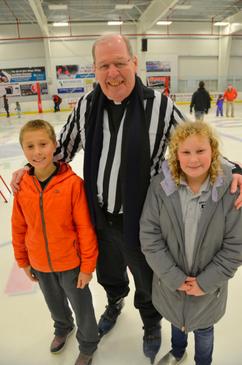 "It's always been the way I've lived my priesthood. I've always done whatever," the bishop says. "You always have to be open to new experiences and new ways of doing things."
Through his travels, Bishop Deeley says he has discovered the people of Maine to be far more diverse than you might expect by simply looking at statistics. He points to the distinctions between Aroostook County and southern Maine, or among the western mountains, communities Down East, and the former mill towns that lie between Bangor and Houlton.
"There are varying interests and varying concerns and varying ways of life throughout the state of Maine. I think it's one of the reasons why I like moving around the diocese. I want to be present where I can to learn what is important for those communities. I've grown very attached to the people in all those different areas, and I share their concerns about the economic challenges and some of the demographic things that are happening: the closing of mills and all the rest that impact people's lives so greatly. It's good to be able to be present with them, to hope with them, and to pray with them."
And while the bishop seeks to support the people of Maine, he says it is from their faithfulness that he draws strength. He says being with the people and ministering to them has helped him grow in his own faith.
"The spirituality of the diocesan priest, which of course, in the end, is what a bishop is – a diocesan priest who has become a bishop – is always grounded in the faith of the people. Your prayer is often centered around reflecting on the Scriptures on which you're going to be preaching, and your reading focuses on things that might be helpful in your ministry. And I found that to be the case with me. I grow in my appreciation of my faith by the preaching and teaching that I do. I find that very valuable. I truly believe that I am closer to the Lord now than I was five years ago when I first came."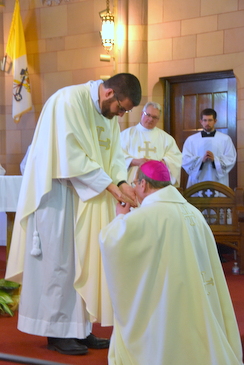 The bishop says he also been lifted spiritually by the clergy in the diocese, with whom he seeks to work closely.
"We are greatly blessed by our priests who are dedicated servants of the Lord. Since my installation, I have consistently come to appreciate the gift that they are. They are my first collaborators, and I admire their commitment to the people of the diocese," he says.
The bishop says the witness of permanent deacons and the religious sisters and brothers serving in the diocese has also been an inspiration to him.
"Even though the sisters and brothers are getting older, they still are engaged and involved in different ministries, and even when that is no longer possible due to age, they still actively witness to the beauty of the Christian life by their own lives and their solidarity and prayer with the priests and the people of the diocese. It's a wonderful expression of the living out of the Gospel that we see in their lives."
He says, the diocese is blessed, too, to have international priests who have helped ease a priest shortage. There are currently 24 priests from India or African countries serving here.
"Each of them brings his own skills and abilities to the task, but the evangelical spirit of many of them has really been an inspiration -- in their generosity and in their willingness to share the joy that they experience in the Gospel," he says.
As grateful as the bishop is for the presence of the missionary priests, he acknowledges that is only a partial answer to the decline in vocations, a problem exacerbated in Maine by its aging population and secular culture. Bishop Deeley sees strengthening the family as the key to helping young people recognize God's call.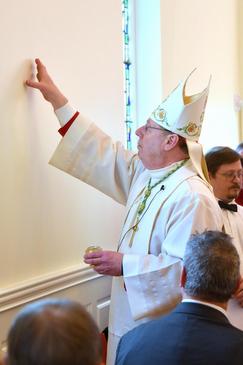 "We spent a lot of time the past two years, through Harvest magazine, through bulletin inserts, and through social media and our website, bringing to people's attention the "Joy of the Family" and the importance of family life. Vocations will only come from families in which faith is nurtured and loved, where families find joy in living their faith and want to share that faith with their children. That is where vocations have always come from. So, we need to encourage in our parishes the strengthening of the family in the social opportunities we provide, and the teaching opportunities we provide, and the worship opportunities that are afforded to the people," he says.
The bishop says it is our parish communities and the churches within those parishes, both large and small, that sustain the Church, so it is important that they continue to be viable places of welcome, evangelization, and worship. It is one of the reasons he decided, in 2015, to partner with the Catholic Leadership Institute to offer pastoral leadership training.
"I felt as though we needed to do something to increase our awareness of our mission and to make us less about holding on and more about moving forward in a positive and helpful way. The Catholic Leadership Institute, which helped us to improve communication between diocesan employees and parishes, and priests among themselves, and pastors with their staff, I think has been a helpful effort. Now, we're doing the planning to look forward to see what the needs of these communities are and how can we reach out in an effective way not only to young people but to everyone in the community."
The bishop says he has seen wonderful things happening in parishes all across the diocese.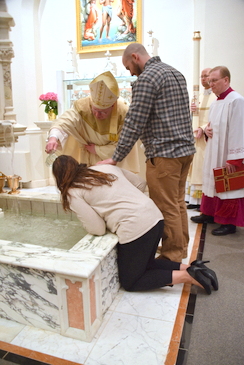 "There are parishes striving to worship together, to be supportive, to help one another, to help people in the communities who need help. There are all kinds of things going on," he says.
He cites, for example, Catholic Charities Maine Parish Social Ministry, which helps parishes develop and sustain ministries that meet community needs, and he points to the new Catholics who are received into the Church every Easter.
"My opportunity to meet with them at various points during the year is always a valuable way of hearing what it is that attracts people to the Church. Most often, it is that, in the Church, they find a welcome in the community and, in that welcome, a meaningful way to live their lives. All we have to do is continue to make that welcome and that meaningful vitality something that everyone finds there," he says.
While the celebration of Easter and the welcoming of new members always bring great joy, a bishop's job does not come without experiencing times of difficulty and struggle. That has been the case with the clergy sexual abuse crisis. One of the first actions he took as bishop of Portland was to call for an independent investigation to review the files of all active priests to ensure that the protocols of the Charter for the Protection of Children and Young People were being followed. Nationally, he has been involved in addressing the crisis as chairman of the U.S. Bishops' Committee on Canonical Affairs and Church Governance.
"I often ask myself, while I'm praying, 'How was it possible for this to happen?' To me, it shows the presence of evil and, specifically, the Evil One. It reminds all of us that sin is about and that we need to have a compass, a guide, to make sure that we are focused on living our lives in the way in which the Lord calls us to live them, whether we be priests or laypeople."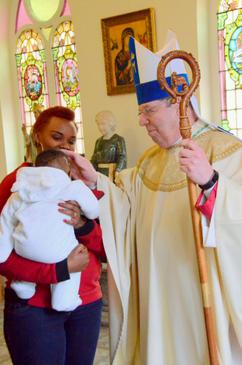 While stressing the importance of not minimizing the pain and suffering of the victims/survivors of abuse, the bishop says he believes important steps have been taken to ensure the Catholic Church in Maine provides a safe, supportive environment for children.
"Meeting with victims has reminded me that the pain and suffering and trauma of that abuse does not go away over time. It might lessen, but it can still show itself at many moments," the bishop says. "The stories are real and horrible, but what I believe, what I trust, is that the controls we have put in place are ensuring those kinds of things are not happening. In this diocese, it has been 25 years since we've had a substantiated allegation of sexual abuse of a minor by a cleric."
Despite the weight of some of the challenges facing the Church, the bishop says he doesn't lose heart. His trust in the Lord is too great.
"I live in hope. I live in the hope and promise that Jesus gives us that He will not abandon His Church. The Spirit of God is always with us," the bishop says. "Whatever difficulty or problem that we might experience in life, Jesus, by His own passion and death, has shown us His solidarity with us in our struggles. But, also, in His resurrection, He has shown us the answer to our struggles. Our true hope is in eternity, eternal life. Sometimes, in our present culture, we don't talk about that an awful lot, principally because, in our secular world, there is no thought given to that, but the fact of the matter is that life has meaning beyond this life, and that question which has baffled people for millennia is answered for us in the Gospel and in the message of eternal life that Jesus has won for us."
Bishop Deeley says he is sometimes asked whether he will return to his native Massachusetts once he retires or will remain in Maine. His answer is definitive. He considers Maine home.
"I love it. I love the state," he says. "I love the people of Maine. Even though the state is beautiful, and there are beautiful, beautiful places to visit, what makes life in Maine what it is are the people who make it up."
But, he's quick to add, he's not thinking about retirement just yet. There are still more churches to visit and many more of you to meet.
"There are still things I have to do," he says. "It seems that, in some ways, I'm just getting started."