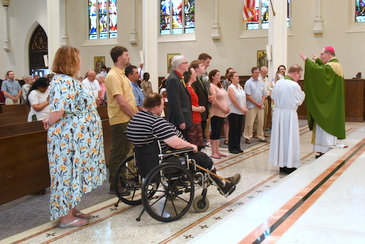 Men, women, and teens who were welcomed into the Catholic Church at Easter came together for the annual Neophyte Mass celebrated by Bishop Robert Deeley on June 29 at the Cathedral of the Immaculate Conception in Portland.
"We come together here, once again, to celebrate the gift of grace in their lives which has brought them to make this decision to become part of the communion of the Church," the bishop said in his homily. "In our prayer together this afternoon, we will ask God to bless our neophytes and enable all of us to live the extraordinary grace which is ours – to find in Jesus Christ the meaning of our lives and live each day as his followers."
During the Mass, the neophytes gathered at the foot of the sanctuary to receive a blessing from the bishop, who asked God to "bless these, your sons and daughters, whom your chose to share in the Easter sacraments. Protect the new birth you have given them, deepen their faith and understanding, and through your saving mysteries, bring them one day to the glory of your heavenly banquet table."
Neophytes from seven parishes as far away as Bangor attended the Mass at the cathedral, each will a unique journey.
Peter Kunkel of Scarborough shared his story with the congregation at the end of the Mass. Kunkel said, although his wife and family are Catholic, he had doubts about God and religion that kept him away from the Church. He said that changed after attending the funeral of a close friend.
"During the funeral Mass, the priest did his best to explain that God had another purpose for the departed. There was great comfort in the father's words, and although it was a time of great sorrow, I witnessed a family of God come together as one to share grief and to celebrate the life of a beloved wife and mother."
Kunkel said it brought back to him a conversation he had had with his wife years earlier.
"In response to my brash declaration of a lack of faith in God and heaven, my future bride tearfully expressed her fear we might never see each other in the kingdom of God after we passed. I could not let that happen. Looking back on that moment now, it is clear to me the Holy Spirit was present and providing comfort and guidance my heart sorely needed. I found myself praying in earnest for the first time in my life. I promised God I would no longer be a casual observer to my family's Catholic experience," he said.
Kunkel said he was still unsure what was going to happen when he approached Michele Bernier, RCIA coordinator at the Cathedral of the Immaculate Conception, about entering the program.
"I think the big thing for me was deciding I wasn't going to be afraid to try. I wasn't going to worry that I was making the wrong decision. Instead, I was going to open my mind and my heart and do my best to go along a path that I felt was better than the one I was taking before," he said.
The path he took was one of discovery.
"I found out that I was a lot more openminded than I had given myself credit for. And I found the Catholic Church was a lot more openminded than I perceived it to be. So, it came naturally," he said.
He said the experiences he had will remain with him forever.
"I'm closer to my family than ever before. My marriage has been strengthened by the bonds of our shared faith. I've learned the power of prayer and forgiveness," he said. "On Sunday, or Saturday during the summer, you will find me where I belong: at my family's side, along with the congregation, my extended Catholic family, in communion with God."
That is where you will also find Kari Hudon of Lewiston.
"Who doesn't love going to church?" she asked.
Like Kunkel, Hudon said she was the only one in her family not Catholic. She credited the love and guidance of her husband and the influence of the Holy Spirit for her recent baptism.
"The Holy Spirit is the one who told me yes. He led me right here. This is where I am, and this is where I belong," she said.
Hudon described her baptism during the Easter Vigil Mass as wonderful.
"I had goosebumps and everything. I get goosebumps just talking about it," she said.
Stephanie Mills from Brunswick described being baptized at Easter as "amazing." Mills, whose husband is a cradle Catholic, said she has been attending Mass with him since her first child was born nearly a decade ago, but recently, the call to enter the Church had gotten stronger.
"I finally got to the point where I couldn't ignore it anymore," she said.
Now that she is Catholic and able to receive the Eucharist, she said everything, including the Mass, feels more meaningful.
"Now, it feels real in a way that it didn't. I feel like a participant in a way, where before, I had been a bystander," she said. "It is just a much deeper experience than it had been."
Timothy Clark of Bangor, who already had a rich faith life, said becoming Catholic and discovering the True Presence of Christ in the Eucharist has brought more meaning to his life.
"To receive the Eucharist for the first time at Easter Vigil, I don't have words to describe it. It was just feeling complete, finally feeling complete," he said. "Having understood the Eucharist, after not being aware of the Real Presence for so long, it was just so meaningful. Every time I receive now, I still have that sense of wonder."
Clark said it was his wife, Evelyn, who was first drawn to the Catholic Church, but he resisted, because it would have meant giving up their positions as pastors with the Salvation Army.
"I put up every barrier I could to the idea even though Evelyn just took to what the Church is teaching," he said. "I was clinging so tightly to this. He was wanting to give me more, and I was just not receptive to it."
Finally, in 2017, he said he felt he could no longer stand in Evelyn's way. She joined the Church, and although he had no intention of following suit, he decided to attend RCIA classes to learn more about Catholicism. Soon, he realized it was the right path for him as well.
Although he was out of work for a while, he said, in a way, it ended up being a gift because it gave him more time to spend with God.
"He allowed me to know him and to fall in love with Jesus in a whole new way that I never felt was possible," Clark said.
A week after he entered the Church, Clark said he finally found a new job, evidence of God's perfect timing.
"That was definitely God's gift," he said. "I'm just thankful beyond words."
It is gratitude shared by Evelyn.
"I'm so amazed all the time. We go to adoration sometimes together, and I'll look over and say, 'Who is this man sitting next to me?' It's such a miracle. I'm just so grateful to God," she said.
The Clarks' son, Peter, an All Saints School student, also entered the Church at Easter.
"When I first received the sacraments, it was a crazy feeling, because it was so incredibly exciting. I can barely describe it. It's just been great," he said.
The three attended the Neophyte Mass together.
"This is something we could do together as a Catholic family," Timothy said. "It is just something meaningful to mark as a family. Before, it felt individual. This is us, as a family, saying, 'Yes, we are Catholic, and we are part of the Church."
While the neophyte Mass is a time for the Church to celebrate its newest members, Bishop Deeley stressed in his homily that faith is much more than reaching an achievement. He said it is something that must be lived.
"To grow in faith is something we are all called to do. The ceremonies which took place at Easter were part of a journey of growth in faith," the bishop said. "This ongoing conversion is not just for those who have been baptized or received into the Church; it is for the whole community. Together, we grow in our appreciation of God's work in our lives. Together, we grow in an appreciation of God's love in our lives."