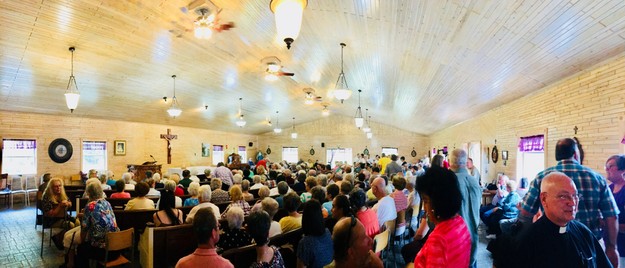 Remarking on the beauty and peacefulness of the surroundings, Bishop Robert Deeley celebrated Mass on Friday, August 3, at Mizpah, a 109-acre retreat in Grand Isle.
"This is a beautiful place to remind ourselves that God is with us at all times, in joy and suffering," the bishop said. "Look at the beauty of this place. Is that not a reminder that nature reflects the beauty of its Creator?"
Tucked amid soaring pines, with walking trails winding among them, Mizpah is a place where the public may come free of charge to find peace and solitude, spending time in reflection, meditation, and prayer. A beloved destination for pilgrimages and prayer groups, it hosts thousands of visitors from May to October each year. Although it is non-denominational, it includes an outdoor Way of the Cross, and Masses are celebrated there on the first Fridays of summer months.
During the Mass celebrated by the bishop, the readings told stories of healings by the Lord – of Hezekiah, who wept bitterly when told by the prophet Isaiah that he was soon to die, and of Peter's mother-in-law, who suffered from a fever until Jesus touched her hand. Both were granted longer earthly lives as they awaited the promise of eternal life.
"God is with them. God is with us. The love we know in Jesus is an eternal love. In his sacrifice, he gave himself for us so that we could have life, eternal life. Today, in this holy place, we remember that," the bishop said.
Mizpah, which means "helping another" in Hebrew, was founded by Richard Corbin in 1991. Corbin was diagnosed with advanced Hodgkin's Disease in 1969 at the age of 22. Although he was expected to survive less than a year, he lived until age 71, passing away in 2015.
Corbin made a promise to God to build a place for cancer survivors and all seeking spiritual healing, and in 1991, Mizpah was created. The retreat features a central pond, flower gardens, a road of reflection through the woods, a cancer survivor memorial wall, and 15 buildings including the chapel where the Mass was celebrated. Mizpah continues to be operated by members of Corbin's family.
"Look at the way in which this has been organized. It is a human effort. Those who in their own being reflect the love of God share that love with others through this deed of kindness," Bishop Deeley said.
While visiting Mizpah, the bishop blessed a new home for cancer patients, which was donated by a parishioner from Notre Dame du Mont Carmel Parish in Madawaska.
"God, the comforter of the afflicted and the strength of the weak, has brought you together for the dedication of this building, established for the care of the sick. May he strengthen you by his grace so that, in serving the sick with tender charity, you may serve Christ himself," the bishop prayed.
The chapel was full for the Mass celebrated by Bishop Deeley. Father Jim Plourde, pastor of the Cluster 2 parishes of Notre Dame du Mont Carmel, Our Lady of the Valley in Saint Agatha, and St. Peter Chanel in Van Buren, concelebrated the Mass, as did Father Antony Alexander Maria Doss, HGN, parochial vicar of the parishes; Father Selvaraj Kasi, HGN, parochial vicar of those parishes and of St. John Vianney Parish in Fort Kent; and Father Bruce Siket, pastor of St. Benedict Parish in Benedicta and Christ the Divine Mercy Parish in East Millinocket.
During his time in the St. John River Valley, the bishop also celebrated Mass at St. Gerard - Mt. Carmel Church in Grand Isle and St. Michael Church in Birchpoint.