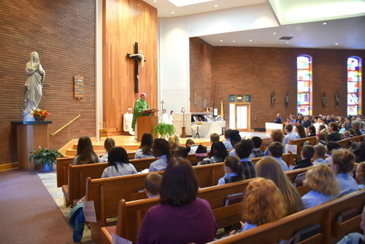 Calling Catholic schools a "valuable resource for the future of our children and the Church," Bishop Robert Deeley kicked off New England Catholic Schools Week with a Mass celebrated at the Church of the Holy Cross, located adjacent to Holy Cross School in South Portland.
"It is a time in which we lift up with gratitude the importance of our schools and the significant contribution they make to the Church and the community. Here, in St. John and Holy Cross Parish in Cluster 22, you are blessed with Holy Cross School, an educational institution founded on a great tradition of Catholic schools in our diocese. It is a very good place for me to begin this special week," the bishop said.
Bishop Deeley said it lifted his spirits to see dozens of Holy Cross students in attendance, filling some of the front pews of the church or sitting with their parents and siblings among the congregation.
During the Mass, students served as greeters, readers, and altar servers. They also participated in the opening procession, brought up the gifts during Communion, and sang a hymn at the conclusion of Mass.
The theme of this year's Catholic Schools Week is "Celebrating the Beauty of Every Child," and in his homily, the bishop stressed the commitment of Catholic schools to teach the whole person of each child. The bishop said that love of God and love of neighbor are at the foundation of a Catholic education.
"We are created in the image and likeness of God. So that we might appreciate what that means, we want to educate our young people to understand themselves in the fullness of their humanity. They are not just minds to be formed or technicians to be trained; they are human persons of mind, body, and spirit who, for the fullness of their education, need to see a way to balance the incredible gift that each of them is as a human person, with a way of life that reflects their own value and that of their neighbors. Academic excellence is at the heart of a Catholic education, but a full education for life also includes values, discipline, and service. Persons are created for relationship. Our schools strive to help our young people to see the ties they have with others and the responsibility they have for each other," the bishop said.
Students, teachers, and staff at Holy Cross School have long embraced that responsibility and are doing so again this Catholic Schools Week by collecting donations for the South Portland Food Cupboard, which serves people in South Portland, Scarborough, Cape Elizabeth, and surrounding communities. The organization has been a regular recipient of the kindness of the Holy Cross community, with students helping out there on most Thursdays.
"We help the people by holding their bags while they're choosing what foods they want, and here at the church, they do a collection for food. It is really helpful to people because it's what they have for the month to eat, so they need lots to feed their families. Some people have very large families that they have to feed, and the Food Cupboard does a very good job of providing for them," said Maddie, an eighth grader. "It makes you aware of how blessed you are, and what kind of gifts you have, and how easy your life is compared to other people's."
"It helps get food for the people who can't afford it. It just helps them live a little bit better," said Blake, an eighth grader.
"It's really important, because they are actually living their faith," said Julie Conroy, an eighth-grade teacher who oversees the trips to the Food Cupboard. "This is an opportunity for them to come out in the community, see the blessings that they have, share the blessings, and realize what blessings the other people have and, for those who are in need, give them a little joy."
While most Catholic schools across the country will celebrate Catholic Schools Week at the end of January, schools in New England shifted some of the festivities forward to November because winter conditions have often derailed plans in the past.
Holy Cross Church was full for the Mass kicking off New England Catholic Schools Week, and the bishop took the opportunity to thank parents, teachers, staff, and the parish community for their commitment to and involvement in the children's education.
"In our Catholic schools, we work to help our parents in their duty to foster the faith of their children. We are so grateful that many of you who are parents want the help that a Catholic school can give you. I know that here at Holy Cross School, the parents take a very active role in the formation the school provides. You are involved," the bishop said. "Catholic Schools Week is also a chance to celebrate what we have in our schools. It is the dedication of the teachers and staffs of the schools that makes it possible for us to offer these centers of educational opportunity and excellence. Thus, this week of celebration also provides a good opportunity to thank them for what they do to build up the school. And, of course, it is also a chance to speak a word of deep gratitude to the parish and cluster communities which support this school and believe in its potential to improve the life of those students who attend it."
The students said they appreciate the opportunity to attend Holy Cross and the education they are receiving there.
"They help support your faith, and the teachers are very well trained, and it's a great education overall," said Maddie.
"The teachers always have you prepared for the high school that you are going to," said Blake. "If you need a little more help, they can help you with that, so you will get smarter."
"The teachers are very good. You get a good education," said Avery, a fifth grader. "We have art, music, and gym, and in the middle school every Monday at enrichment, we can go down and get a book from the library."
Following the Mass, the bishop and Monsignor Paul Stefanko, pastor of St. John and Holy Cross Parish, joined students, parents, and other members of the community for a pancake breakfast, just one of many special events that will be held during the week. On Thursday, November 8, the school will hold Grandparents and Special Persons Day, which will include a prayer service and a cider and doughnut social.