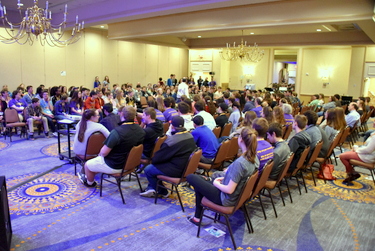 Dozens of teenagers from around the state are gathered at the Holiday Inn by the Bay in Portland for the annual Catholic Youth Convention. The convention, which runs from Friday, April 13 - Sunday, April 15, is an opportunity for high school-aged youths to both learn about their faith and celebrate the joy of it with their peers.
"It's a lot of fun. It's great faith-wise especially. Just the speakers are great, and they have a good way of conveying a message that is easy to comprehend," said Alex Ferris, a junior from Holy Spirit Parish in Wells.
"I just love all the love in the room and how everybody is just united. All the speeches, they're wonderful. They really do touch me," said Tom Guillemette, a freshman from St. Thérèse of Lisieux Parish in Sanford. "I love the chance to go to confession, and when the Holy Eucharist is exposed, it is very touching."
The theme of this year's convention is "Believe," which was echoed in the keynote presentations by Mike Patin, an inspirational speaker from Louisiana, who has worked in ministry for more than 30 years.
Patin told the teens that God doesn't only call those who are the best athletes or the brightest; he calls everyone.
"God talks to ordinary people, and he invites us," Patin said. "He calls us to believe in him, because what happened in the Bible still happens today."
Patin said that God is still talking to us today, just as he spoke with Abraham, and Moses, and the apostles.
"This is not a fairy tale. This is not a history lesson. My God is alive," Patin said. "The same Jesus Christ who did miracles, and healed people, and multiplied stuff, and showed goodness and love and kindness, he is risen. He is in this room this very second. My God is alive, and he's not alive because I'm a speaker boy; he's alive because he's in me and he's in you."
Patin told the teens that God doesn't force anyone to believe; he gives people a choice whether to believe, and it's up to them to decide. He said, through the course of their lifetimes, it's a choice they'll have to make over and over again. He said God doesn't want them not to live their lives, but he wants them to include him in their lives.
"Jesus one time said, 'I need you to be in the world.' I need you to be in 2018 and have cellphones and stuff, but I don't need you to be of the world. I'm not asking you to choose between living in this time period and me; I'm asking you to include me in your journey," Patin said.
The youths attending the convention come from all parts of Maine. The event is sponsored by the diocese's Office of Lifelong Faith Formation, but teenagers who serve on the Catholic Youth Leadership Team play a key role in planning and running it.
They include emcee Danielle Nadeau, who is from St. John Vianney Parish in Fort Kent. She said the convention gives teenagers, who often have very busy lives, an opportunity to stop and concentrate on their faith.
"With this, they're all able to come. They're all able to find their faith and see people that share their faith with them, so they're able to share it with each other," she said. "I find that a lot of teens, when they're with their friends and stuff, they want to fit in. Or, if something bad happens, they say, 'God, why did you do that?' So, they don't believe. But I want them to know it's God time. It's not on your time. God will give you the right answers."
Along with the keynote addresses, the convention features a series of workshops offered by clergy and laypeople. Among others, they include "Jesus is Our Rock, That's How We Roll," presented by Father Brad Morin, parochial vicar of Good Shepherd Parish in Biddeford; "Break Free," offered by Father Innocent Okozi, SMA, a parochial vicar of St. Bartholomew Parish in Cape Elizabeth, St. John and Holy Cross Parish in South Portland, and St. Maximilian Kolbe Parish in Scarborough; and "Taking it to the Streets," presented by Carolyn Houston from Holy Spirit Parish.
The youth also were able to hear a presentation from Lori Dahlhoff, director of the Office of Lifelong Faith Formation, on the results of the recent survey conducted for the 2018 International Synod of Bishops, which will be held in October 2018. The synod will focus on "Youth, the Faith and Vocational Discernment," and in preparation for it, the Diocese of Portland and dioceses around the world held discussion sessions and offered online surveys for teens and young adults.
The convention also features prayer time, Masses, a Saturday evening dance, and free time for socializing.
On Sunday, the teenagers will process from the hotel to the Cathedral of the Immaculate Conception for Mass celebrated by Bishop Robert Deeley.