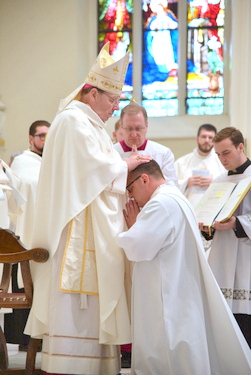 "It's awesome. It's just awesome!"
That is how Father Anthony Cipolle described what it's like to be a priest of the Diocese of Portland.
"I'm just high as a kite right now. I'm flying," he said. "It's just amazing."
Cipolle was ordained to the priesthood by Bishop Robert Deeley on Saturday, November 18, at the Cathedral of the Immaculate Conception in Portland.
"Today, my friends, is a joyful day. We gather as a grateful Church," the bishop said. "Today, in this beautiful ceremony, we call on the Holy Spirit to come down on Anthony and ordain him to the priesthood."
Friends and family filled the cathedral for the ordination Mass, including Father Cipolle's mother, Louise, who couldn't control her tears of joy on seeing her son ordained.
"It's the most beautiful thing I've ever seen, a beautiful ceremony. I'm speechless really," she said. "I'm just so happy that he is happy. I'm just so happy."
During the Rite of Ordination, Cipolle resolved to exercise the ministry of the word worthily and wisely and to celebrate faithfully and reverently the mysteries of Christ, especially the sacrifice of the Eucharist. He also committed himself to living a life of prayer and, with Christ, to consecrate himself to God for the salvation of all.
"The mission of the priest is the mission of the Good Shepherd. Jesus lives as the Good Shepherd in the compassion he shows to the crowds," the bishop said. "He feeds them with both bread for their physical needs and spiritual nourishment for their souls. He heals them. He teaches them. He serves them. And, ultimately, he gives his life for them. By so doing, Jesus, the Good Shepherd, manifests his pastoral charity. It is this pastoral charity that gives identity to the priesthood."
While placing his hands within the bishop's, Cipolle promised respect and obedience to him and his successors. He then lay prostrate while the congregation joined in the singing of the Litany of Saints, a prayer of supplication in which the intercession of the saints and the Blessed Mother are sought. Cipolle then again approached the bishop who laid hands on him in silence. All the priests in attendance then did the same. That was followed by the Prayer of Ordination, during which the bishop asked the Lord to "grant us this helper that we need to exercise the priesthood that comes from the Apostles."
Father Cipolle was then vested with the stole and chasuble, symbols of the priesthood, by Father Robert Vaillancourt, former vocations director, and by Father Phillip Kehoe, FDP, who had traveled from the Archdiocese of Liverpool, England, to attend. Father Kehoe was the best friend of Father John Kilmartin, FDP, now deceased, who had a profound impact on Father Cipolle's vocation.
"It's really to fulfill a desire. Anthony wanted John to vest him. Father John died, so he took his best buddy instead to vest him," said Father Kehoe. "It was beautiful. It reminded me very much of the day of my ordination which was 32 years ago."
Once vested, the bishop anointed Father Cipolle's hands with sacred chrism, asking the Lord to "guard and preserve you that you may sanctify the Christian people and offer sacrifice to God." He then presented the newly ordained priest with a paten and chalice, after which Father Cipolle's brother priests each welcomed him to the presbyterate with the fraternal kiss of peace.
"It's truly an amazing grace," said Father Cipolle. "When the bishop laid hands on me and ordained me and, then, to follow that up with the vesting and the consecration of my hands -- I kissed my own hands because I know what happens. I know how I changed. I'm going to live the change."
Father Cipolle's life has been one full of change – from a boy raised in the faith, to a young man who fell away from it, only to discover it again through prayer and through the witness of a priest, who became a close friend.
Although Father Cipolle's family gave him a good foundation in the faith while he was growing up in Arlington, Massachusetts, he said that as a teenager and young adult, his focus was more on himself and making money than it was on God. He married while still a teenager and had a son, although his marriage later ended in divorce and annulment.
It was while working at a car dealership in Boston that his life began to change. He became friends with a man who had come in for car repairs, Father Kilmartin. The two began spending time together at Father Kilmartin's rectory, and Cipolle would take Father Kilmartin, who suffered from several medical issues due to diabetes, to doctor's appointments.
Father Cipolle said Father Kilmartin never pressured him to attend Mass but, instead, showed him what it meant to live a life centered around Christ.
"He was Christ witnessed to me, right there, in the way he lived," Father Cipolle said.
After Cipolle, who was an astute businessman, showed Father Kilmartin how to save money on some of the church's day-to-day operations, Father Kilmartin hired him as facilities manager.
Cipolle and Father Kilmartin would watch Billy Graham's Crusades together. Father Cipolle said it led him to ponder the evangelist's "Four steps to peace with God," which included admitting you're a sinner and seeking forgiveness.
"I got to the 'admit you're a sinner part,' and I couldn't remember all my sins. I said, 'How can I ask God to forgive me if I can't even remember them all?' So, I said, 'I don't qualify for this forgiveness thing.'"
He began to pray the Lord's Prayer and realized that he was asking to be forgiven only as he was willing to forgive others. He realized he needed to change, not only by forgiving others but, also, by learning to forgive himself.
He said, at that moment, a bright light came over him.
"The brightest, whitest light that you can imagine and, then, whiter, brighter. It came, and then it left the way it came, and it left me in peace. It left me in total peace," he said. "I knew God was God. I knew that he loved me and that he would always be with me."
Wanting to discern what God wanted him to do, he decided to take a vow of silence until he figured it out. He was still considering how to go about it when he heard a voice in his head tell him to read to the Bible. Following Father Kilmartin's advice, he started with the four Gospels. Still feeling called to do more, he became certified as a catechist.
Cipolle then began auditing classes in the Masters of Arts in Ministry Program offered for laypeople at Saint John's Seminary in Brighton, Mass. He remembers reading and studying the Catechism of the Catholic Church.
"The catechism is poetry," he said. "It brings everything together, our faith. So, I finished that course, and now I'm thinking, 'What am I going to do now?'"
He met with his spiritual director who suggested that perhaps he was being called to the priesthood or diaconate. At the time, Father Cipolle said he found it hard to believe.
He started taking night classes through the Woods College of Advancing Studies at Boston College. His life, however, would soon be filled with uncertainty when Father Kilmartin suddenly passed away, leaving him without his mentor and without a job, as well as without the financial help Father Kilmartin had been providing. He met with Father John Woods, S.J., the dean for whom the ministry program is named, to let him know he would need to cut back on classes. Instead, Father Woods insisted he increase his course load.
"I said, 'Father, you're not listening to me. I've got to cut back,'" Father Anthony recalled. "And he said, 'No, you're not listening to me. I want you to go to day school. Did I say anything about money?'"
Father Cipolle said that Father Woods always seemed to be able to find a scholarship for him, and in 2012, he earned his bachelor's degree in philosophy. It was a connection between Father Woods and Bishop Richard Malone, then bishop of the Diocese of Portland, that brought Cipolle to Maine, where he was accepted as seminarian.
Father Cipolle said, although the journey has been a long one, he has no doubt that God has called him to the priesthood.
"I never doubted, in those nine years, my calling. I knew that I was doing God's will. I was where God wanted me to be," he said.
Now ordained, he said he is most looking forward to being able to offer the sacrament of reconciliation, because of all the mercy and forgiveness he has received in his life. "You can't give something you don't have, and I've received a lot of mercy," he said. "Mercy is love beyond justice."
As Father Cipolle begins his priestly ministry, Bishop Deeley counseled him to always remain close to Christ.
"Remember, it is Jesus' priesthood. He is with you. Remain close to him," the bishop said. "We entrust this office of priesthood to you, in the course of our prayer, mindful of the words of the psalm that we prayed today: "The Lord is with me; I am not afraid."