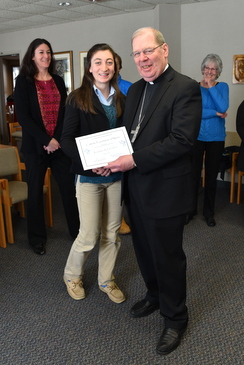 The Catholic Foundation of Maine is pleased to announce that Antoinette Carman, a senior at Saint Dominic Academy in Auburn, and Katelyn Gendron, a senior at Cheverus High School in Portland, are the recipients of the 2017 Lila Grace Sullivan Amirault Scholarships. The awards were presented by Bishop Robert Deeley on Thursday, March 16.
The scholarship fund, which helps Maine Catholic high school students with college tuition costs, was established in 2013 by the late Patrick Amirault, in memory of his wife. Amirault, who grew up as one of nine children in a poor family in Malden, Mass., created the fund to show his appreciation for the care and quality education he received at a Catholic school there. To be eligible for the scholarship, students must be accepted at an accredited college or university and must plan to work while attending college.
"The Amirault Scholarship Endowment is a wonderful example of the type of legacy donors can leave in an endowment with the Catholic Foundation of Maine. This endowment honors Mr. Amirault's dedication to working students and will help Maine's Catholic high school students for years to come," said Elizabeth Badger, executive director of the Catholic Foundation.
The 2017 winners will each receive $4,500. Both are young women committed to living out their faith through service.
Katelyn, age 17, is a resident of Gorham and a member of St. Anne Parish. She is captain of the Cheverus track team, president of the Latin Club, and is a member of the National Honor Society, National Junior Classical League Latin Honor Society, and Key Club, known for its annual turkey drive, which last year, provided 500 Thanksgiving baskets to area families.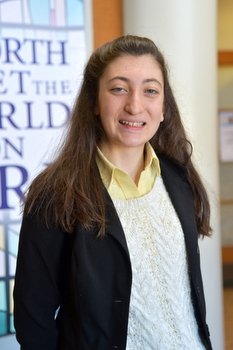 Katelyn has also volunteered at the Saint Vincent de Paul Soup Kitchen in Portland, and since seventh grade, she has spent time each summer visiting the elderly residents of the Barron Center in Portland. She began visiting when her grandmother was a resident there and never stopped.
"We do a lot of different activities with them, like games. We take them on walks. It's really just nice to see them get so excited, just with a simple walk in the park," she said.
Katelyn said she learned the importance of service at a young age, while attending Saint Brigid School in Portland, and said that her desire to serve others has grown while at Cheverus. She said she tries to live out the Jesuit school's mission and be a person for others.
"I just like to help people out," she said. "We're just so privileged to be here and have this opportunity, and I feel like everyone should have the opportunity to eat a meal or just be happy, and if I can help do that, it's great."
She said she found a supportive community at Cheverus and points to the Kairos and Advent retreats she attended at the school for helping students connect with one another and their faith.
"It's so hard to describe, but it was just really a special time. I felt like it brought our whole senior class together," she said. "You realize a lot of things about other people that you would never normally know if you were just at school or just walking by them in the halls."
Katelyn has been accepted at and will most likely attend Worcester Polytechnic Institute in Worcester, Mass. She plans to major in architectural engineering
"It's kind of weird, but I'm really obsessed with building houses. I took an architectural class here, and it's so fun," she said.
Kate Coddaire, director of College Advising at Cheverus, said she is confident Katelyn will succeed at whatever she chooses to do.
"Couple her most rigorous schedule with a very high ACT score, and you have the complete picture of a highly intelligent senior with loads of natural talent and a diligent work ethic. She also competes in track at a high level, breaking school records and competing at the state and regional meets," Coddaire said.
Katelyn said she is excited to win the scholarship.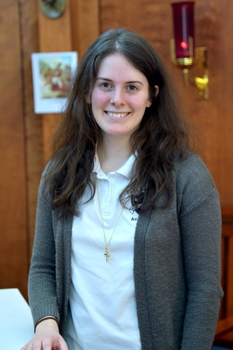 "It's definitely kind of a relief. College is super expensive," she said. "To win an award for volunteering and academics is definitely nice."
Annie expressed similar feelings.
"It's really awesome," said Annie. "It's going to really help with college. I'm really grateful that I got it."
Annie, age 18, is a resident of New Gloucester, who attends St. Gregory Church in Gray, part of the Parish of the Holy Eucharist. She is a member of the National Honor Society, the World Language Club, and the Drama Club at St Dom's, and she is president of the Key Club, which does service work throughout the year. The club has organized a blood drive, put together Thanksgiving baskets for families, set up a Christmas giving tree to benefit students at an area elementary school, and each spring, it invites women religious to a dinner in their honor.
Annie, who aspires to become a physician's assistant, has also been a junior volunteer at St. Mary's Regional Medical Center in Lewiston, a position which includes transporting patients within the hospital, handling paperwork, and other tasks.
"With patient transport, you talk with a lot of patients who haven't had the easiest time; they're in the hospital, so it's a really humbling experience," she said.
When she celebrated her 18th birthday in January, Annie also became a licensed EMT. She is on call during the overnight hours for New Gloucester Fire Rescue.
"My dad is a firefighter, so I've kind of been involved in that service since I was young. And, I guess, it just goes along with how I want to join the medical field," she said.
Since the end of her sophomore year, Annie has also been a member of the assistant chaplain program at Saint Dominic Academy. Started by Father Seamus Griesbach, school chaplain, the program aims to help students grow in their faith. The assistant chaplains strive to bring spiritual elements to Catholic Schools Week, lead and participate in service projects, provide a faith presence to their peers, and assist at the school's weekly Mass. Annie serves as sacristan, an altar server, a reader, and an extraordinary minister of holy Communion for the Mass. She is also an altar server and reader at Saint Gregory.
While Catholicism has always been a part of her life, Annie said attending Saint Dominic Academy and being an assistant chaplain has strengthened her faith. She said she has enjoyed the community at St. Dom's so much that she is looking to attend a Catholic college.
"We're all out to help each other," she said. "We're always smiling at each other. It's been a different experience like that. Just, the community I love, and that's why, for college, I've been looking at a lot of Catholic, smaller colleges because they remind me a lot of St. Dom's and that community that we've had. I've really enjoyed my four years."
Annie was unable to attend the awards presentation because she was participating in the dress rehearsal for St. Dom's Drama Club presentation of FAME. Her parents accepted the award on her behalf.
Congratulations to both Annie and Katelyn, the winners of the 2017 Lila Grace Sullivan Amirault Scholarships.