Cathedral of the Immaculate Conception, Portland
December 15, 2017 at 7 p.m.
Prayers led by Bishop Robert Deeley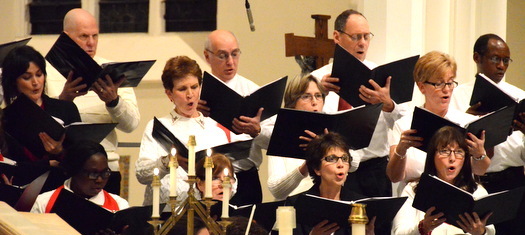 Immerse yourself in the spirituality of the Advent season at the Festival of Lessons and Carols, which will be held at the Cathedral of the Immaculate Conception in Portland on Friday, December 15, at 7 p.m.
The Festival of Lessons and Carols is an Advent tradition that dates back to the late 19th century. It is a blend of Scripture, prayers, and Christmas carols carefully chosen to tie into the themes of this sacred season. It is one of the rare times you'll hear carols sung in church prior to Christmas Eve.
During the festival celebrated at the Cathedral, the story of salvation will be told through Scripture readings or "lessons," which begin with the fall of man in the Garden of Eden and continue through the birth of Christ. After each reading, a candle will be lit, symbolizing the Light coming into the world. Before the final reading, the light will be passed among all present.
The festival at the Cathedral will be a multicultural celebration with the Scripture readings and carols offered in several languages. The evening's prayers will be led by Bishop Robert P. Deeley.
The Festival of Lessons and Carols is a prayerful and joyous way to prepare for the celebration of Christmas. All are invited and encouraged to attend.
For those who can't make it, the Presence Radio Network will rebroadcast the event on Saturday, December 16, at noon; Sunday, December 17, at 10 a.m.; Saturday, December 23, at 5 p.m.; Sunday, December 24, at 10 a.m.; and Monday, December 25, at 10 a.m. Presence Radio can be heard on 106.7 FM in Portland; 105.7 FM in Springvale/Sanford; 97.5 FM in Fort Kent; 90.3 FM in Bangor; 89.7 FM in Bath/Brunswick; 89.5 FM in Augusta; and 1390 AM in northern Maine. It is also available online at www.thepresenceradio.org, on smartphones by downloading the Presence Radio app, or by calling (605) 475-8037 to listen on your cell phone.