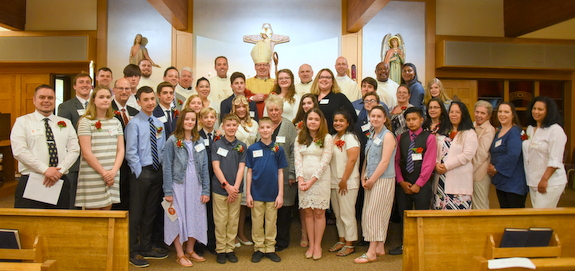 "It was an amazing feeling!"
That is how Thomas Palmer, an 18-year-old from Good Shepherd Parish in Biddeford, describes what it was like to receive the sacrament of confirmation from Bishop Robert Deeley, during a Mass celebrated at Holy Martyrs of North America Church in Falmouth on Friday, May 31.
"I wanted to be a full member of the Church," he says. "It felt like I was finally, fully a part of something."
Jake Damboise, a freshman at Cheverus High School in Portland, says receiving the sacrament also means a lot to him.
"I feel like it's a very important part of my life," he says. "I felt like I wanted to be closer to God, since I go to Cheverus."
Thomas and Jake are among 45 people from 16 parishes who received the sacrament of confirmation, and in some cases first Communion, during the Mass celebrated at Holy Martyrs. They ranged in age from early teens to late 70s, all with a desire to receive the gifts of the Holy Spirit and draw closer to God.
"This a joyful night. I know that each of you has made the choice to be here. You have elected to bring yourself closer to the Lord Jesus and the Holy Spirit promised by him. It is for that reason that you ask the community which is the Church to give you this sacrament, this sacred sign that signifies God's presence among us," Bishop Deeley told those who were to be confirmed.
The Easter season, which continues through Pentecost, June 9, is a time when the Church celebrates new life. During the Easter Vigil, people who had been baptized in other faiths received the initiation sacraments and were welcomed into full Communion with the Catholic Church. The Mass in Falmouth, along with previous ones celebrated in Presque Isle and Brewer, were opportunities for already baptized Catholics to finish their initiation and receive those same sacramental graces.
Glory Gomez, age 22, from St. Michael Parish in Augusta, says she has been seeking to receive those graces for years, but somehow, something always got in the way. She says she finally decided she was going to wait no longer.
"I kept relying on someone else to start the process for me. My mom was in charge. My dad. The nuns at school. I'm like, 'You know what? I'm going to do this on my own,'" she says.
Originally from New York City, Glory came to Maine to attend Thomas College in Waterville. Being away from her parents for the first time, she says she found comfort in the Catholic Church.
"I felt lonely up here, and the only way I felt connected to Maine was through God and through my community every Sunday. So many familiar faces – they invite you," she says. "There is nothing like a community of faith. There isn't!"
After receiving her degree, she says she was seeking a faith community in which to settle and found it at St. Michael Parish in Augusta.
"I decided that I'm going to find a church I like, a priest I like, a community I like, and that's when I met Sister Carol (Martin)," she says. "She's wonderful!"
Marion Young, an associate professor at Saint Joseph's College of Maine in Standish, says she found a home in the Catholic Church through the love and guidance of her husband, who is an assistant professor there, and through Father Gabriel Muteru, the college chaplain.
"Father Gabriel is just wonderful. I think for someone being introduced into the Catholic Church, this should be the face of the Catholic faith and the heart of the Catholic faith, because he is such a wonderful person," she says.
Marion was raised a Methodist but started attending Mass with her husband who is Catholic.
"I really got into it and felt called to convert to Catholicism," she says. "I just wanted to learn more and to be able to celebrate with him and be part of that journey with him through life."
She describes the catechesis she received from Father Gabriel as a beautiful process.
"It was really, really lovely," she says.
And she describes receiving the sacraments of confirmation and first Communion as very special.
"I felt like a kid all over again, taking their right step," she says. "It was just amazing."
Gary Hudon, age 33, of Prince of Peace Parish in Lewiston, says it's difficult to articulate what led him to want to make his confirmation.
"I believe it is the Holy Spirit doing its work. I really can't describe it. It's a supernatural type of thing. It's not something I can describe in human terms," he says.
Gary was baptized and received his first Communion as a child but says he then went through what he calls "a bumpy road." Still, he says he often felt the presence of the Holy Spirit in his life.
"It's always been weighing on me to continue practicing my faith, but I just never could commit. Then, the last 10 years have been really big, almost like I have been really drawn back to the Church in a very special way. I'm so glad that I'm here today," he says. "I'm just willing to accept all the gifts God wants to give me."
Gary says not only did he make his confirmation but during the Easter Vigil, his wife, who was not Catholic, entered the Church. He had accompanied her through the Rite of Christian Initiation of Adults.
Many friends and family members filled the pews of Holy Martyrs Church to celebrate with the newly confirmed. Some even stood along the wall in the back of the church.
They watched as the bishop laid hands on those to be confirmed, asking God to send the Holy Spirit upon them and to "give them the spirit of wisdom and understanding, the spirit of counsel and fortitude, the spirit of knowledge and piety," and the spirit of the fear of the Lord.
One by one, accompanied by their sponsors, the candidates then approached the bishop, who anointed their foreheads with sacred chrism, with these words: "Be sealed with the gift of the Holy Spirit."
"You are the Church, you who receive the Holy Spirit this evening in confirmation," Bishop Deeley said. "God bless you all and help you to stay close to the One who loves you so much he died for you on the cross and is here this evening in a very real way – in his Spirit who comes on you today to confirm you in his love and mercy. Just as the Spirit empowered the disciples to proclaim the Lord, may you find the same joy in the gifts you receive in confirmation, and may they keep you close to the Lord Jesus and his Church."