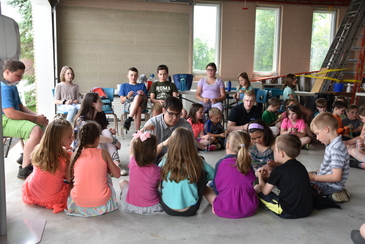 "It's awesome!"
That is how Macie, an 11-year-old from Embden, sums up what's it's been like participating in Totus Tuus, a weeklong program of learning and fun being held at parishes around the Diocese of Portland this summer.
"I'm really interested in learning more about my religion in a really fun way, and I've really enjoyed it," Macie said.
"It's really fun here. You learn about God, and I like it," agreed Kaylen, age 9, from Fort Kent. "I thought it would be good for me."
Totus Tuus, taken from the episcopal motto of Pope Saint John Paul II, means "Totally Yours." The program is intended to inspire in young people, from grades 1 through 12, a true longing for holiness.
The program was first offered in Maine last year, and this year, it expanded from six parishes to 10. Two teams, each comprised of three college students and a seminarian, lead the program, with each team visiting five parishes for a week at a time.
Totus Tuus kicked off June 24-28 at St. Rose of Lima Parish in Jay and at St. John Vianney Parish in Fort Kent. Sixty-eight youths are attending the sessions in Jay and 60, including Macie and Kaylen, at St. Louis Church in Fort Kent.
"The people here are amazing. I love the team. I love the kids here. Everything is amazing here," Macie said.
"Our teachers are so nice," said Kaylen. "They make it fun for us."
"It's a fun privilege to be here," said Cassidy, age 10, from Fort Kent. "I wanted to come because I wanted to learn more about God."
"I want to learn more about my faith and my religion here at Totus Tuus," said Sawyer, age 12, from Fort Kent. "It's important because you wonder how you got here, and I'm very strong in my faith."
Totus Tuus features daily Mass, prayer such as the rosary, classroom teaching, lunch, and games. All of the instruction is aimed at helping the youths come to a deeper understanding of God and the teachings of the Catholic Church. Last year, the focus was on the Creed and the luminous mysteries of the rosary. This year, the young people are learning about the sacraments and the sorrowful mysteries.
"For the kids, it's a great opportunity to learn about the faith. With the rotating curriculum, kids are coming back for their second year, and now, we're building on the knowledge from last year," said Emily Amann, a student at the College of the Holy Cross in Worcester, Massachusetts, and a team member both this year and last year. "It's been amazing watching the kids, how much they can learn, how much they are capable of. They really are the Church of today."
"We learned about the Agony in the Garden. We learned about fervor in prayer. We learned just a bunch of stuff," said Kaylen.
"I learned stuff like about the Eucharist and baptism," said Sara, age 11, from Saint Francis.
"One of the things that I learned so far are the seven sacraments. Another thing I did was my first confession today, which I was very excited about," said Macie.
"You get to learn more about God," said Angel, age 11, from Saint Francis. "They inspire kids."
The team members said the program is as enriching for them as it is for the young people they are leading.
"I think helping other people understand the faith and fall in love with being Catholic is only going to make me grow stronger and find more love for it," said Delia Bonner, age 19, a student at Franciscan University of Steubenville in Ohio. "I absolutely love being Catholic, and especially after my first year of college, I really wanted to share my excitement with the kids and just help them foster their faith like my family helped foster mine."
"It's just been really nice to be with younger people, to be able to talk about the faith, about the sacraments, about some of the mysteries of the rosary," said Erin Donlon, the team leader, who attends Mount Saint Mary's Seminary in Emmitsburg, Maryland. "It's just so inspiring. It fills me with so much hope to see such enthusiasm from the younger generations of our diocese."
There is still time to register for upcoming Totus Tuus sessions. Parishes hosting upcoming sessions include All Saints Parish in Brunswick and St. Thérèse of Lisieux Parish in Sanford the week of July 7-12, Parish of the Precious Blood in Caribou and St. Paul the Apostle Parish in Bangor from July 14-19, Our Lady of Perpetual Help Parish in Windham and Prince of Peace Parish in Lewiston from July 28-August 2, and Corpus Christi Parish in Waterville and St. Maximilian Kolbe Parish in Scarborough from August 4-9. Nearly 350 youths are signed up so far, a number that continues to climb. Click here to register and for more information.
"This is a great opportunity," said Angel. "You get closer to God, and you meet nice people."
"It's interesting. It's never boring. We're always doing something," said Sara.
"It's just everything about it that I enjoy," said Cassidy. "It's fun and everybody is nice to you. You can be with your friends and even make new friends."