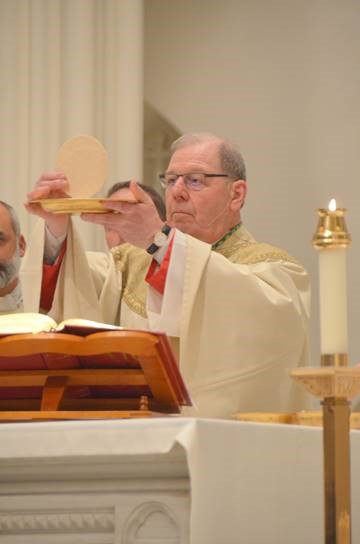 It has long been a Catholic understanding that when circumstances prevent one from receiving communion, it is possible to make an act of spiritual communion, which is a source of grace. Spiritual communion is an ardent desire to receive Jesus in the Most Holy Sacrament and lovingly embrace him at a time or in circumstances when one cannot receive Him in sacramental communion. The most common reason for making an act of spiritual communion is when a person cannot attend Mass. Acts of spiritual communion increase our desire to receive sacramental communion and help us avoid the sins that would make us unable to receive Holy Communion worthily.
Act of Spiritual Communion
My Jesus, I believe that You are present in the Most Holy Sacrament. I love You above all things, and I desire to receive You into my soul. Since I cannot at this moment receive You sacramentally, come at least spiritually into my heart. I embrace You as if You were already there and unite myself wholly to You. Never permit me to be separated from You. Amen.
Acto de Comunión Espiritual
Mi amado Jesús, creo que Tú estás presente en el Santísimo Sacramento. Te amo sobre todas las cosas, y deseo recibirte en mi alma. Ya que no puedo, en este momento, recibirte sacramentalmente, ven, al menos, espiritualmente a mi corazón. Te abrazo como si Tú estuvieras ya ahí y me uno a mi mismo completamente a Ti. Nunca me permitas estar separado de Ti. Amén.
Acte de Communion Spirituelle
Seigneur Jésus, il ne m'est pas possible de participer à la messe ni de te receovir dans le sacrament de l'Eucharistie. Mais je sais que tu es toujours présent avec nous, comme tu l'as dit à tes disciples. C'est pourquoi je te prie, en union avec tous ceux qui ne peuvent pas communier: viens en moi spirituellement. C'est la presence que je desire pour vivre pleinement uni a toi. Que l'accueil de ta parole et le désir de recevoir un jour en communion me permettent de dire: "ce n'est plus moi qui vis, c'est le Christ qui vi ten moi." Ainsi, toute ma vie pourra devenir une offrande qui te plaise. Amen.