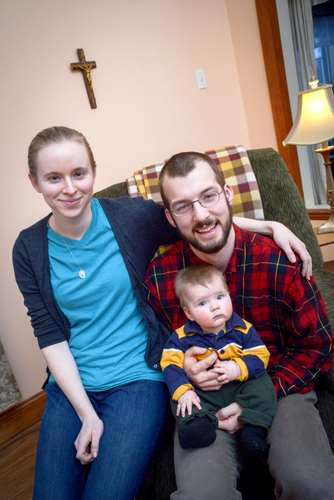 Matthew and Abigail Howard are actively involved in their parish, Christ the King in Skowhegan. Together, they will be leading youth ministry this spring. He sings in the choir and is the Grand Knight of Somerset Council 2089 of the Knights of Columbus. She is a Daughter of Isabella. Yet, just five years ago, Abigail wasn't Catholic, and Matthew only attended Mass occasionally. The difference, they say, was campus ministry.
"If there were no Newman Center, I don't know, but it's very unlikely I would be practicing my faith," says Abigail.
"That presence on campus is very important," says Matthew.
While many young adults drift away from their faith during their college years, for Matthew and Abigail, it was a time of reawakening and discovery.
The two were high school sweethearts and stayed together even though Abigail, who is older, headed to college two years ahead of Matthew. She chose the University of Maine at Orono to study elementary education. He would later get scholarships to study chemical engineering.
While growing up, Abigail was a member of a Baptist church in the town of China. She says she was involved on and off through the years. Once she headed to college, however, she only went to church when she went home to visit her mother.
Matthew was raised Catholic but says after his younger sister made her first Communion, regular Mass attendance stopped.
"Faith was always there, but it wasn't discussed, and it wasn't always practiced," he says.
He still attended religious education classes because he says he had some friends there and enjoyed going. Later, he participated in youth ministry at St. Denis, Whitefield, through which he attended the Journey retreat, Winter Carnival, and Convention, offered by the diocese's Office of Youth Ministry.
"Those events really struck me," he says. "I remember going to Journey and really meeting all these monks and priests and young people that I had never seen before and hearing all these talks. And there was adoration. It was a very sacramental retreat."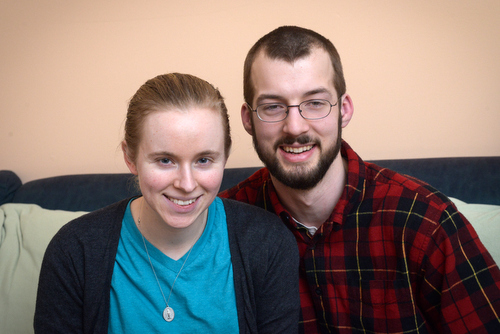 He credits those experiences with opening his eyes to the richness of the faith.
"Those three retreats were instrumental in showing me that the faith is true, that the faith is beautiful, that the faith brought joy. And it taught me to pray and things like that."
It was also the first time that Matthew went to confession.
"I didn't grow up in a family that had a culture of going to confession, so it wasn't ingrained in me to go," he says.
His second confession took place at the following Journey retreat, but then Matthew decided the sacrament demanded more of him than he was willing to give.
"I knew that going to confession meant that I had to want to change, and I had to want to live the ideal life that we were called to live. So I didn't want to go to confession because I didn't want to change," he says.
Matthew headed off to college where he remembers receiving an invitation shortly after arriving at the university. Different groups had set up tables on the campus mall, and he stopped by the campus ministry one.
"They said, 'Put your name down,' and I put my name down on an email list," he recalls. 'I used to get emails from Father Bill (Labbe, campus minister), because I was on the list."
The emails invited Matthew to adoration, confession, and Mass, but he admits that they didn't make an immediate impact.
"I just deleted them," he says.
Still, he would attend Mass occasionally, when it fit into his schedule.
"It depended on what I was doing, what was on for sports that night, what I had for homework, those kinds of things," he says.
"Neither of us were practicing our faith or doing much with our faith," adds Abigail.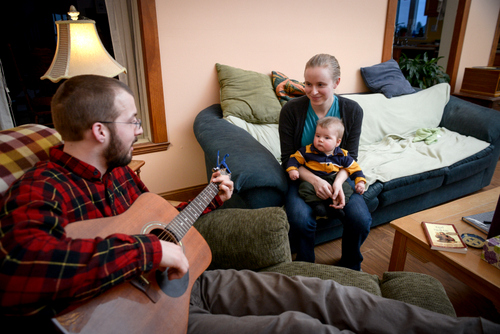 The following year, with their relationship getting more serious, Matthew and Abigail say, for some reason, one of their conversations turned to religion.
"We were talking about the whole issue of whether or not you can know you're going to heaven," she says. "And I really had a strong Protestant thing, the whole being saved thing and knowing you're going to heaven rather than hoping and praying."
She says Matt, who likes to debate, challenged her on it.
"That was the question that started us talking a little because we realized that we didn't agree. We didn't believe the same thing, and we weren't sure what we believed individually, let alone whether we believed the same thing," says Matthew.
Although they stress that there wasn't one defining moment, they say that a couple things happened that nudged them forward in their faith.
One was a severe panic attack suffered by Matthew while he was attending a conference.
"I don't know what brought it on, but I remember trying to say an Act of Contrition because I thought, for so many seconds, that I was going to die," he says. "And I couldn't remember it, for whatever reason, and it really scared me. And I remember thinking to myself later that I didn't know I believed in that stuff so much."
The other occurred when Matthew considered moving in with Abigail, who was living off campus at the time. He remembers mentioning it to his father who vehemently objected.
"My father just flew off the handle," he says. "He made it so obvious that he thought it was a terrible decision."
Matthew decided to take his father's advice, and after some discussion, Abigail and Matthew decided they would try to live in a more Christian manner.
"Obviously, with that, we had to actually go to Mass and go to church," says Matthew.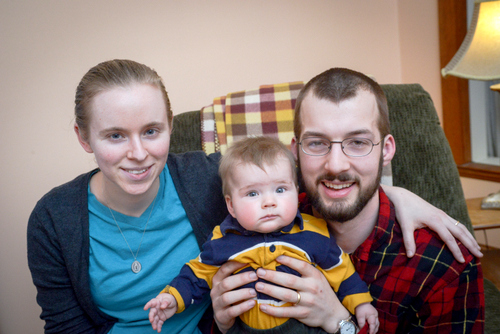 For him, the choice was clear: the Newman Center. It was close and it was Catholic. Abigail chose to go with him.
"She was from this more congregational, Baptist background where you had to find a church; you didn't know which one to go to, so she just went to the one where I went," says Matthew.
Matthew says he started to rediscover the beauty that was first revealed to him at the Journey retreat.
"As we tried to improve our lives, Mass didn't become a symbol of what I wasn't doing, it became a symbol of what I wanted. I wanted to make those sacrifices. That's what the Mass is -- a sacrifice."
His faith life started to blossom.
"All of a sudden, I wanted to go to Mass. I wanted to go to adoration. I wanted to go to confession. I wanted to try to take it in. Our relationship started to get much better. We started to communicate," says Matthew.
The couple made friends at the Newman Center and joined a faith discussion group.
For Abigail, it led to a bit of a conflict.
"I would go home sometimes and go to church with my mother, and because I was going to Mass so much, I guess the contrast seemed so huge," she says. "The Protestant church service just felt so anti-climactic, incomplete."
Even when Matthew went away for an internship, Abigail continued to attend Mass. She decided it was time to make a change.
"I knew I wanted to practice my faith like he was. I was going to Mass, but it's not like I was Catholic. So I really wanted to have a complete faith and to be part of a Church," she says. "I think I thought of myself as Catholic eight months before I became Catholic."
She asked Matthew to be her sponsor while she participated in the Rite of Christian Initiation of Adults, but he declined, not wanting to influence her decision. Still, as she studied, Matthew learned right along with her.
"I just started buying books because we both like to read. I bought St. Francis de Sales' Introduction to the Devout Life. I read Pope Benedict's The Eucharist, the Heart of Life. It's so good. After I read that, it just made so much sense," she says.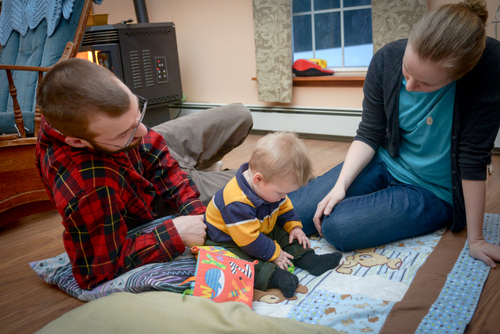 Abigail says it helped her to understand that Christ's sacrifice is as real today as it was 2000 years ago. She says she fell in the love with the Eucharist.
"I was very hungry for the Eucharist during this time. I would always go up to Father Bill in line to be blessed, maybe not every time but as I got closer," she says.
Abigail received the initiation sacraments during the 2010 Easter Vigil Mass celebrated at Our Lady of Wisdom Church, located in the Newman Center. She says, afterwards, she felt drawn to church.
"It was like I was a magnet. I really wanted to go to Mass, just all the time, because I finally could take part in the Mass fully."
About a week after Easter, she remembers taking a business trip to Boston and attending daily Mass at The Paulist Center.
"I just remember looking around and thinking, 'Wait a minute. I'm in Boston at this place I've never been to before, and I'm at a Mass, and I just became Catholic, and I know exactly what to do during this whole thing. I guess the universality of the Church just hit me."
When Abigail and Matthew decided to wed, there was no doubt whom they wanted to bless their marriage. In fact, he was one of the first people they told about their engagement.
"It was like, 'We have to tell Father Bill as soon as possible,'" says Matthew.
"He was really important," says Abigail. "He was the first priest that I went to Mass with regularly, and I had my first confession with him, and my first Communion and my confirmation."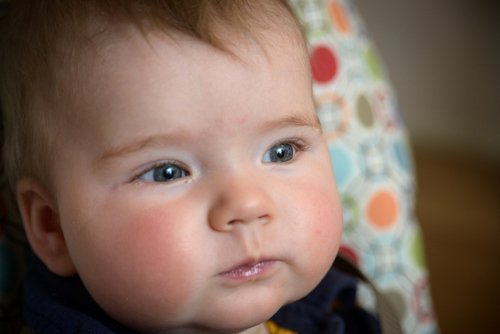 And later, their son Joseph was baptized by him.
Matthew and Abigail say there's no way to know what their faith lives would be like now if it weren't for Father Bill and campus ministry.
Matthew says, although parishioners at Holy Family Church in Old Town (the next closest church to UMaine) are great, he doesn't believe he would have met people as quickly or become as fully involved without those frequent invitations from the campus ministry team. Although he may have deleted those email invitations, he didn't forget them.
"At the Newman Center, they're specifically trying to meet the kids and build relationships with all the kids in college and trying to draw them in a bit and trying to get them to listen to the Gospels, listen to the homilies, partake in the men's group," says Matthew.
"They draw kids in," says Abigail. "It's such a warm place, and I felt like I was already part of the community, even though I wasn't Catholic."
"They help teach us how to pray and teach us how to be extraordinary," says Matthew. "Father Bill always says, 'Don't be ordinary, be extraordinary.'"
Matthew explains, for instance, that when you go to the Sacrament of Reconciliation with Father Bill, the actual confession might take four minutes but the conversation close to an hour.
Both Abigail and Matthew stress the importance of investing in campus ministry through the Annual Catholic Appeal.
"It's hard. You only have so many resources for the whole state, but it's extremely important," says Matthew.
They say without campus ministry, many young adults will miss out on the joy they have found through knowing Christ.
"I think the Newman Center, for the faith of the state, is going to pay huge dividends," says Matthew. "It's very important."