Read about the mission work being done in parishes and schools around the Diocese of Portland.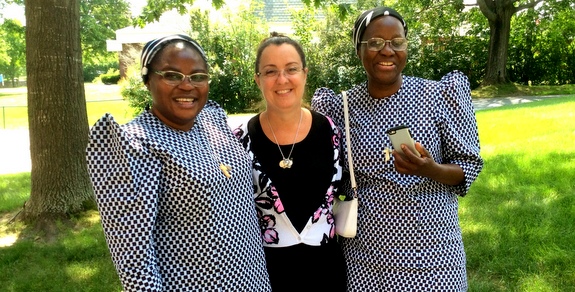 Sisters of Saint Francis of Assisi of Tshumbe
We are the Sisters of Saint Francis of Assisi of Tshumbe, a diocesan community founded in 1953 by the first bishop of the Diocese of Tshumbe, the Most Reverend Joseph Hangendores, who was a Passionist Missionary Priest from Belgium.
We are yearly blessed with vocations of young women. Currently, we have 258 members in our Congregation.
We live daily through the divine providence. We evangelize and perform our mission work through education, health care, prayer, and pastoral ministry.
We serve Christ's poor by caring for the sick including people suffering from leprosy and those with HIV/AIDS. We have orphanages filled with orphans and no more space to place them. We evangelize young unwed mothers, uneducated, unskilled. The poorest of the poor we work with and serve in Jesus' name. In addition, we reach out to and take care of many other people who have been domestically abused, the victims of war and sexual violence/sexual abuse in DRC. We help them to gain their self-esteem, inspire and empower them to become and grow as children and as disciples of Jesus Christ.
Learn more about the sisters and Sister Brigitte's visit our diocese.
Share your mission story! Contact Yvonne in the Office of Missions at yvonne.chace@portlanddiocese.org.