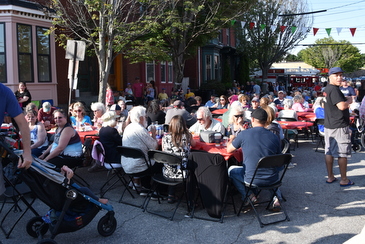 With slices of pizza or meatball sandwiches in hand, hundreds of people filled the street outside St. Peter Church in Portland for the 94th annual St. Peter's Italian Bazaar.
The bazaar is both a celebration of the parish's Italian heritage and a commemoration of two feasts of the Catholic Church, the Solemnity of the Assumption of the Blessed Virgin Mary (August 15) and the Feast Day of Saint Rocco (August 16). It is why on Saturday evening, before the carnival booths open, the faithful gathered for Mass at St. Peter Church. This year, it was celebrated by Bishop Robert Deeley and concelebrated by Father Greg Dube, pastor.
During the Mass, the bishop opened his homily with greetings in Italian, a language in which he is fluent, bringing applause from the congregation.
"Certainly, we are here for the bazaar, but we could enjoy that without being here in church. No, we come together because we believe. Believe. We have faith, and we want to know how that faith guides our lives," the bishop said. "Faith, what we believe, is really the foundation of our Christian life. Without it, what would be the basis for our hope? Without it, what would be the reason for charity? We would not know that we are to seek to live our lives within the will of God who calls us in Jesus to love: to love God, to love ourselves, and to love one another."
At the conclusion of the Mass, the statues of the Blessed Mother and Saint Rocco were carried in procession outside the church and through the bazaar, after which the bishop offered a blessing.
Then, it was time for festivalgoers to dig into plates of ziti and meatballs, try their hand at the old-fashioned carnival games, or watch teens and young adults attempt to scale the famous greased pole to capture the flag at the top – just a few of the reasons many say they attend the bazaar year after year.
"I love the cannoli. I'm not Italian. I'm French, but I've been coming to this church for years. I like the community. It's good people," said Terry Roy of Portland.
"The Mass, the procession, I just love it. It just seems so old and so Catholic with the procession all around," said Jerilyn Spear of Tampa, FL, who spends time on Peaks Island. "It was a beautiful Mass and a gorgeous church."
"I think the greased pole, and the whole family-oriented program, where any age can come," said Lisa Caron, whose father grew up on Federal Street, where the bazaar is held. "I really enjoy it."
It takes hundreds of volunteers to make the bazaar a success. They include the more than 70 bakers who get together beforehand to mix, fill, and frost more than 7,500 Italian cookies, as well as those who blow up balloons, scoop Italian ice, spin cotton candy, man game booths, make pizza, and clean tables.
Members of the Reali family have been serving up ziti, meatballs, and sausages for years.
"I personally think we should support our church, which is St. Peter's," said Frank Reali, who has been volunteering for two decades. "St. Peter's is an Italian church from way back when, so why not support it. Why not volunteer?"
"We've been doing this for years," said Maria Donatelli, who was volunteering at the pizza booth, alongside her 94-year-old father, Elio Mancini. "We love it. We like to support our Church."
"The people are great here. It's awesome over here," said Dave Cribby, who has volunteered for 10 years. "I can't imagine not doing it."
"It's God's calling to me. It's what we do to make sure we have a roof over our head and heat in the wintertime, and we also get to give to the poor. It's all about God's teachings," said Victoria Kuhn, who has volunteered for more than five years. "It's all about community and meeting people. I met people form Seattle and New Jersey yesterday and from right around the corner, all at the same time."
One of the hallmarks of St. Peter's Italian Bazaar has long been its sense of community, bringing together individuals and families from both the immediate neighborhood and miles around.
In speaking to those gathered for Mass at St. Peter Church, the bishop stressed the value of that, saying that in a world that becomes more centered on the individual each day, it is helpful to remember we are all connected to one another. Noting the recent shootings in El Paso, Texas, and Dayton, Ohio, he said we must follow Christ's example of loving and caring for one another and reject all forms of hatred.
"Knowing of his love for us, we will seek ways to be helpful to one another, to care for each other, first in our families, and then in the wider community. And one of the ways in which we can do that is to be mindful of the way in which we speak about one another, and act toward each other in our society," he said. "You and I, here today in this church, celebrating this Eucharist, are called ourselves to recognize the humanity of each person who shares the earth with us and who walks on our streets with us, wherever they come from, or wherever they worship. And we also need to call those who govern us, and those who live with us, to do the same."
The St. Peter's Italian Bazaar is nearly as old as the parish itself, dating back to 1925, just 14 years after the parish was founded to serve a growing number of Italian immigrants. A few things have changed through the years, including the famous greased pole. Now metal, it was originally made out of wood, with salamis and provolone hung from the top of it. One thing that hasn't changed, however, is the festival's inviting, neighborhood feeling, where even a dime can still give you a chance at winning a prize.
"It's nice, in this hectic world, to have something that is for all ages," said Carson. "I'm just glad that it is a tradition that is continuing on."
"They welcome everyone," said Roy, adding, "And the cannoli are awesome!"