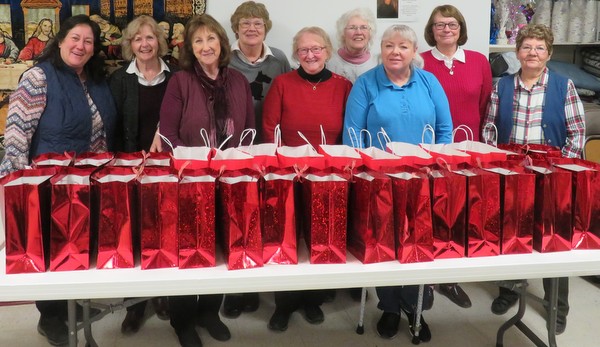 Continuing a Valentine's Day tradition that goes back more than two decades, the Houlton Council of Catholic Women put together nearly 40 bright red Valentine's Day bags packed with goodies and love for homebound members of St. Mary of the Visitation Parish.
The council's members filled the bags with all kinds of snacks, including homemade cookies, bars, and fudge, all individually wrapped. The bags also contained treats such as animal crackers and potato chips, as well as some healthier selections such as apples, grapes, clementine oranges, and raisins.
Once the members collected all the items and packed all the bags, they, along with Deacon Al Burleigh, hand delivered them to the residents.
"Everyone pitches in to give the homebound a little fellowship, kindness, and love," shared Melissa Berube, administrative assistant at St. Mary of the Visitation.
While the residents enjoy receiving the items and receiving a visit, the HCCW members say they get even more out of it in return, calling the project a blessing.
Pictured Above: (L to R): Julie Codrey, Ethel Merserau, Judy Fitzpatrick, Jane Mitchell, Mary Grant, Janet Barker, Kathy Klein, Alta Reardon, and Rose Levesque