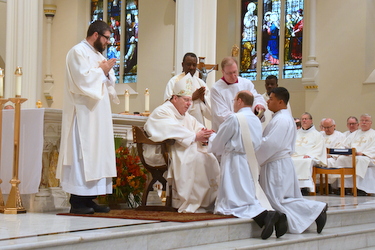 It's like walking on air. That is how Father Kevin Upham describes how it feels to have been ordained the newest priest of the Diocese of Portland.
"It's a wonderful feeling," he said. "I'm just really happy. I'm just trying to take it all in."
Twenty-one years after he first thought about the priesthood, Upham was ordained by Bishop Robert Deeley on Saturday, May 26, at the Cathedral of the Immaculate Conception in Portland.
"Today is indeed a day for praise to God," the bishop said. "We are grateful to Kevin for hearing and following the call of the Lord, which has brought him to this day. We are grateful also to his parents for their own prayerful participation in the life of the Church, which led Kevin to come to know Jesus and to be open to hear this call."
"This was the most joyful time of my life. It was wonderful. I can't explain it," said his mother, Maureen. "I couldn't even cry I was so happy. It's the thing I've been praying for all my life, and it happened."
Father Upham's parents were among the many family members and friends who gathered at the cathedral and looked on as he resolved to exercise the ministry of God's word worthily and wisely and to celebrate faithfully and reverently the mysteries of Christ, especially the sacrifice of the Eucharist.
Upham then placed his hands within the bishop's, promising respect and obedience to him and his successors, to which the bishop responded, "May God who has begun the good work in you bring it to fulfillment."
Upham then lay prostrate on the cathedral floor, while the congregation joined in singing the Litany of the Saints, a prayer of supplication in which the intercession of the saints and the Blessed Mother are sought. For Father Upham, it was one of the most poignant moments of the Mass.
"I think just having all the saints, the community of saints, praying for me in that moment is very powerful," he said.
The saints have always been an important part of Father Upham's life. Born in Portland, but raised in Holliston, Massachusetts, he said he remembers accompanying family members to the Fatima shrine there, where his mother would buy him picture books of the saints.
"I loved those saints, and I could tell you all kinds of things about the saints' lives from these books," he said. "They were very influential to me. A really strong connection for me in the faith was the saints."
Father Upham said that through the years he has felt drawn to different saints, but for the litany, he chose to add three who are most special to him at this time. Having recently served in pastoral ministry at the Portland Peninsula & Island Parishes, home to many immigrants, Father Kevin chose St. Josephine Bakhita, because of her importance to the Sudanese community. He added St. Juan Diego, because of his significance to the Hispanic community and because Father Upham has a devotion to Our Lady of Guadalupe. (It was to St. Juan Diego that Our Lady appeared.) And he added St. Philip Neri because May 26 is that saint's feast day.
"I didn't realize he was the patron saint of joy, and I thought, well, it is a very joyful day," Father Kevin said. "I want to be a joyful priest, so that was kind of special to me that it is on his feast day."
"It is the Memorial of St. Philip Neri, called in his own day the third apostle of Rome, after Peter and Paul. He was dedicated to bringing the people of his own day to know God. To do that, he used what gifts were available to him, and among those gifts were humor and entertainment. You, too, bring your sense of humor and your fondness for music to your ministry," the bishop said, joking that he pondered rapping the homily because of Fr. Upham's love of rap music.
After the Litany of Saints was sung, Father Upham approached the bishop, who laid hands on him in silence. All the priests in attendance then did the same. The bishop then prayed the Prayer of Ordination, asking the Lord to "grant us this helper that we need to exercise the priesthood that comes from the Apostles." The laying on of hands and the Prayer of Ordination are the most solemn and essential parts of the Rite of Ordination.
Now a priest of the diocese, Father Upham was vested with the stole and chasuble, symbols of the priesthood, by Father Greg Dube, rector of the cathedral and pastor of the other Portland Peninsula & Island Parishes. Father Upham served with Father Dube in Portland and in a previous assignment at Holy Savior Parish in Rumford. Father Upham credits Father Dube with helping him to strengthen his prayer life, something vital to priestly ministry.
"Doing this type of ministry without communicating with God doesn't work, so I am very grateful, especially to Father Greg, because he kind of helped me get back on track with prayer," Father Upham said. "Prayer is a communication with God. God is present to you when you're reaching out to him."
Once vested, the bishop anointed Father Upham's hands with sacred chrism, asking the Lord to "guard and preserve you that you may sanctify the Christian people and offer sacrifice to God." He then presented Father Upham with a paten and chalice, which had been carried to the bishop by Father Upham's parents. The paten and chalice are traditionally given to a new priest by his parents because they are symbols that he is now set apart as one who can offer the holy sacrifice of the Mass on behalf of God's holy people.
The bishop and priests, who traveled from as far away as Caribou to attend, then welcomed Father Upham to the presbyterate with the fraternal kiss of peace.
"I think one of the good things about the priesthood, especially in this diocese, is that there really is that sense of fraternity," said Father Upham. "I'm very happy to be a part of that and to have brother priests."
"The most emotional part for me was when the other priests gave their fraternal kiss. Even though he is an only child, now he is part of this wonderful community," Father Upham's mother said after the Mass.
At the conclusion of the Mass, Father Upham gave his first blessing as a priest to Bishop Deeley, who then kissed the new priest's hands.
For Father Upham, the journey to the priesthood goes back to his youth. He remembers thinking about the priesthood when he was around the age of 13, recalling that he would read the priest's parts during Mass and ponder possible homilies.
He and his family returned to Maine when he attended Saint Joseph's College of Maine in Standish, where he majored in communications. While there, he was active in campus ministry and participated in the Spring Break Workfest program, serving at the Passamaquoddy Indian Township Reservation.
After getting his degree, not finding a job in the communications field, he went into banking. Although he said he loved the people he worked with, he always felt something was missing.
Always feeling called to serve, he remained active in the Church. He was a reader at Mass at St. Maximilian Kolbe Church in Scarborough, volunteered for jail ministry at the Cumberland County Jail, and then led Communion services and brought the Eucharist to those at the Maine Veterans' Home in Scarborough, experiences he said provided a window to the ministry of the priesthood.
"I always knew deep down that the Church was going to be a big part of my life, no matter what I did, because that is a big part of who I am," he said.
Father Upham said it wasn't until his job was phased out at the bank that he started to consider the priesthood again. Having free time allowed him to begin attending daily Mass, and soon, he decided to contact the Office of Vocations.
He entered St. Mary's Seminary & University in Baltimore in 2012 and, then, in August 2016, he continued his studies at St. John's Seminary in Brighton, Mass. Summer assignments have taken him to parishes in Augusta, Old Town, Bangor, and Rumford, in addition to is serving at the Portland Peninsula & Island Parishes this past year.
His ministry in Portland included serving the Hispanic community, a ministry he said he loves. He has been working to learn Spanish, and in June, he will participate in a Spanish immersion program in Mexico City.
Father Upham said he is thankful for the opportunity to serve wherever he is needed.
"Being able to say Mass, being able to hear confessions, showing the mercy of God to people who are being very vulnerable -- just letting them have that moment and then showing God's mercy to them is very powerful," he said.
"The mission of the priest is the mission of the Good Shepherd. Jesus lives as the Good Shepherd in the compassion he shows to the crowds in the course of his ministry. He feeds them with both bread for their physical needs and spiritual nourishment for their souls. He heals them. He teaches them. He serves them. And, ultimately, he gives his life for them. By so doing, Jesus, the Good Shepherd, manifests his pastoral charity. It is this pastoral charity that gives identity to the priesthood," the bishop said in his homily. "In your priesthood, Kevin, you will make Jesus present to a world which is hungry for his word of love, his word of life and hope and mercy,"
Father Upham said he is very grateful to everyone who has supported him during his journey.
"I felt the support, the prayers, in a very tangible way," he said.
Only a few hours after his ordination Mass, Father Upham celebrated his first Mass, a Mass of Thanksgiving, at Holy Martyrs of North America Church in Falmouth.