Message from Bishop Robert P. Deeley
"Throughout its history, the Church has recognized men and women who have exhibited heroic virtues while alive and performed miracles after their death.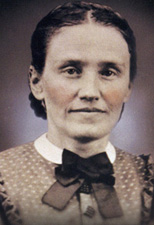 On April 26, 2015, Elisabeth Turgeon, foundress of the Sisters of Our Lady of the Holy Rosary, will be beatified in Rimouski, Canada, as one of these individuals to be emulated.
The Sisters of Our Lady of the Holy Rosary have provided Christian education in Maine, through schools, parish religious education programs, and other ministries, since 1899 when they staffed the Bailey School in Upper Frenchville.
They have also been a presence and ministered in Millinocket, Kittery, Old Orchard Beach, Dexter, Biddeford, Lewiston, and Portland.
Please join me in rejoicing with the Archdiocese of Rimouski and the Congregation of the Sisters of Our Lady of the Holy Rosary in thanksgiving for this grace given to the church."
Bishop Robert P. Deeley, J.C.D.
12th Bishop of the Roman Catholic Diocese of Portland
---
Biography of Elisabeth Turgeon
Jesus said to His disciples:"Let the little children come to me" (Luc 18, 16)
To accomplish this desire for the children of the Archdiocese of Rimouski, God prepared a marvellous woman, tender and caring: Elisabeth Turgeon.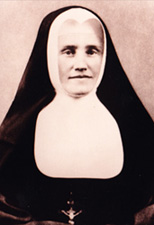 This woman of frail health, but of brilliant intellect and a wise and generous heart, was born in Beaumont (Quebec) February 7, 1840. Her parents, Louis-Marc Turgeon and Angèle Labrecque, gave their nine children an exceptionally solid education.
Elisabeth was 15-years-old when her father died prematurely. Five years later, she entered Laval Normal School in Quebec City. She received her diploma in 1862, then taught in Quebec City and in Sainte-Anne-de-Beaupré. On April 3, 1875, on the invitation of Bishop Jean Langevin, she joined a group of women who were together by the wish of the Bishop to be prepared as qualified teachers for the parish schools of the Archdiocese of Rimouski.
On September 12, 1879, with twelve of her companions, Elisabeth consecrated herself to the Lord through vows of religion. The same day, she was appointed first Superior of the Congregation. She sent sisters, two by two, to teach in three very poor parishes: Saint-Gabriel, Saint-Godefroi and Port-Daniel (all in Quebec). She then opened an independent school in Rimouski to prepare novices to learn the art of teaching.
Her maternal tenderness and her steadfast confidence were without limit, but her physical strength was already exhausted. Mother Marie-Elisabeth (her religious name) died August 17, 1881.
Courtesy of The Congregation of the Sisters of Our Lady of the Holy Rosary
---
Celebration on April 26
The beatification of Elisabeth Turgeon will mark the first time that such a ceremony will be celebrated in a Quebec and Canadian Diocese.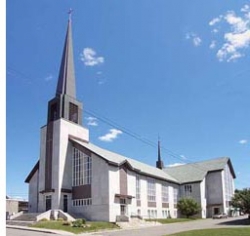 It will be presided over by Cardinal Angelo Amato, Prefect of the Congregation for the Cause of Saints and the Official Representative of Pope Francis.
On September 17, 2014, Pope Francis accepted the miracle attributed to the intercession of Elisabeth Turgeon. The beneficiary is Mr. Michel Boucher from Trois-Pistoles, Quebec, a father of three children, cured of a cancer ordinarily incurable in adults.
The ceremony on April 26 will be held in the Church of Saint-Robert-Bellarmin of Rimouski at 2:30 p.m., and will be broadcast in the basement of the church, open to those who come.
It will also be shown at the Chapel of the Mother House of the Sisters of the Holy Rosary.
---
Many Thoughts of Blessed Elisabeth Turgeon
Charism
"Always remember that the greatest gift God can give to a teacher is to love her profession and the children He has confided to her. We should strive to lead them sweetly to Him through love, always keeping in mind the precept: 'Love God with your whole heart and your neighbor as yourself.'" (Rules, No. 28)
"May the heavenly dew of the Heart of Jesus' divine blessing be poured out upon you, may it enlighten, guide, and lead you on the way that will most exquisitely and most certainly bring you to Him!" (Letter, January, 1880)
Mary
"Pray, pray a great deal, and trust in the very maternal goodness of Mary who so powerfully helps those who call on her." (Letter, October, 1880)
"During this beautiful month consecrated to the Queen of Virgins, I constantly pray this good Mother to advise and guide you, and to stand by you in the critical situations, which, along our paths, are a source of merit before God." (Letter, May, 1880)
Religious Life
"Say to Jesus: to be your Spouse forever, I must follow you along the road you have traveled. My thoughts will be lost in Jesus; my only ambition is to know Jesus." (Letter, January, 1880)
"I am far from deserving all the titles you bestow upon me, but concerning the love I have for you, yes! That one is really true, for you are close to my heart. Your sorrows are my sorrows and your joys are my joys." (Letter, January, 1881)
Charity
"I recommend to you especially union and fraternal charity. When a community is united, when peace reigns among its members, it is heaven on earth." (Chronicles, March, 1881)
"Always be charitable towards one another, love one another as the Lord loves you." (Chronicles, March, 1881)
Prayer
"Consider things in the presence of God; He will inspire you to do what is best. May the Holy Spirit enlighten you with His divine light, sure is the wish of my heart." (Letter, June, 1881)
"With the protection of Jesus Christ, spiders' webs are stronger than walls, and without His protection the strongest walls are but spiders' webs." (Maxims)
Perfection
"Rejoice in the Lord as a good father, He likes to see His children enjoying themselves." (Letter, June, 1881)
"An eternity of happiness is well worth working for during one's whole life." (Maxims)
Education
"To fulfill the goal of our ministry, we devote ourselves completely to the instruction of the poor class in the rural areas; that is to say, that we accept as our share the education and instruction of the common people's children." (Letter, September, 1877)
"The world has a greater need for good examples than good words." (Maxims)