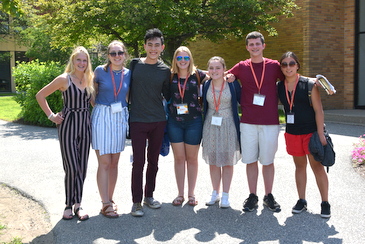 Being a good Christian leader means following the example of Christ. That was the message shared with 25 teens from across the Diocese of Portland gathered for Empowering Young People in Christ (E.P.I.C.), a weeklong youth leadership institute held July 21-26.
"It not only teaches leadership skills, but it also teaches you how to lead like Jesus himself, which is servant leadership," said Jean-Daniel Liwanga, age 17, from the Cathedral of the Immaculate Conception in Portland. "A lot of people think leadership is strictly telling people what to do and such, but instead, it is more about serving others and the needs of others."
"Not only being the Church of now but the Church of the future, I think it's our job to learn how to lead," said Israel Gombojav, age 17, from Corpus Christi Parish in Waterville. "They teach you a lot of communications and leadership skills, and I think that is something you can always improve on."
The teenagers, who came from parishes as far north as Presque Isle and as far south as Sanford, spent a week at Saint Joseph's College of Maine in Standish learning, praying, and having fun together.
Days were filled with sessions designed to help the teens become leaders in their parishes and community, teaching them skills such as how to be proactive in the choices that they make, how to listen empathetically, how to work as a team to reach a goal, how to facilitate a discussion without dominating the conversation, and how to negotiate win/win solutions to disagreements.
"What I hope the young people take away is to realize the giftedness that they have and some best practices to utilize in their parish to really evangelize not only their peers but also the adults of their parish, as well as people throughout the diocese," explained Shawn Gregory, coordinator of youth ministry for the diocese. "The enthusiasm of the youth who were here this week is contagious, so I'm excited for them to go back and to see what is going to happen."
To help the teens bring back what they learned to their parishes, youth ministers were also invited to attend, so they could share in the experience.
In addition to the workshops, E.P.I.C. also included morning and evening prayer, along with daily Mass. The closing Mass for the institute was celebrated by Bishop Robert Deeley, who told the teens that by being together, they help strengthen one another in their faith so they can live the way God calls them to live.
"I encourage you to continue to grow in appreciation for God's love for you," he said. "As you go forth, continue to draw strength from it."
At the conclusion of the Mass, the teens and adult leaders all approached the bishop and shared with him one gift they plan to use to benefit their parish community.
There was also time throughout the week to enjoy the beautiful Saint Joseph's College campus, including talking walks by the lake and a bonfire on the final night, which many youths said was their favorite activity.
"I was taught to throw a football, and there was a lot of music, and we were all dancing. It was a lot of fun," said Madison Albert, age 16, from the Parish of the Holy Eucharist in Falmouth.
"My favorite part was definitely the socials, when everyone gathered around, and we just chatted," said Jean-Daniel, adding, "And the bonfire was pretty cool."
The teenagers said they feel confident that the experiences of E.P.I.C. will remain with them and help them going forward.
"It was a really great experience. I met a lot of really awesome people, and I learned so many amazing things," said Madison.
"It really helped me understand Jesus and to have a different perspective on my faith, like what kind of leader Jesus is and how we can take what he did in his years of life and try to practice that," said Emma Perreault, age 16, from St. Thérèse of Lisieux Parish in Sanford. "It's a great opportunity to learn leaderships skills, be with other people of your faith and your age, and interact with other people and have fun, all this great stuff put together, so it was a really great week."
E.P.I.C. is presented by the diocese's Office of Lifelong Faith Formation, which is supported by your gifts to the annual Catholic Appeal.