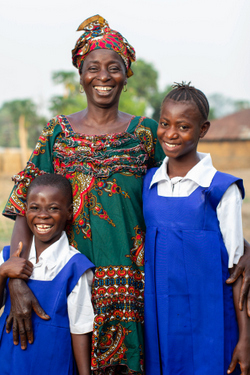 Participate in CRS Rice Bowl and take a 40-day journey that will help you to truly encounter Lent.
Through our participation in the program, we are invited to reflect on how an encounter with our neighbor—as companions on life's journeys—can be transformative. We will see how our prayers, fasting, and alms can support those worldwide who are forced to flee their homes to find safety or better opportunities.
Jesus reminds us that we are all made in God's image and likeness. That means that every human being has a special value and a purpose. We need to care for each other so we can be the people God calls us to be.
Rice Bowl participation includes prayer, daily reflections, small sacrificial gifts, and learnng about the lives and needs of others through Stories of Hope.
CRS Rice Bowl invites us to:
• Pray together. Through prayer, we encounter Christ, present in the faces of every member of our human family, so often still walking that long road to Calvary.
• Fast in solidarity with those who hunger. Through fasting, we encounter our own obstacles, those things about ourselves that prevent us from loving God and neighbor.
• Give sacrificial contributions. Through almsgiving, we encounter our brothers and sisters around the world, asking what we can give up so that others might have life to the fullest.
• Learn about the joys and challenges in the lives of our brothers and sisters around the world.
Donations Make a Difference
When you put money in your rice bowl, you are making a difference. What you give up for Lent changes lives! If you put one dollar a day on each of the forty days of Lent, your money could feed a family for eight weeks, provide immunizations for 120 newborns, or provide 400 families with clean water.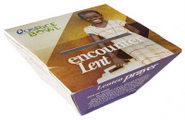 Seventy-five percent of the money you put in your rice bowl goes to support CRS's programs around the world. Some examples include:
• Agriculture projects help farmers improve harvests
• Water and sanitation projects bring clean water to communities
• Microfinance projects support small businesses
• Mother and child health projects offer health and nutrition services
• Education projects provide resources and training
Twenty-five percent of your donations stay in the Diocese of Portland to fight hunger and poverty locally, for instance, helping food pantries, soup kitchens and homeless shelters.
Download the CRS Rice Bowl App
With the CRS Rice Bowl app, you can put Lent at your fingertips with new daily reflections and recipes, integrated social sharing and a new way to track your Lenten sacrifices! Click here for download information.
For more information, visit www.crsricebowl.org