"We can only build the future by standing together." - Pope Francis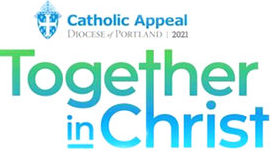 As a community of faith, we journey together to discover, follow, and share Christ with each person we encounter along the way. In both word and action, we are called to share our faith to make Jesus present to those who need to hear and see him the most. As a community of faith, we are called to be witnesses to the Gospel, changing individual hearts one at a time and transforming the communities where we live. This is our work, the work of our Church, made possible through your support.
Please look into your heart and step out in faith by prayerfully considering a gift in support of the 2021 Catholic Appeal.
If you would like more information or need assistance, please call David DiNapoli at (207) 321-7835.
Gifts may also be mailed to:
Catholic Appeal
PO Box 628
Lewiston, ME 04243-0628
Read some of the ways your gifts are making a difference throughout Maine.