"Grant that your servant may understand and live more fully each day the mystery of your love. May he prepare himself with a willing heart to exercise sacred ministry in the Church." – Bishop Deeley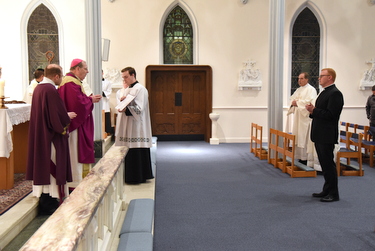 Seminarian Alex Boucher, a native of Biddeford, openly expressed his desire to be accepted as a candidate for the priesthood during the Rite of Candidacy celebrated by Bishop Robert Deeley on Friday, December 22, in the chapel of the Cathedral of the Immaculate Conception in Portland.
"What a joy to be gathered here for this special ceremony of candidacy in these final days of waiting for the great feast of Christmas. We await Jesus, our Light," the bishop said. "In a particular way, Jesus promised to be with us 'all days, even to the end of the world.' He would, of course, do that through the Church, the Body of Christ. And so, we gather as Church this evening to mark this special moment in the vocation journey of Alex Boucher, who, in this ceremony, expresses his intention to receive the sacrament of Holy Orders, a ministry of service in the Church."
During the rite, Boucher resolved to complete his preparation for the priesthood and to prepare himself in mind and spirit to give faithful service to Christ the Lord and his body, the Church. The bishop then accepted him into candidacy, telling him, "The Church accepts your resolve with joy."
"This evening, as we hear Alex Boucher affirm his intention to pursue his vocation to Holy Orders in priesthood, we also hear an answering voice from the Church. Alex seeks in his life to proclaim that God has looked on us with favor. He will do this by helping others to know the good things that God has done," the bishop said.
In the Diocese of Portland, the Rite of Candidacy is most often celebrated when a seminarian is approaching the year of his anticipated ordination to the transitional diaconate. Candidacy signifies that he has reached a point in his discernment where he and the Church are ready to make his intentions public.
"I am extremely grateful for all those who have journeyed with me up until today," said Boucher. "In a very intensive way, over the next few years, both the Church and I need to really continue working hard, so that I can be a priest really and truly after the heart of Jesus Christ and to serve his people well."
Boucher is currently in second theology at St. John's Seminary in Brighton, Mass. He is in his fourth of six years of preparation. He previously earned a bachelor's degree in theology & religious studies from the School of Theology & Religious Studies at The Catholic University of America in Washington, D.C.
Boucher says he first thought about becoming a priest when he was a youngster attending St. James School in Biddeford. He then attended Cheverus High School in Portland where he was active in campus ministry, student government, and community service. During his high school years, he was also involved in youth ministry, helping to develop a program in the Biddeford / Saco area and becoming a member of the Maine Diocesan Council of Catholic Youth, a diocesan-wide youth leadership team.
| | |
| --- | --- |
| | |
He remained active in campus ministry during his college years and had many other fruitful experiences. He was active in the Knights of Columbus and in a men's discernment group. He regularly served at the Basilica of the National Shrine of the Immaculate Conception. He worked as a project administrator for the National Leadership Roundtable on Church Management in Washington, D.C.; as program and operations manager for the Catholic Apostolate Center in Washington, D.C.; and as an intern in the Office of the Vicar General for the Archdiocese for the Military Services, USA. Boucher also worked as a pastoral associate for the Portland Peninsula & Island Parishes.
"I realize more and more each day that I am simply responding to a call that I have discerned over time. This journey has included great joys and unique challenges. I continue to rely on the assistance of God and the guidance of those entrusted with my formation to conform my life more and more to Jesus Christ," Boucher said.
Fellow seminarians, friends, and family members were among those who attended the Rite of Candidacy, traveling to the cathedral despite a winter storm. They joined with the bishop, concelebrating priests, and deacons in asking God to pour out the grace of his blessing on Boucher, praying that he may draw closer to Christ, that he be enabled to witness to Christ in the world, that he is always able to listen to the voice of the Holy Spirit, and that he becomes a minister of the Church who will strengthen the faith of his brothers and sisters.
"Be attentive, Lord, to our prayers for your son, who wishes to dedicate himself to your service and the service of your people in the sacred ministry," the bishop prayed. "In your love, graciously bless him that he may persevere in his vocation."
Among the priests in attendance for the Rite of Candidacy were Monsignor Rene Mathieu, who is pastor of Alex's home parish, Good Shepherd Parish in Saco, and Father Brad Morin, who serves as parochial vicar there. Joining them were Father Greg Dube, rector of the cathedral; Father Seamus Griesbach, director of the Office of Vocations; Father Daniel Greenleaf, director of the Office of Seminarians and vicar general; Monsignor Andrew Dubois, moderator of curia and vicar general; Father Claude Gendreau; Father Jack Dickinson; and Father Kyle Doustou.