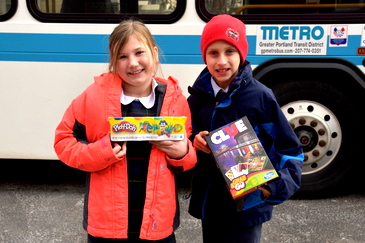 A METRO bus looked more like a toy store than a means of transportation thanks to students, faculty, and staff at Saint Brigid School in Portland.  As part of CBS 13's Joy of Sharing Campaign, the school donated hundreds of toys, which will be given to the Salvation Army for distribution to children in Maine this Christmas
"I brought an Etch-a-Sketch and a jewelry set because these kids deserve to have a nice Christmas, no matter what their financial situation is," said Danielle Whyte, an eighth grader.
"I participated because some kids who are not as fortunate as us need toys," said Jack Kingsley, a fifth grader, who donated a puzzle.
"I brought a motorized truck, so kids can have fun that are less fortunate than us," said Noah Veroneau, also a fifth grader.
All grade levels, from pre-school to grade eight, helped to stuff the METRO toy bus.  While at first, it seemed like it would be a challenge to fill the entire bus, by the time the children were done, seat after seat was piled high with board games and books, baby dolls and Barbies, Play-Doh and puzzles, stuffed animals, Star Wars items, and more.
"I brought a coloring book and a little action figure for people who aren't as fortunate as us so they have stuff to do," said Grant Dawson, a fifth grader.
"I brought two books, so people can have entertainment," said Michael Bostock, who is also in the fifth grade.
 "I brought a LEGO set because it's educational and fills their imagination," said Antonina Glisic, another fifth grader.
Stuffing the METRO toy bus has become a tradition at Saint Brigid School. Students have participated for at least five years now.  
"The students are very enthusiastic about it," said Principal William Burke.
"Some kids don't get as much as others for Christmas. It just makes me feel good to make their Christmas better," said Joe Mullen, a fifth grader.
"We're fortunate. We're able to have a nice Christmas, but other people aren't able to give their children nice things for Christmas, so it's a good cause," said Olivine Harvey, an eighth grader.
The Christmas toy drive is just one of many ways the students at Saint Brigid School serve the community throughout the year.
Once all the toys were collected, the METRO bus headed to the WGME studios, where the toys were unloaded by staff members, including news anchor Jeff Peterson.
CBS 13's Joy of Sharing Campaign continues through Friday, December 16.  Toys can be brought to the television station's lobby on 81 Northport Drive in Portland or at any of the following locations: www.wgme.com/features/joy-of-sharing.